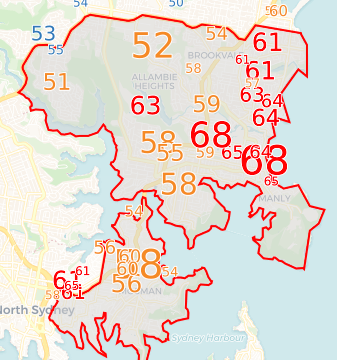 The federal election generally went well for the government, but they suffered a big defeat in the northern Sydney seat of Warringah, where former prime minister Tony Abbott lost his seat after 25 years.
Abbott held his seat by an 11.6% margin against the Greens or 11.1% against Labor as of the 2016 election. Once most of the dust had settled, independent candidate Zali Steggall ended up with 57% of the two-candidate-preferred vote.
Abbott's primary vote plummeted by more than 12% from 52% to less than 40%.
Today's map shows the two-candidate-preferred (2CP) vote at each booth in Warringah, and can be toggled to show the primary vote swing against Abbott.
Zali Steggall won the 2CP vote at almost every booth in the seat. Abbott did narrowly win four small booths at the northern end of the seat in the Frenchs Forest area (as well as the pre-poll booth in this area and two hospital booths).
Steggall's highest vote was in the booths along the Pacific Ocean coast from Manly to Curl Curl, but her support also exceeded 60% in the Neutral Bay area.
We don't have a 2CP swing, since Steggall did not run in 2016, but it is interesting to examine where Tony Abbott lost the most primary votes. He tended to do best on the northern border of the seat and suffered the biggest swings in the Mosman area.
In my pre-election guide I divided the area of Warringah into three geographic subareas: Manly, Mosman and Warringah. These areas roughly translate into the centre, south and north that I described in the previous paragraph. Abbott suffered an average swing of 8.5% in the Warringah subarea booths, compared to 15.2% in Manly and 16.8% in Mosman.
Possibly the most interesting thing about this race is the lack of variety in the results. Steggall did not win thanks to popularity in one part of the seat. Abbott didn't hold on to his base in one area while losing ground elsewhere. Mosman had been his strongest part of the seat, but saw the biggest swings. Swings were almost as big in Manly. While Abbott suffered less of a backlash at the northern end of the seat, Steggall still managed over 40% of the primary vote and over 56% of the 2CP vote in this area. There's no way to look at this result as anything other than a comprehensive dismantling of Abbott's base in Warringah.