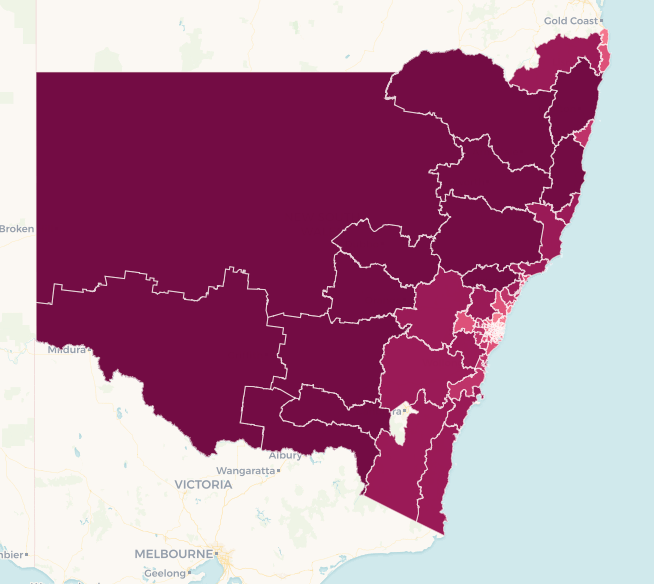 One of the most interesting features of this election is the radically increased significance of the party now called the Shooters, Fishers and Farmers.
The Shooters Party was founded in 1992 by John Tingle, who won a seat in the NSW upper house in 1995. The party has won a seat at every election since 2003, as well as winning seats in the Victorian and Western Australian upper houses since 2014 and 2013 respectively.
The party has gained ground at every state election in New South Wales since 2003, polling just under 4% in 2015.
The party adopted its current name of Shooters, Fishers and Farmers (SFF from here on in) in early 2016, before the big success of the Orange by-election.
The coalition government gained enough seats in the Legislative Council at the 2015 election to allow them to pass legislation with just two extra votes, which they usually got from Fred Nile's Christian Democratic Party. The alliance between the government and SFF broke down, leading to the Shooters deciding to run a candidate for the by-election in Orange in November 2016.
The Shooters have traditionally avoided contesting lower house seats, with not a single candidate running in the 2015 election. But things have changed.
The Shooters ended up winning Orange by 50 votes after preferences, thanks to a 34% swing against the Nationals on primary votes and the benefit of preferences from Labor and independents.
They haven't yet been able to replicate this success, but they did perform very strongly in by-elections in the two neighbouring seats of Cootamundra and Murray in 2017. The SFF polled 23.3% in Cootamundra but didn't make the final count, while they polled over 30% in Murray and reached almost 47% of the two-candidate-preferred vote.
The SFF polled 10% in the 2018 Wagga Wagga by-election in a slightly more urbanised seat despite a strong independent, which suggests that they have a strong underlying support base in regional NSW which has grown since 2015.
Since they have never seriously contested the Legislative Assembly before, it's useful to look at the distribution of their vote in the upper house in 2015.
Their vote was clearly highest in large rural western NSW seats. The party polled over 13% in Upper Hunter, as well as over 10% in Tamworth, Northern Tablelands, Barwon, Murray, Cessnock, Clarence, Cootamundra and Dubbo. Orange was ranked tenth.
There appear to be four seats where the Shooters have a realistic chance of winning. These are the Shooters seat of Orange and three Nationals seats: Murray, Cootamundra and Barwon. They are benefiting from Labor preferences in all four of these seats, which could be crucial in a close race.
While the Shooters have clearly picked up ground in western NSW from the Nationals, there were concerns about how they would be impacted by the return of One Nation. While One Nation could dent their upper house vote, they are only running in one potential Shooters seat: One Nation are fiercely opposing repeat Shooters candidate Helen Dalton after claiming that she has pledged to support a Labor government (it's not clear if there's any truth to this claim).
We have seen some limited polling showing the Shooters in with a shot in both Barwon and Murray. While it will be a big effort for the Shooters to win in all their seats they have a good chance and will be worth watching.
Of course the Shooters are also a factor in the upper house. The party dumped their sitting MLC Robert Brown in their recent preselection in favour of Mark Banasiak. The party will be in fierce competition with One Nation, the Christian Democrats and the Liberal Democrats. The Shooters shouldn't have any trouble holding their one seat but while there has been an increase in their support since the last election this will likely be dampened by One Nation.