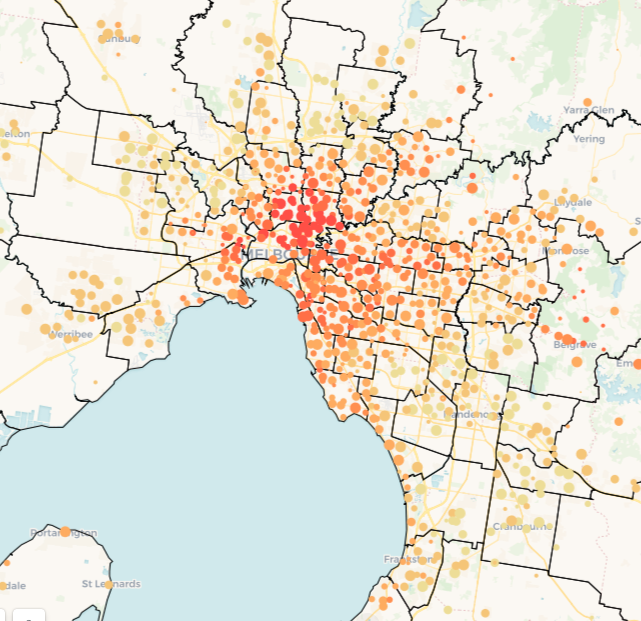 There was a concerted effort before the recent Victorian state election from psephologists and other commentators to encourage voters to vote below-the-line.
I posted on the day after the election about the early figures, including the breakdown of below-the-line rates for each party. I won't rehash that.
In the final results, below-the-line voting made up 8.8% of formal votes, up from 6.1% in 2014, which was already an increase compared to the 2006 and 2010 elections. Hopefully this trend will continue in future elections, further weakening the power of the group voting ticket.
In this post I will show you two maps I have produced mapping out how the below-the-line vote varied by geography: one by polling place, and the other by electorate.
Firstly, the booth-level map:
There was a strong trend where below-the-line voting was highest in the inner city. The below-the-line rate cracked 20% in three seats: Brunswick, Northcote and Richmond. It was just under 20% in Melbourne. These four seats form the core of the Greens heartland.
The BTL rate was much lower in the outer suburbs, with regional areas falling somewhere in between. The lowest BTL rates were in the outer suburban seats of Mill Park, Sydenham, Narre Warren South and Cranbourne, and the regional seat of Mildura.
And secondly, this map shows the figures by seat. The trend is similar, but is shown in a simpler style.
You can click on either map to see the BTL rate for that booth or seat.
Some of the geographic variation can undoubtedly be explained by the different partisan make-up of each seat, but that doesn't explain it all. Melbourne, Northcote, Richmond and Brunswick all produced some of the higher BTL rates for Labor voters, and something similar for Liberal voters. Over 10% of Greens votes were below the line in every seat, but there was still a variation with seats like Mill Park, Mildura, Cranbourne and Narre Warren South having BTL rates under 11% amongst Greens voters.
There was not much difference in terms of the proportional increase in the below-the-line vote between seats. No seat went backwards, and no seat managed to double the previous below-the-line rate. This graph shows the remarkable consistency:
I'll be back tomorrow with one last map post, looking at the minor party vote in the upper house.