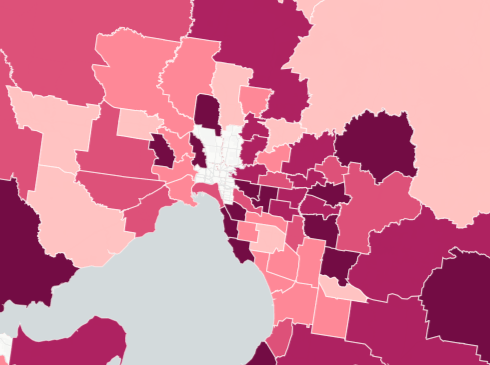 I thought I would dive into some of the interesting data trends from last weekend's Victorian state election, since fellow bloggers William Bowe and Kevin Bonham are doing a great job tracking the close races as counting continues.
I've been interested in looking at how the pattern of results differed between election day votes and pre-poll votes (otherwise known as early votes), in particular how the smaller swings in the special votes pulled back the predicted Labor seat gains on election night.
We don't have a final turnout figure, with quite a few votes left to count, but the proportions suggest that the total pre-poll vote could end up being close to one third of the entire statewide vote, compared to 25.8% of the total vote in 2014.
| | | |
| --- | --- | --- |
| Vote type | 2014 | 2018 |
| Election day | 2,071,497 | 1,713,471 |
| Pre-poll | 912,967 | 906,727 |
| Postal | 294,571 | 174,973 |
| Absent | 220,448 | 11 |
| Provisional | 37,622 | 0 |
| Marked as voted | 99 | 0 |
2018 voting figures as of Wednesday evening, 28 November
For the rest of this blog post, I'm using data I downloaded on Tuesday morning for the 77 seats which have a Labor vs Coalition two-candidate-preferred count (and thus are possible to use to calculate a comparable swing from 2014).
The 2PP swing to Labor on election day was 5.8%, compared to only 2.8% for pre-poll votes, and 2.8% for postal votes.
The difference in swing is relatively consistent between different seats, with an 80% correlation between the Labor swing in the pre-poll and election day vote. You can see this trend in the following graph:
If the two swings were similar in scale you'd expect the trend line to go up at a 45-degree angle – the shallower slope confirms that the early vote swing tended to be smaller than the election day swing.
I originally produced a map which showed how much larger the swing to Labor was on election day as a percentage, but since there is a close relationship between the different vote type swings, this would mostly just show you where the swing was big.
So instead I calculated a ratio between the Labor swing on election day, and the Labor swing in the pre-poll vote. Those places with a higher ratio had an election day swing that was much larger than the pre-poll swing. Rowville had a ratio of 11.6, due to a swing on election day of 5%, and a tiny 0.4% swing in the pre-poll vote. No other seat has a ratio of more than five. Only eight out of 77 seats analysed have a larger pre-poll swing than on election day.
Looking at this map, you can see why there were problems projecting some of those traditional Liberal seats like Sandringham, Brighton, Caulfield and Hawthorn on election night. All of these seats had very large differences between the election day and pre-poll swing.
On the other hand, more typical swing seats like Mordialloc and Carrum had larger pre-poll swings than on election day, while Bentleigh and Frankston had very similar swings between different types of votes.
It's worth noting that we saw a similar trend in the Wentworth by-election as we did in the inner south-east Liberal seats last Saturday, with the Liberal vote holding up much better than expected on the pre-poll vote.
While this may reflect separate campaign effects in both elections producing a last-minute surge, I do also wonder if we are seeing more of a difference between the kind of person who votes early and who votes on election day in these particular seats. As the pre-poll vote grows fast we can't assume the partisan mix of these voters won't change, so past election results may not give us a great sense of how these people as a group may vote relative to the entire electorate.
As the pre-poll vote continues to grow, now potentially making up one third of the entire electorate in Victoria, we're going to need better methods of being able to project this vote.
At federal elections, each pre-poll booth is treated as an independent booth to be counted on the night, just like all of the election-day booths (pre-poll votes cast outside of the voter's electorate are lumped in as a single total, but the same is true for election day votes cast outside of the voter's electorate), which should make it easier to analyse pre-poll votes.
It's concerning that the Victorian Electoral Commission, like a number of other state electoral commissions, continues to lump in this massive pool of voters into a single category in the voting figures.