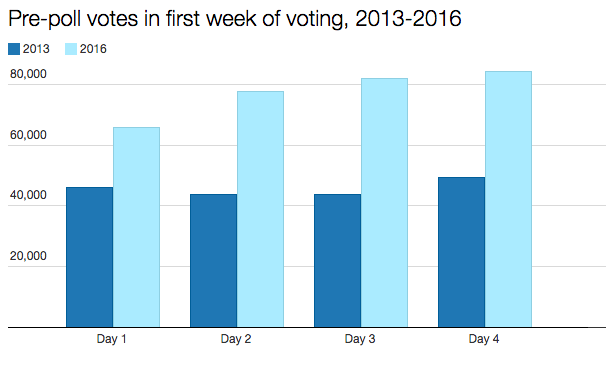 The Australian Electoral Commission is publishing daily statistics on the number of postal vote applications (PVAs) received, and the number of votes cast at pre-poll centres. After six weeks of the campaign, and one week of pre-poll, we now have a sense of the trend in early voting.
Postal voting is roughly on track to make up a similar share of the vote as in 2013, while there's a significant increase in prepoll voting, in addition to the big surges we've seen at the last few elections.
Firstly, let's look at pre-poll. Pre-poll voting commenced last Tuesday, so we've had four days of voting (no voting took place on the weekend). Bear in mind that some booths don't open until this week, or even next week.
So far, we've had at least 309,000 votes cast at pre-poll centres. As a comparison, 183,000 votes were cast at pre-poll in the first four days of voting in 2013, and just over 100,000 were cast in the first week in 2010.
That's a 69.1% increase, or a 58.8% increase if you factor in increased enrolment. If this trend continues until election day, you'd expect about 28.7% of votes to be cast at pre-poll in 2016.
We aren't seeing any similar surge in numbers for postal votes. We don't have a perfect comparison between 2013 and 2016, because votes have been received over a longer time period in 2016. As of yesterday, 1.27 million postal vote applications have been received. At the same point twelve days out from the 2013 election, 1.15 million applications had been received, with another 177,000 yet to come. This suggests that postal votes will slightly exceed the numbers in 2013.
The AEC has also released data on the source of postal vote applications, including which party submitted the application in the case of voters who filled out a party's form.
The majority of postal votes are effectively sourced through the AEC. About 260,000 people are registered as "general postal voters", who are automatically registered for a postal vote at every election – this is an increase of about 12.7% since 2013.
About 537,000 applications were sent directly to the AEC. This is almost exactly as many as were received in 2013, but the type of application has changed dramatically. Over 150,000 applications were received in paper form by the AEC in 2013, and this number is now less than 10,000. There has been a subsequent surge in online applications, so that the proportion of applications direct to the AEC which take place online has jumped from 71.2% to over 98%.
The Coalition makes up the bulk of the remaining applications. In 2013, just over 30% of all applications came from Coalition parties, while this number is slightly down to 28% in 2016. Labor submitted 11.5% of applications in 2013, and this has also dropped to 8%.
There have been increases in the number of applications processed by the Greens and other small parties, but they remain a small part of the picture.