A guest post by regular commenter Nick C.
Earlier this week by-elections took place to fill four vacant seats in the Canadian House of Commons. The overall outcome saw a net gain of two seats for Stephen Harper's governing Conservative Party, one at the expense of the Bloc Quebecois, and the other being a seat returning to the Conservative fold after having been held by an ex-Conservative Independent. Meanwhile the Bloc and New Democrats respectively retained the other two seats.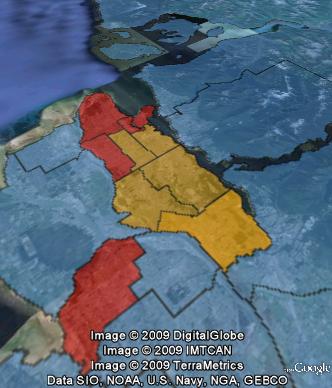 The British Columbia riding of New Westminster-Coquitlam, which lies in the eastern suburbs of Vancouver, had been vacant since April when NDP MP Dawn Black resigned in order to contest (successfully) a seat at May's provincial elections. Black had first served as an MP in the area from 1988 to 1993, when she lost her seat to Paul Forsyth of the Reform Party, a predecessor of the Conservatives. Black then returned to defeat Forsyth in 2006, and retained the seat by just 1,500 votes in 2008.
The new NDP candidate was Fin Donnelly, a city councillor in Coquitlam and noted environmental activist famed for undertaking marathon swims to raise awareness of river pollution issues. The NDP's campaign focused heavily on an apparently contentious issue involving harmonisation of provincial and national taxation laws, which it seems everyone except the NDP believed was actually a provincial, not a federal issue.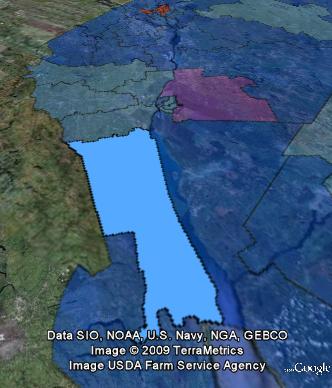 Challenging Donnelly from the Conservatives was Diana Dilworth, a city councillor from Port Moody, whose campaign appeared to focus heavily on law and order issues. The result was a comfortable win for Donnelly, who received 49.7% of the vote, an increase of 7.9% on the NDP's vote share at last year's general election. Dilworth's 35.7% was down 3.1%, with the Liberals' Ken Lee finishing a distant third on 10.3% (down 1%) and the Green Party's Rebecca Helps on 4.3% (down 2.9%). Apparently widespread fears about the spread of swine flu at polling stations led election officials to advise voters that they could bring their own pens to mark their ballot papers with.
Over in the eastern Quebec riding of Montmagny—L'Islet—Kamouraska—Rivière-du-Loup, a by-election was forced when Bloc Quebecois MP Paul Crete, who had held the seat since its creation in 2004, and before that held other seats in the area since 1993, resigned in order to contest a provincial by-election in June, which he failed to win.
The Conservative candidate, a local Mayor, Bernard Genereux, overturned a 16% BQ majority at last year's election to win the seat with 42.7% of the vote, defeating the BQ's Nancy Gagnon on 37.7%. Behind them were Liberal Marcel Catellier on 13.2% (down 2.2%), Francois Lapointe of the NDP (or, that should be NPD since it's Quebec) on 4.8% (down 0.7%) and the Greens' Charles Marois on 1.7% (down 0.5%).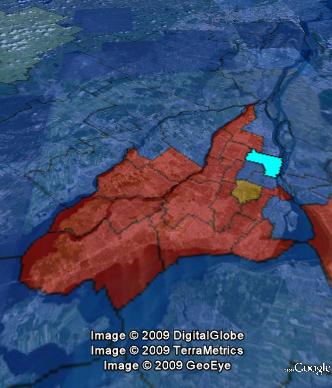 Also in Quebec, the Montreal riding of Hochelaga was up for grabs after the resignation of BQ MP Real Menard, Canada's second-only openly gay MP, who'd held office since 1993, and also resigned to contest a lower political office, in this case Mayor of his local Montreal borough, which he won. Hochelaga is a Bloc stronghold, and this was reflected with the comfortable win of their new candidate Daniel Paille, who received 51.2% of the vote (up 1.5% on last election.
Whilst the Liberal Party had placed second in previous elections in this riding, they were overtaken on this occasion by the NDP (or NPD), whose candidate, Jean-Claude Rocheleau, was the only one of the eight in the field who actually lived in the seat. Rocheleau scored 19.6% (up 5.2%), with Robert David of the Liberals third on 14.3% (down 6.4%), then the Conservative Stephanie Cloutier on 10.1% (up 0.9%, the Conservatives poll very poorly in Montreal), the Green Party's Christine Lebel on 3.3% (down 1%) and the remaining candidates under 1%.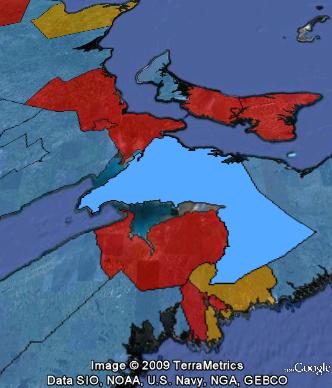 Finally, over in Atlantic Canada, the Nova Scotia riding of Cumberland—Colchester—Musquodoboit Valley saw a by-election to replace Independent MP Bill Casey, who'd resigned to take up a posting as a senior official representing the Nova Scotia provincial government in Ottawa. Casey had been a Conservative MP, first elected for the predecessor Progressive Conservative Party in 1988, then losing his seat in 1993 before regaining it in 1997. He served as a critic (the Canadian equivalent of a Shadow Minister) in a number of portfolios whilst the Conservatives were in opposition.
In 2007 he crossed the floor to vote against the Harper government's budget, claiming it breached an agreement on funding for the Atlantic provinces, and was subsequently expelled from the Conservative caucus and sat as an Independent MP from then on. His local Conservative Party re-endorsed him as their candidate for the 2008 election, but were over-ruled by head office. Standing as an Independent he was comfortably returned with a whopping 69% of the vote, with even the Green Party declaring their support for his re-election and declining to stand a candidate against him.
The riding had been a relatively safe Conservative area, and reverts to that status with Casey's departure – Conservative candidate Scott Armstrong winning with 45.8%, comfortably ahead of 2nd placed Mark Austin of the NDP on 25.7%, Liberal Jim Burrows on 21.3%, the Green Party's Jason Blanch on 3.3%, Jim Hnatiuk, the Leader of the Christian Heritage Party of Canada, on 3.2%, and Independent Kate Graves on 0.6%.
I'm not following Canadian politics all that closely at the moment, so I'm not really in a position to speculate much about what implications, if any, these results may have. However, I would have to say you could score it as a relatively good day for the NDP, and a relatively poor one for the Liberals, and the Green Party, who were well below their current standing of around 10% in national opinion polls. There may of course have been elements of what Canadians call 'strategic voting', or the British call 'tactical voting', involved in the relative performances of those three parties – I don't know.