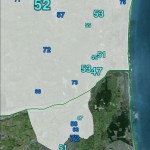 Waimakariri is a marginal National seat covering the northern fringe of Christchurch and nearby areas.
The seat was held by Labour's Clayton Cosgrove from 1999 to 2011. Sitting National MP Kate Wilkinson is retiring, but Cosgrove (who has held a list seat since 2011) will be seeking to win the seat back. National holds the seat by a 3% margin.
The electorate covers Rangiora, Kaiapoi and Belfast.