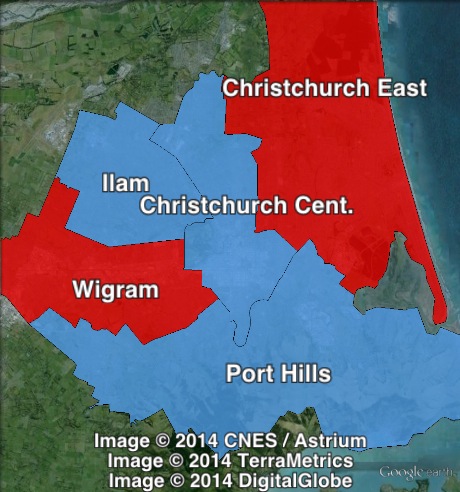 Local electorates
There are five electorates in the Christchurch urban area. Two electorates are held by the National Party, and two are held by the Labour Party. The fifth seat has a Labour MP, and was won by Labour in 2011, but has been redrawn as a National seat. Labour and National each hold one safe seat, while the other three are all very marginal, ranging from a 4.5% Labour margin to a 2.5% National margin.
The National seat of Ilam, in the western suburbs of Christchurch, is a very safe National seat.
The Labour seat of Christchurch East is a safe seat, which was confirmed at last year's by-election.
The Labour seat of Wigram in the western suburbs is very marginal, held by only 4.5%. The seat was held by Jim Anderton for decades, as a Labour MP, then as leader of the Alliance and in recent years as a Progressive. The Labour Party would be hoping to solidify their hold on this historically progressive seat.
The marginal National seat of Christchurch Central is held by a 1.3% margin. The seat was held by Labour until a very close result in 2011.
Port Hills is held by Labour's Ruth Dyson, who has held a seat in the area since 1999. In 2011, Dyson won with a 9.5% margin, but the recent redistribution significantly improved the National Party's position, and made the seat a notional National seat with a 2.5% margin.
Since the 2011 election, there have been significant population shifts in the greater Christchurch area, which has been reflected in the redistribution. It is possible that these population shifts will cause unexpected and dramatic shifts in voting patterns, and make these electorates harder to predict than those in other parts of New Zealand.
Redistribution
There was a significant shift in population in the greater Christchurch area, with seats in inner Christchurch losing population and a surge in population in the neighbouring semi-rural seats of Waimakariri and Selwyn.
This caused an overall shift in electorates moving further west. Christchurch East expanded in all directions, causing Christchurch Central to shift north into Waimakariri and south into Port Hills. Wigram contracted slightly, losing some territory to Port Hills, while no changes were made to Ilam. These shifts caused Port Hills to expand westward, gaining suburbs from Selwyn.
The changes made little impact on the margins in Christchurch Central, Christchurch East and Wigram, but in Port Hills they caused a 12% turnaround from a 9.5% Labour margin to a 2.5% National margin.
Assessment
On the party vote, Labour polled about the same in Christchurch as they did nationally (27.1% vs 27.5%). The National Party polled 1.2% better in Christchurch (48.5% vs 47.3%). The Green Party polled very well, with 14.4% compared to 11% nationally. ACT, the Conservative Party and New Zealand First all polled below their national average.
Labour did quite well on the electorate vote, polling 41% in Christchurch compared to 35% nationally. The National Party polled 1.8% under their national average. The Green Party polled 2% above their national average on the electorate vote.
2011 election results
Electorate Votes
Party Votes
Party
Votes
%
Swing
Redist
Votes
%
Swing
Redist

National

67,579
44.45
+3.98
45.51
74,581
47.67
+7.17
48.52

Labour

64,151
42.19
+5.82
41.37
42,957
27.46
-10.27
27.10

Green

14,442
9.50
+1.25
9.24
23,266
14.87
+5.39
14.41
New Zealand First
697
0.46
+0.19
0.60
8,099
5.18
+2.15
5.14
Conservative
2,513
1.65
+1.65
1.68
3,130
2.00
+2.00
2.05
ACT New Zealand
541
0.36
-0.87
0.33
1,162
0.74
-1.81
0.74
United Future
547
0.36
-0.27
0.33
966
0.62
-0.38
0.62
Legalise Cannabis
591
0.39
-0.13
0.36
781
0.50
+0.09
0.48
Māori
670
0.43
-0.17
0.42
Mana
384
0.25
+0.25
0.24
Alliance
793
0.52
+0.27
0.48
251
0.16
+0.01
0.16
Libertarianz
123
0.08
+0.02
0.08
Democrats
84
0.05
+0.01
0.05
Others
191
0.13
-11.82
0.12