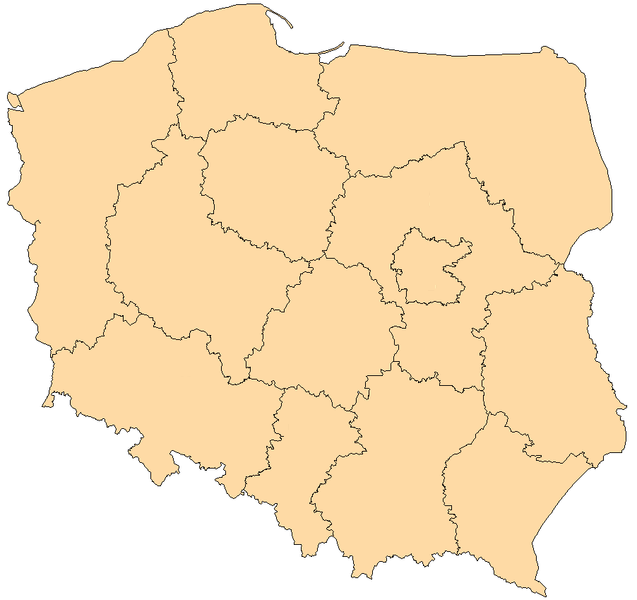 Poland first elected MEPs in 2004, when they elected 54 MEPs. In 2009 they will elect 50 MEPs across thirteen constituencies, with each constituency electing between one and eight MEPs in 2004. Seats are allocated by proportional representation to parties that win at least 5% of the national vote. The first map shows the map of Poland's constituencies.
The 2004 election saw the following parties win seats:
Civic Platform (PO – European People's Party) – 15
League of Polish Families (LPR – Independence and Democracy) – 10
Law and Justice (PiS – UEN) – 7
Self-Defense of the Republic of Poland (SoRP – UEN/PES) – 6
Democratic Left Alliance-Labor Union (SLD-UP – Party of European Socialists) – 5
Freedom Union (UW – European Liberal Democrat and Reform Party) – 4
Polish People's Party (PSL – EPP) – 4
Social Democracy of Poland (SDPL – PES) – 3
Polish politics shifts rapidly. The old Solidarity movement ruled until the 2001 election, when it lost all parliamentary representation, and at the time of the 2004 election, Democratic Left Alliance-Labor Union had a solid majority in the Parliament were in a minority government.
Since the 2004 election, the 2005 election was won by the far-right Law and Justice party, who led a conservative coalition. This coalition collapsed in 2007 and the opposition liberal conservative Civic Platform party formed government, with the support of fellow EPP affiliate Polish People's Party.
League of Polish Families, who came second in the 2004 election, failed to pass the threshold at the 2007 parliamentary election, and do not seem to be standing in this year's election. Recent polls have Civic Platform well in front, polling just below 50%. Law and Justice has been polling in the 20-25% range, while Democratic Left Alliance is sitting on 8-12%. The result seems likely to reinforce the current major parties.