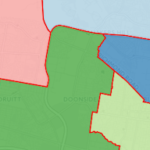 Blacktown City Council is the most populous NSW council to have an election this September. It was the largest council in NSW until the recent round of amalgamations, when Canterbury-Bankstown overtook Blacktown.
Blacktown is traditional Labor territory, but the last election produced a split result, with each major party winning seven seats and the last seat won by independent Russ Dickens, who sided with the Liberal Party.
This Liberal-independent alliance controlled the council for two years, but a Liberal defected to vote for Labor's mayoral candidate Stephen Bali in a secret ballot in 2014, returning Labor to the mayoralty. Bali was re-elected in 2015 when a Liberal councillor defected to become an independent and join with the Labor councillors.