Many commentators have reacted with great surprise to how long it took the Liberal Party to preselect candidates for the Western Sydney marginal seats of Lindsay, Greenway and Parramatta. Parramatta was held by the Liberals until 2004, Lindsay until 2007, and Greenway is still Liberal-held, but the redistribution moved it into the Labor column, leading the sitting Liberal member to contest the neighbouring seat of Macquarie.
Yet despite these seats' recent record of electing Liberals, the party has only preselected for Lindsay this week, with preselections to come on Saturday in Greenway and Parramatta.
It appears some light has been shed on the delays today when Barry O'Farrell, state Liberal leader, appears to have accidentally sent a message out publicly on Twitter when it was only intended to be seen by Fairfax Radio's Latika Bourke.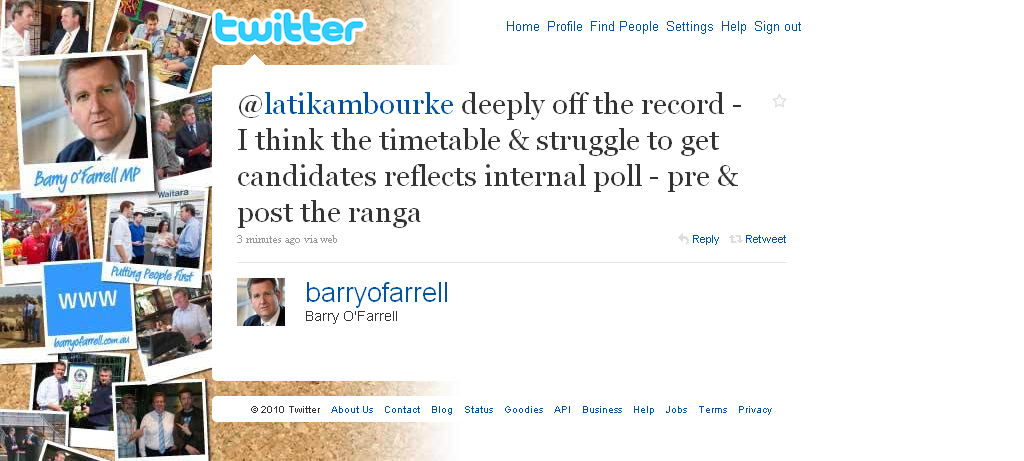 The tweet appears to be in reference to the timetable for preselection in those seats and the struggle to find candidates – which would explain the low profile of all of those announced as contenders.
But it is still very unclear what the 'internal poll' could be telling them. It would be no surprise that the ALP would be favourites to win those seats, despite the ALP's recent bed-wetting over the possibility of losing Lindsay. Yet how bad could it be that the party couldn't find a candidate willing to take a punt on getting a federal seat, or so bad that they wouldn't bother finding a candidate with enough time to win the seat?
The tweet has now been deleted, but it is sure to be highly embarrassing, and does suggest that the Liberals are struggling to compete federally in Western Sydney after their 2007 defeat.
Update: GhostWhoVotes in comments has pointed out that the original tweet still exists, even though it has disappeared from O'Farrell's Twitter feed. It seems it isn't so easy to delete tweets that have been retweeted.