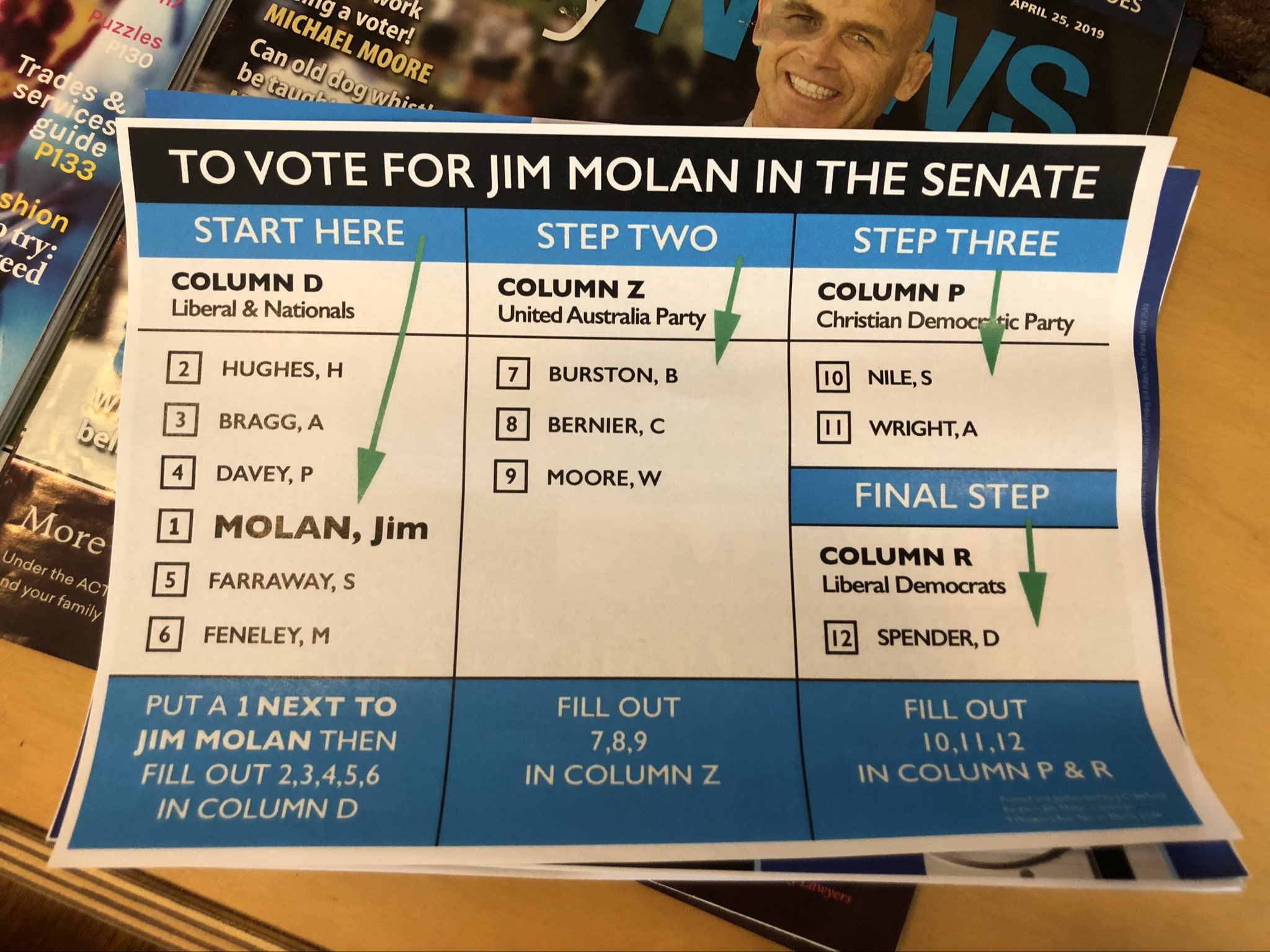 2016 was a good year for candidates overcoming their party's Senate ballot order. We saw Tasmanian Labor senator Lisa Singh win re-election as one of five Labor senators despite being ranked sixth on her party list, with the candidate ranked above her, John Short, missing out. We also saw Tasmanian Liberal senator Richard Colbeck perform strongly on below-the-line votes, but he was less successful, although he later returned to the Senate due to a vacancy caused by section 44. Singh's victory was the first time since the introduction of above-the-line voting in 1984 when a Senate candidate defeated a candidate from their party who was ranked above them on the party's ticket.
This election Lisa Singh has again been demoted to an unwinnable position, while New South Wales Liberal senator Jim Molan is attempting to hold on despite being ranked fourth on his party's ticket.
So can either of these senators win despite the unfavourable position? It's very unlikely, for a number of reasons. Each state will only elect six senators in 2019, compared to twelve in 2016. It's also much easier to achieve this in Tasmania than in mainland states, for a number of reasons.
Below the fold I'll run through some more analysis on this question.
Lisa Singh was ranked sixth on the Labor ticket in 2016, while Richard Colbeck was ranked fifth on the Liberal ticket. Prior to the election there was active campaigning on both sides for voters in Tasmania to vote below-the-line for these candidates.
Singh polled almost 90% of a quota in below the line votes, while Colbeck polled just over half a quota. My 2019 Tasmanian Senate guide runs through how preferences flowed in the final rounds. These two candidates did benefit from early preferences from other below-the-line voters, but preferences dried up once it came down to the final ten or so candidates. Since there was another Liberal and Labor candidate still in the race, any above-the-line preferences flowed to that candidate instead, leaving these two starved of preferences.
Colbeck eventually dropped out. Most of his preferences did go to the Liberal Party, but enough flowed to Singh to give her the remaining 0.083 of a quota she needed to win.
It's not clear to me whether Singh is actively working to attract below the line votes this time, although some corflutes have been spotted.
There is clearly an active campaign to support Jim Molan, although Molan himself has been treading a cautious line to spruik his credentials while not quite advocating a below-the-line vote for himself.
Liberal Senate candidate @JimMolan has printed his own how to vote cards, instructing people how to vote below the line in the Senate #AusVotes19 #auspol @SBSNews pic.twitter.com/Aigah3Srk4

— Brett Mason (@BrettMasonNews) April 29, 2019
So how hard will it be? In short, very hard.
Let's start with the quota. In 2016, the quota was about 7.7% of the statewide vote. This time it will be 14.3%. That makes a big difference and instantly makes the challenge much more difficult. The experience in 2016 was that Lisa Singh had to get quite close to a quota just on her primary votes, since she didn't gain many preferences. So you'd be talking about at least 10% of the state's electors choosing to buck the party line and vote below-the-line.
I want to pause and explain why it's so hard to attract preferences. If you assume that most other votes are cast above-the-line, then those votes will flow automatically to the highest-ranked candidate in each party group. So if Singh or Molan are competing with a fellow member of their group, they won't get a single above-the-line vote as a preference until that other person is elected or excluded.
The best chance for either of these candidates to overcome such a challenge is for their party group (excluding their own below-the-line votes) to poll just over a quota – say 2.2 quotas – enough that the second candidate is elected outright but so that the third candidate is excluded with some preferences which would flow onto them. But as long as that third candidate is in the race they will be attracting minor party above-the-line preferences and the below-the-line challenger can't compete.
It's also more difficult to vote below-the-line. Below-the-line voting was made much easier in 2016. Now voters just need to number 1 to 12 below the line (with 1 to 6 or more counted as formal), whereas they previously had to number every box. But that's still a lot more effort than voting above the line. Formality isn't the only issue – if you want your vote to stay in the count you would need to number more boxes below the line to get the same effect as an above-the-line vote (although you could save a lot of time by just numbering the first candidate in most groups). Voters will be reluctant to do this.
Finally, the state matters. Below the line voting was much higher in Tasmania than in other states. 28.1% of formal votes in Tasmania were below the line, compared to 15% in the ACT and no more than 8.5% in any other state. Only 5.4% of voters in New South Wales delved down below.
Now you could argue that some of this variation was because of the prominent efforts to encourage voters to vote below the line, but this trend has a long history. Tasmania generally has smaller ballot papers, making it easier to vote below the line. The Tasmanian state electoral system also encourages voters to make up their own mind about individual candidates. Tasmania is also much smaller than New South Wales, so the raw number of votes needed to win a seat is a lot less. This does make it easier for an individual senator to get known by voters and overcome the party ticket.
So this does give Singh a greater chance than Molan, but I don't think either of them have much of a shot. Unless there is another big increase in below-the-line voting I don't think we're going to see another candidate overcome their party's ticket for a long time to come.