Incumbent MLCs
Bruce Atkinson (Liberal), since 2006. Previously MLC for Koonung 1992-2006.
Richard Dalla-Riva (Liberal), since 2006. Previously MLC for South Yarra 2002-2006.
Jan Kronberg (Liberal), since 2006.
Shaun Leane (Labor), since 2006.
Brian Tee (Labor), since 2006.
Geography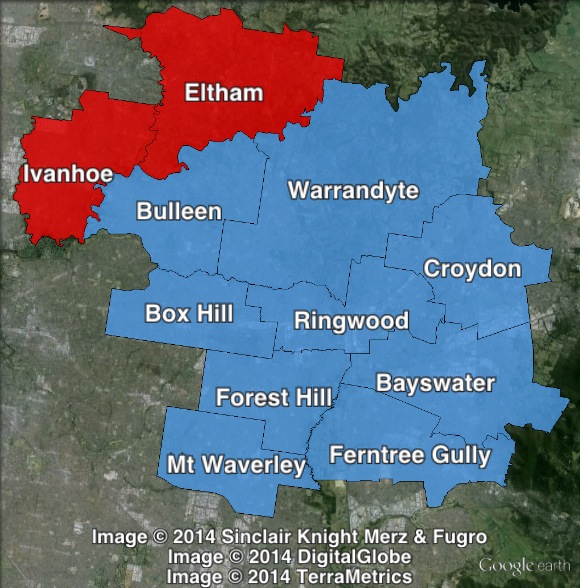 The Eastern Metropolitan region mostly covers areas to the east and south of the Yarra River, but includes two seats on the north side of the Yarra – Eltham and Ivanhoe.
Nine out of eleven seats are held by the Liberal Party. Labor only holds the two very marginal seats north of the Yarra. Most Liberal seats in the area are held with reasonably solid margin, ranging from 3.5% in Forest Hill to 17.2% in Warrandyte.
Redistribution
Fairly significant changes were made to the electorates in the Eastern Metropolitan region. The number of seat in the previous region was cut from eleven to ten. One of these ten seats was then transferred to another region, and two other seats were transferred in from neighbouring regions.
Bayswater, Box Hill, Bulleen, Eltham, Ferntree Gully, Forest Hill and Warrandyte remained in East Metro, but some of those seats underwent significant changes.
In the south, Ferntree Gully and Scoresby were effectively realigned from both being north-south seats, to two east-west seats named Ferntree Gully and Rowville. Rowville, the successor to Scoresby, was shifted from this region into South East Metropolitan.
The electorate of Doncaster was abolished, while Mitcham was significantly redrawn and renamed Ringwood, and Kilsyth was also significantly redrawn and renamed Croydon. These changes had significant knock-on effects on Bayswater, Box Hill, Bulleen and Warrandyte.
To make up for the abolition of Doncaster and the shift of Rowville into South East Metro, Ivanhoe was shifted from North Metro, and Mount Waverley was shifted from South Metro. The transfer of Ivanhoe was caused by the effective abolition of one seat south of the Yarra River and the creation of one seat north of the Yarra, which required East Metro to shift further north.
On the old boundaries, Eastern Metro was the best region in Victoria for the Liberal Party in 2006 and 2010, but the Liberal vote dropped due to the new boundaries from 51.7% to 49.9% – which means the Liberal Party has dropped just below three full quotas, from 3.1 quotas to 2.996 quotas.
The ALP's vote increased slightly by 0.034 quotas – the Greens vote also increased by 0.05 quotas.
History
The Eastern Metropolitan region was created in 2006, when proportional representation was introduced.
Since 2006, East Metro has produced the same result at each election – three Liberals and two Labor. Indeed, the region has elected the same five individual MLCs at each election since 2006.
2010 result
2010 election
Redistribution
Party
Votes
%
Quota
%
Quota

Liberal Party

201,337
51.68
3.101
49.93
2.996

Labor Party

118,679
30.46
1.828
31.03
1.862

The Greens

44,621
11.45
0.687
12.29
0.737
Family First
12,153
3.12
0.187
2.86
0.172
Democratic Labor Party
10,161
2.61
0.156
2.51
0.151
Others
2,660
0.68
0.041
1.38
0.083
On primary votes, the first three Liberal candidates were elected along with the first Labor candidate.
After the exclusion of independent candidates and lower-ranked major party candidates, the preference count was:
Brian Tee (ALP) – 0.825 quotas
Damian Magner (GRN) – 0.700
Peter Lake (FF) – 0.189
Pat La Manna (DLP) – 0.176
Grace Tse (LIB) – 0.099
The exclusion of #4 Liberal candidate Grace Tse saw her preferences flow mostly to Family First:
Tee (ALP) – 0.826
Magner (GRN) – 0.702
Lake (FF) – 0.275
La Manna (DLP) – 0.177
La Manna's preferences also flowed to Family First.
Tee (ALP) – 0.831
Magner (GRN) – 0.723
Lake (FF) – 0.415
Despite more than doubling the Family First vote on preferences, Lake was excluded, and his first batch of preferences elected the Labor candidate, with a large chunk of Family First preferences yet to be distributed:
Tee (ALP) – 1.009
Magner (GRN) – 0.724
Lake (FF) – 0.232
Candidates
Sitting Liberal MLC Jan Kronberg is not running for re-election. Mary Wooldridge, whose seat of Doncaster has been abolished, is moving to run for Eastern Metropolitan region in the Legislative Council.
A – David Scanlon – Voluntary Euthanasia

B –

Liberal

Grace Roy
Shilpa Hegde

C – Milton Wilde – Palmer United Party
D – Abe Salt – Liberal Democrats
E -Martin Myszka – Family First
F – Stephen Barber – Sex Party
G – Pat Shea – Democratic Labour
H – Barry Fitzsimons – Rise Up Australia
I – Michael Barclay – Country Alliance

J –

 Samantha Dunn – Greens

K –

Labor

Dimity Paul
Lauren Johnson

L – Vickie Janson – Australian Christians
M – Brenton Edgecombe – Animal Justice
N – Kostandinos Giannikos – Shooters and Fishers
O – Lou Coppola – People Power
P – Neil Cameron – Cyclists Party
Preferences
Assessment
Eastern Metropolitan is a very strong area for the Liberal Party, and despite the redistribution slightly strengthening the position of the ALP and the Greens, it remains Liberal heartland.
After preferences in 2010, the combined vote for Labor and the Greens was equivalent to about 2.75 quotas. In addition, Labor and the Greens' position was strengthened by 0.8 quotas by the redistributed boundaries, which would bring the centre-left vote to 2.83 quotas. So a swing of about 0.17 quotas would be required to allow a third centre-left candidate (probably the Greens candidate) to win. This is equivalent to about 2.8% of the vote, which would be a lot.
If that doesn't happen, it is also possible that a swing towards the Greens and away from Labor could see the second Labor seat lost to the Greens. I estimate that a swing of about a quarter of a quota (about 4% of the vote) would see the Greens win a seat – it's hard to see that happen, particularly if the ALP is benefiting from a general swing that could see the party return to government.