The South West region covers the counties of Gloucestershire, Wiltshire, Dorset, Devon, Somerset and Cornwall, as well as areas formerly part of the county of Avon. Major centres include Bristol, Bournemouth, Swindon, Plymouth, Bath, Gloucester and Torbay.
In 2005, the Conservatives won 22 seats, the Liberal Democrats won 16 and Labour won 13.
The recent redistribution saw a number of extra seats added to the South West. According to UK Polling Report, the Conservatives gained four seats, the Liberal Democrats gained one seat and Labour lost one seat. Labour lost a seat in North East Somerset. The Lib Dems lost the seat of Somerton & Frome, but gained a sixth seat in Cornwall and the newly created seat of Chippenham. The Conservative gains include new seats in Devon and South Gloucestershire, as well as a Labour seat in North East Somerset and a Lib Dem seat in Somerset which flipped to Conservative.
Labour is clearly the third party in the South West, and in most of the seats in the South West the contest is between the Liberal Democrats and the Conservatives. The Conservatives are the largest party in the counties of Devon, Dorset, Gloucestershire and Wiltshire, and the redistribution also gives them a majority of seats in Somerset. Every seat in Cornwall is held by the Liberal Democrats. Labour holds four seats in a cluster around Bristol. They also hold two seats in Plymouth, two in Swindon, one in Exeter, one in Dorset and two in Gloucestershire.
The Liberal Democrats have a large number of marginal seats in the South West that are vulnerable to the Conservatives. If there is a swing to the Conservatives and the Liberal Democrats can't hold their position in the South West they could sustain a number of losses.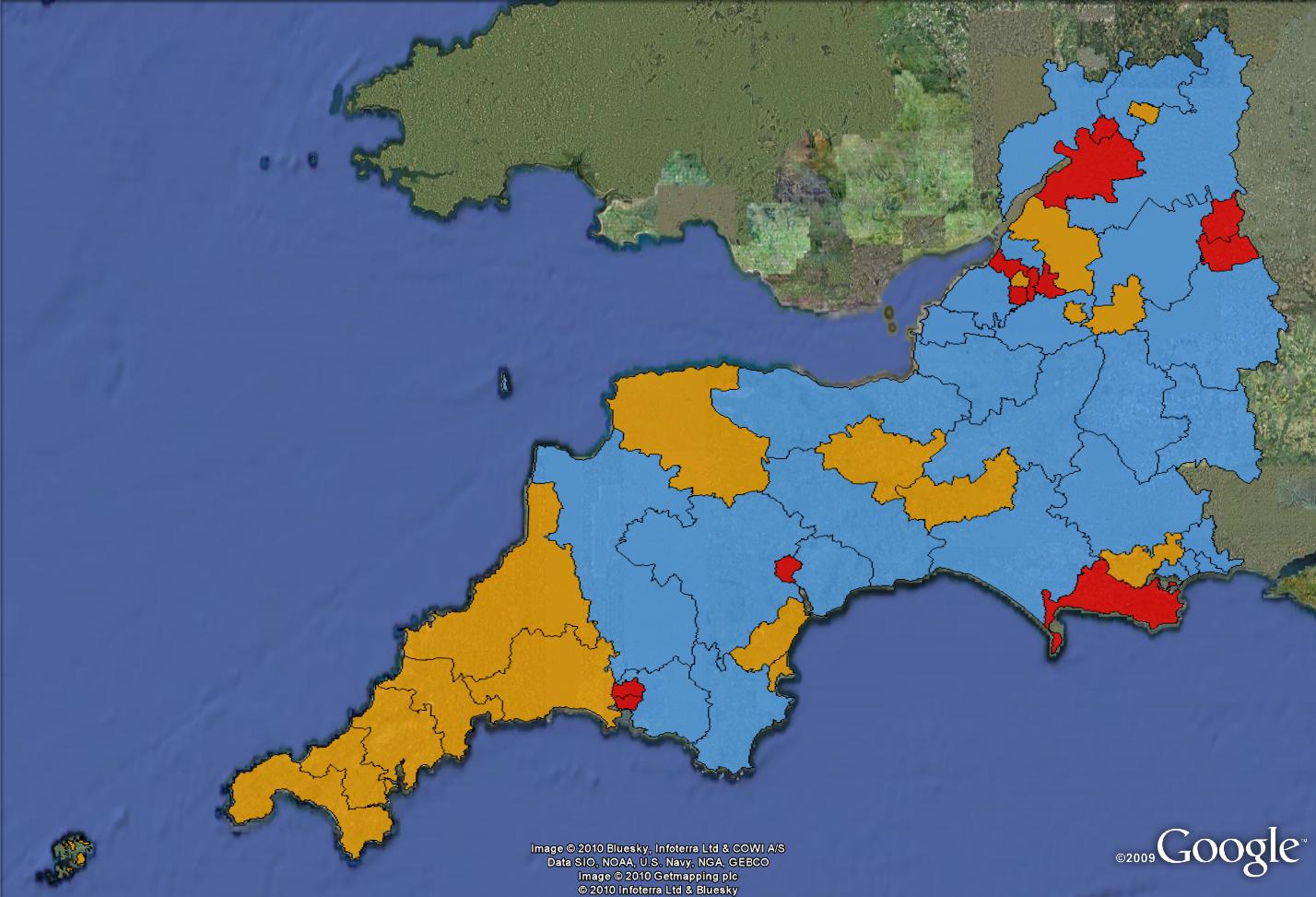 Recent history
1987 – 43 CON, 2 LIB, 1 LAB, 1 SDP
1992 – 37 CON, 6 LD, 4 LAB
1997 – 22 CON, 15 LAB, 14 LD
2001 – 20 CON, 16 LAB, 15 LD
2005 – 22 CON, 16 LD, 13 LAB
In 1987, Labour only won a single seat in the region, Bristol South, while two Liberals and one Social Democrat were elected.  The Liberal Democrats and Labour both gained ground in 1992, but the Conservatives remained heavily dominant. This included one of the most remarkable results of the election when Conservative Party chairman Chris Patten lost his seat of Bath to the Liberal Democrats.
The Conservatives have managed to remain the largest party in the South West throughout the years of the Blair government, with Labour and Liberal Democrats level-pegging in terms of seats, although the Liberal Democrats overtook Labour in 2005.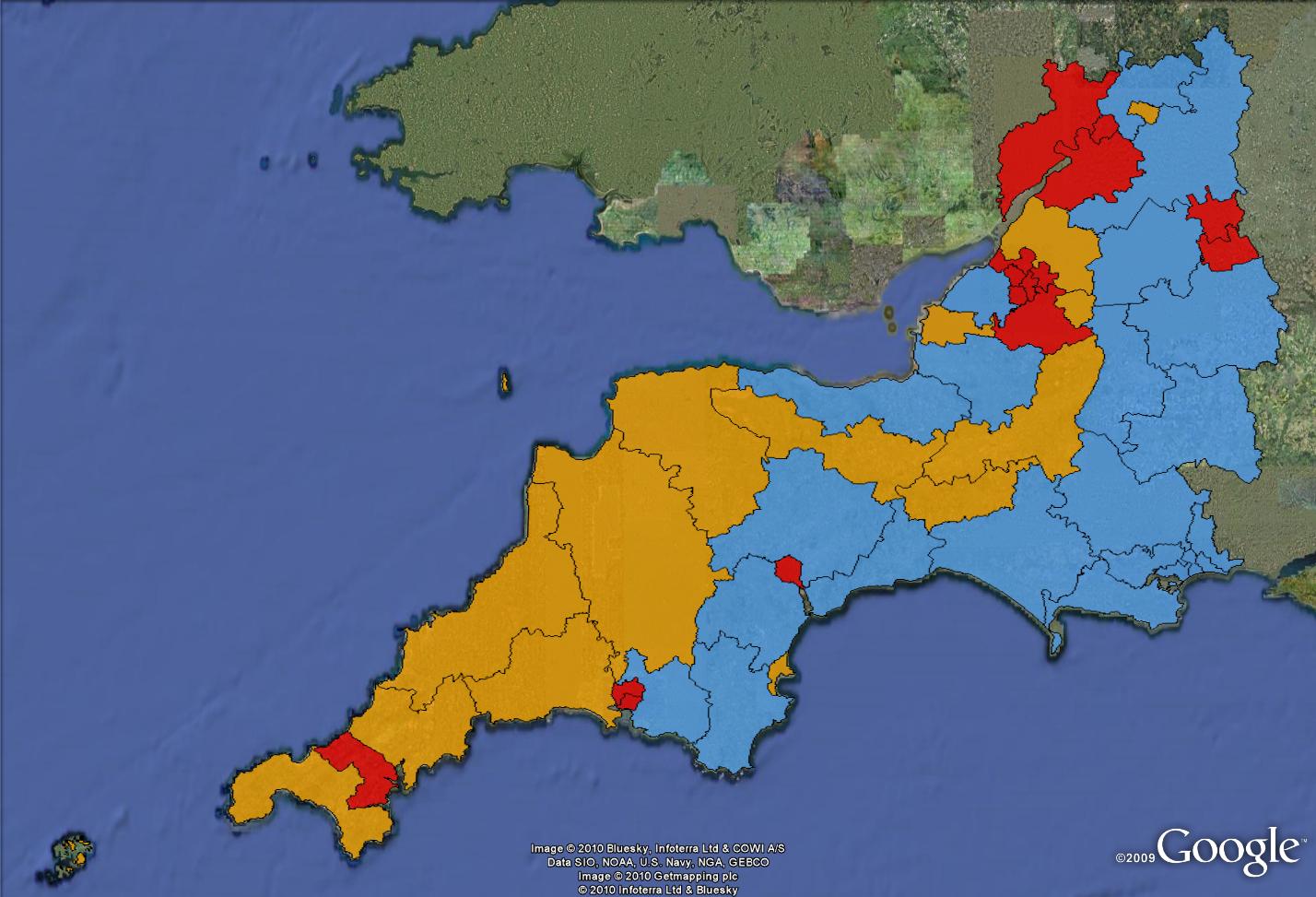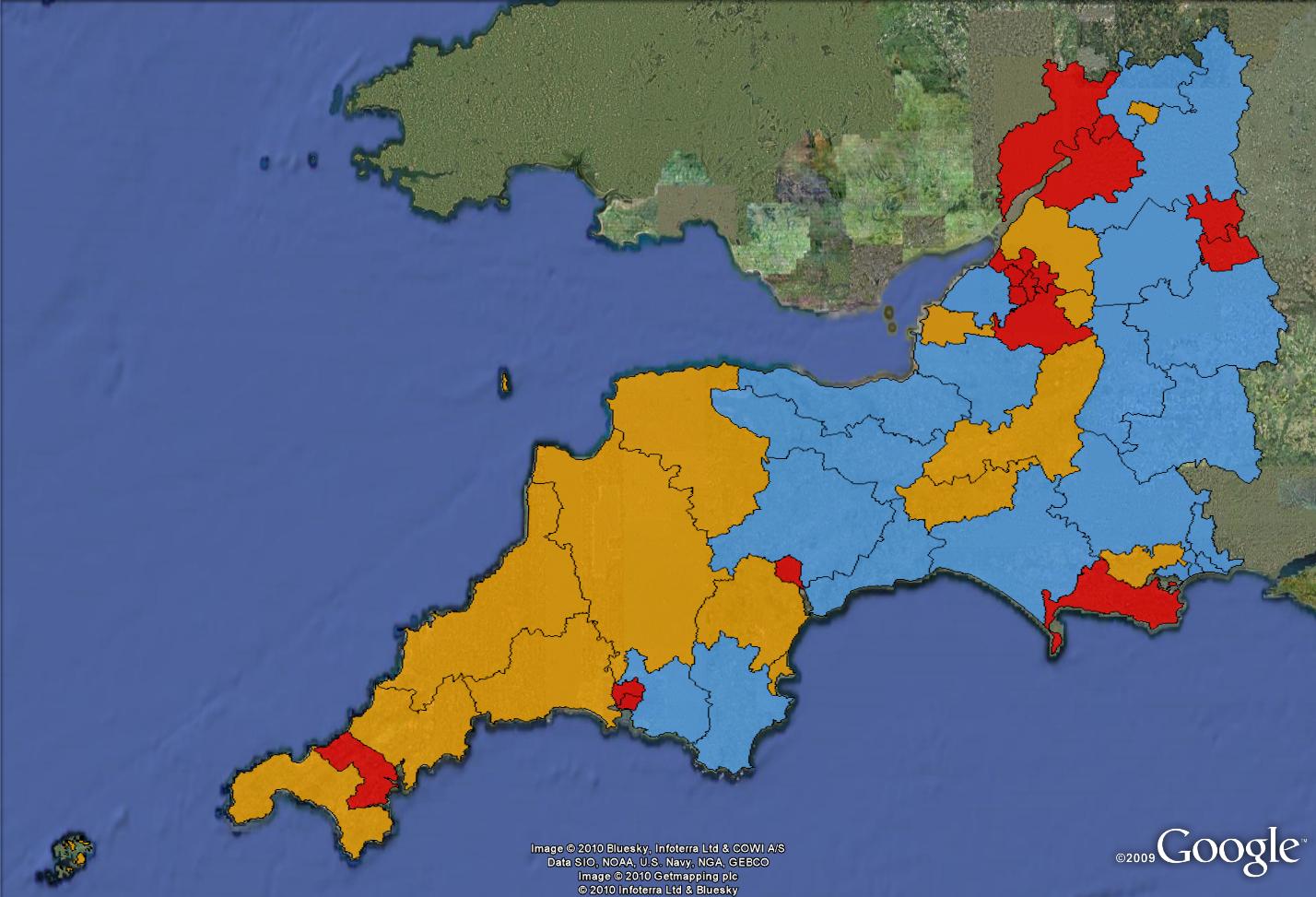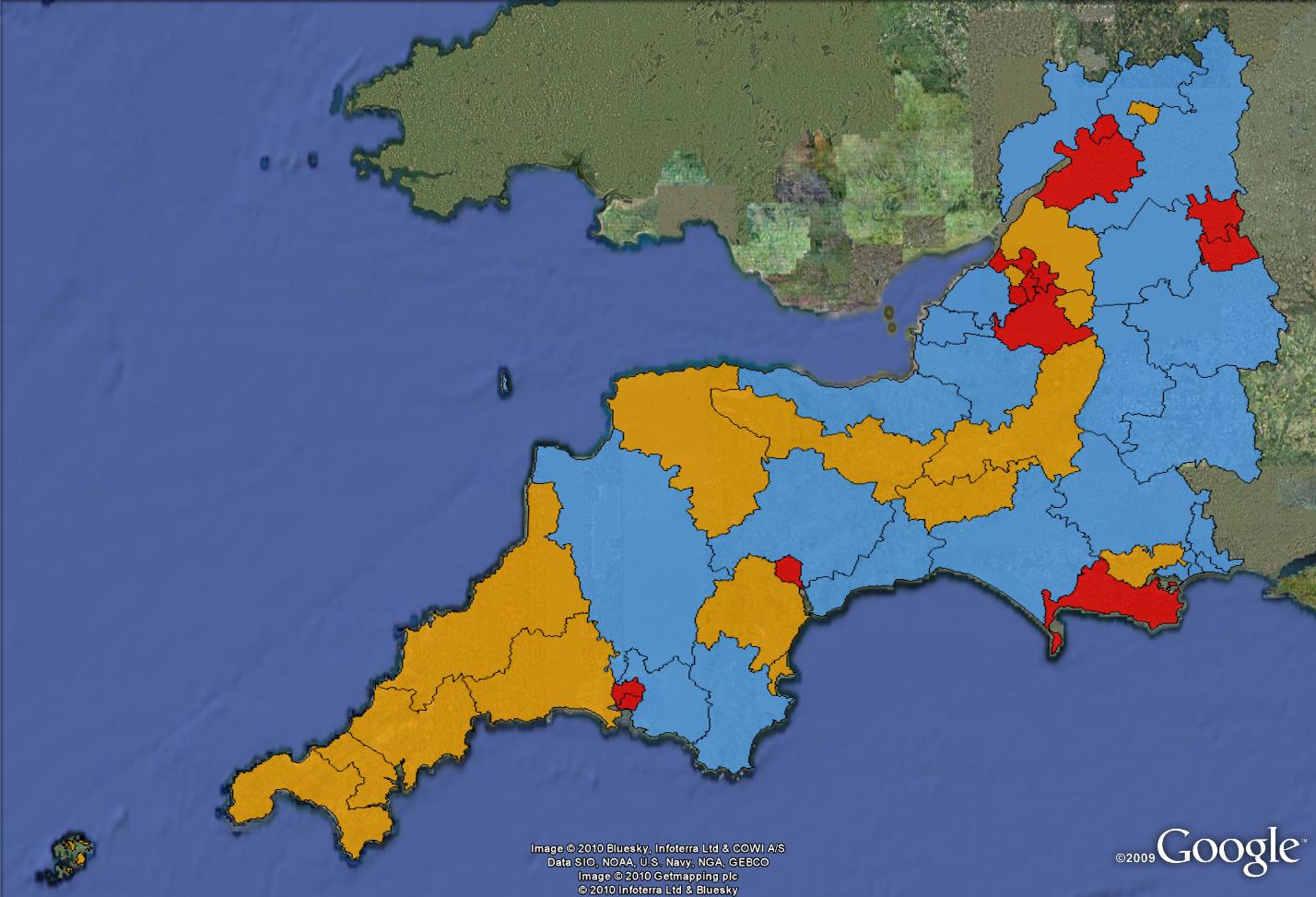 The key seats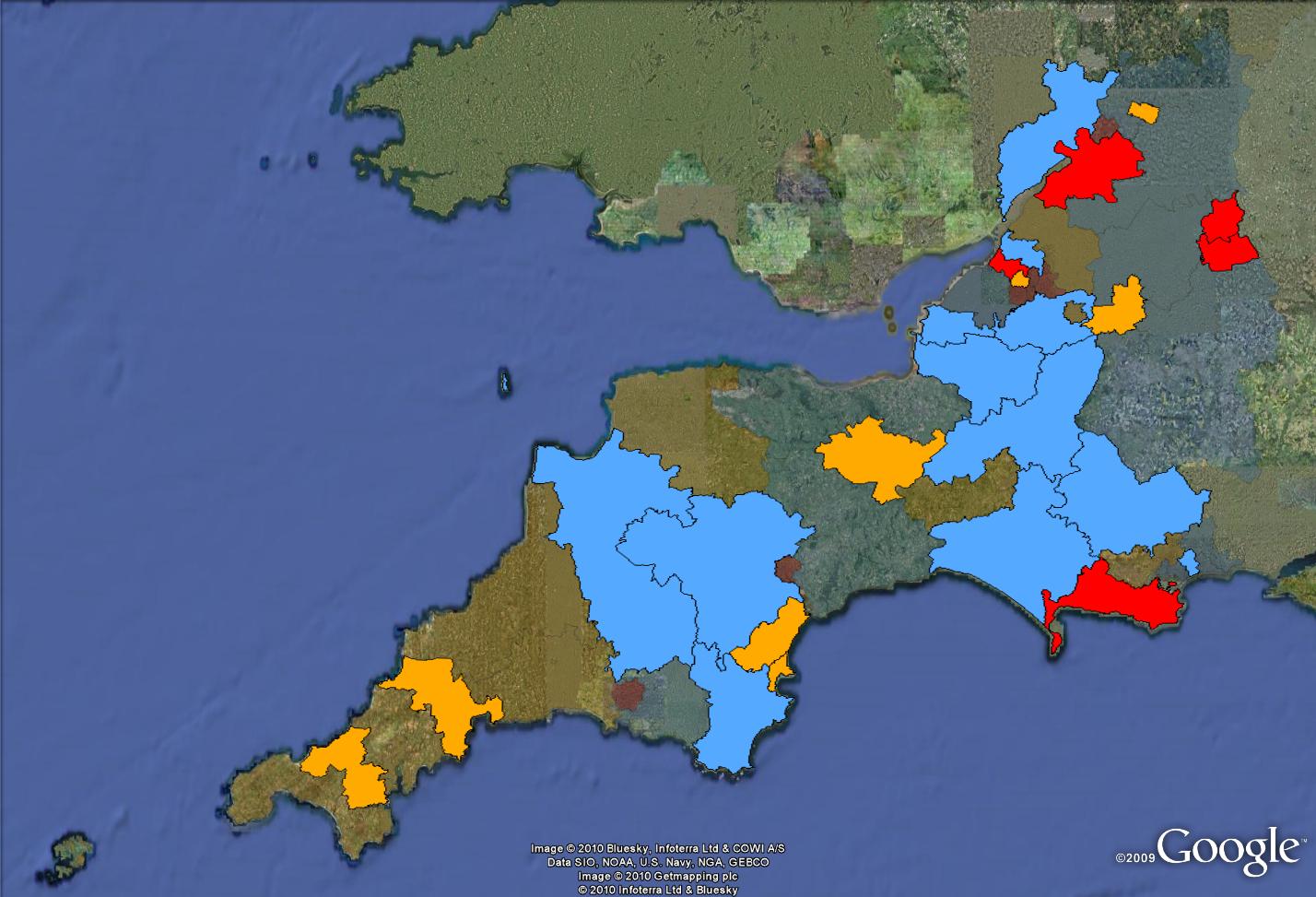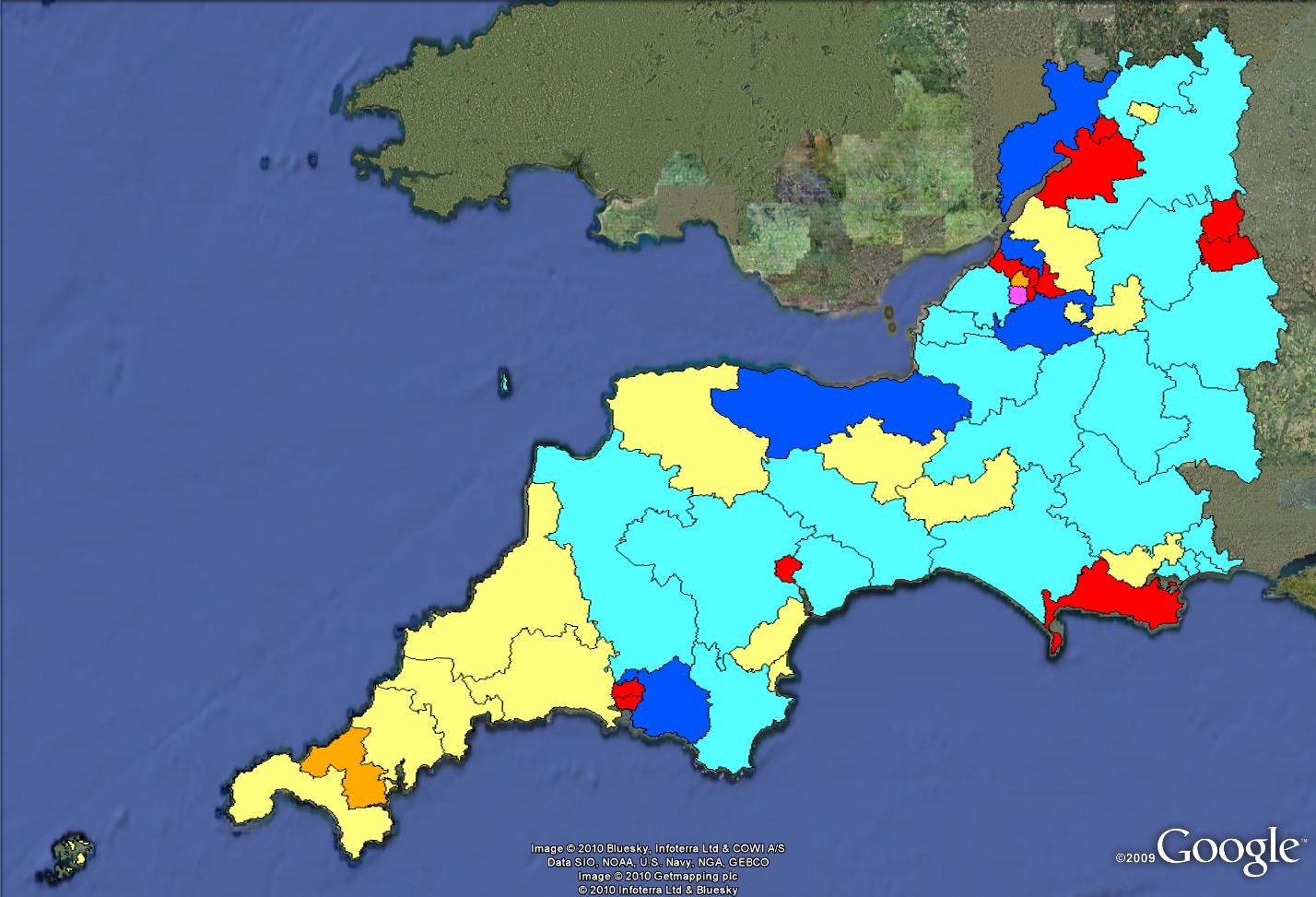 Elsewhere: The Guardian's profile of the race in the South West, and UK Polling Report's profiles on South West seats.