South Australia goes to the polls on March 20. Premier Mike Rann is running for a third term, after entering government following the 2002 state election. He will face off against new Liberal leader Isobel Redmond.
History
The last Labor government of South Australia took office in 1982, with John Bannon defeating Liberal Premier David Tonkin. The ALP won a one-seat majority, with 24 Labor MPs, 21 Liberals, one National and one Independent. Bannon's majority was increased in 1985, with 27 Labor MPs and two Labor-leaning independents.
A swing to the Liberal Party in 1989 produced a hung parliament, with 22 MPs for both the ALP and the Liberal Party, as well as two independents and one National. This allowed Bannon to continue in office, despite the Liberal Party polling 51.9% of the two-party preferred vote under their leader John Olsen.
Bannon was hit by the collapse of the State Bank in 1990, and resigned as Premier in 1992, succeeded by Lynn Arnold. Arnold led the ALP into the 1993 election, where they were thrashed, with the Liberals winning 37 seats to the ALP's 10, including one former Labor independent.
The Liberal Party in this period were dominated by Dean Brown and John Olsen. Brown had lost his seat in 1985 when a redistribution saw him challenged by another Liberal MP, while Olsen had moved to the Senate in 1990 after leading the party into the 1985 and 1989 elections. Both Brown and Olsen re-entered Parliament in by-elections on the same day in 1992, and Brown led the Liberal Party to the 1993 landslide.
Brown was defeated for the party's leadership in 1996, and Olsen led the party as Premier into the 1997 election. New Labor leader Mike Rann pulled the ALP back from their 1993 disaster, with the Liberals winning only two more seats than the ALP and falling one short of a majority, relying on the support of a Liberal independent to stay in power.
John Olsen resigned as Premier in 2001 following a scandal involving misleading of Parliament over a contract with communications company Motorola. He was succeeded by Rob Kerin, who led the party into the 2002 election.
This election saw the third hung parliament in four elections, with 23 Labor MPs, 20 Liberals, one National and three independents. The independents were Rory McEwen, Bob Such and Peter Lewis. McEwen had been defeated for preselection for Mount Gambier in 1997 before winning as an independent. Both Such and Lewis had been previously elected as Liberals before becoming independents in 2000 and winning re-election in 2002.
Despite expectations, Lewis supported the ALP and Mike Rann became Premier. Lewis was elected Speaker, and two other crossbenchers later joined the government as ministers. Rory McEwen took on a ministry in November 2002, as did sole Nationals MP Karlene Maywald in 2004.
At the 2006 election, Rann's government increased its majority, winning 28 seats to the Liberal Party's 15 seats, while Maywald and three independents were elected. The three independents included McEwen and Such, as well as Kris Hanna, who had defected from the ALP to the Greens in 2003 before becoming an independent shortly before the 2006 election. This produced the largest number of seats for the ALP since the Parliament was expanded to 47 seats in 1970 (when the Dunstan government was first elected).
Since the 2006 election, Maywald and McEwen have continued as ministers in the government, although McEwen has announced his retirement at the upcoming election.
The Liberal Party has experienced substantial leadership turmoil since the 2006 election. Former Premier Rob Kerin led the party to his second election in 2006 before resigning as leader. He was succeeded by Iain Evans (whose father had defeated Dean Brown in 1985) as leader.
Evans was challenged for the leadership in April 2007 by Martin Hamilton-Smith. In 2009, the Liberals lost the seat of Frome at a by-election following the retirement of Rob Kerin, losing to independent Port Pirie mayor Geoff Brock, who polled third on primary votes and managed to overtake the Liberal to win on Labor, National and Greens preferences.
Hamilton-Smith's leadership was fatally wounded in 2009 by the 'dodgy documents' affair, when the Liberals presented documents in Parliament alleging that companies aligned to the Church of Scientology had donated to the Labor Party. These documents were later found to be false and Hamilton-Smith was forced to apologise.
Hamilton-Smith called a leadership spill in July 2009, which he narrowly won against his deputy Vickie Chapman, before a second spill where Hamilton-Smith stood down and Isobel Redmond was elected leader.
Political situation
Most recent polls have put the ALP in a dominant position, and recent internal turmoil in the Liberal Party would suggest the party would struggle to win the election. A recent Advertiser poll, however, put the ALP on only 52% of the two-party preferred vote, which if reflected in other polls could suggest a closer race than expected. It's also worth bearing mind that the 2006 result was a record high for the ALP, and there are a number of traditional Liberal seats in Labor hands that could fall. That being said, a swing of approximately 12% is needed for the Liberals to become the largest party and it seems that this will be very hard to achieve.
The sole remaining Democrats MP, David Winderlich, left the party last year and will be running as an independent, and seems unlikely to be able to win. Family First will be running to retain one of their two seats, while the Greens are running Tammy Jennings as their candidate to take a second seat for the Greens, alongside Mark Parnell who is halfway through his eight-year term. Nick Xenophon's No Pokies party is unlikely to have much of an impact since Xenophon's move to federal politics in 2007.
2006 result – House of Assembly
| | | | | |
| --- | --- | --- | --- | --- |
| Party | Votes | % | Swing | Seats |
| Labor | 424,715 | 45.22 | +8.88 | 28 |
| Liberal | 319,041 | 33.97 | -6.00 | 15 |
| Greens | 60,949 | 6.49 | +4.13 | 0 |
| Family First | 55,192 | 5.88 | +3.24 | 0 |
| Democrats | 27,179 | 2.89 | -4.60 | 0 |
| Nationals | 19,636 | 2.09 | +0.64 | 1 |
| Independents | 25,884 | 2.76 | | 3 |
| Others | 6,565 | 0.70 | | 0 |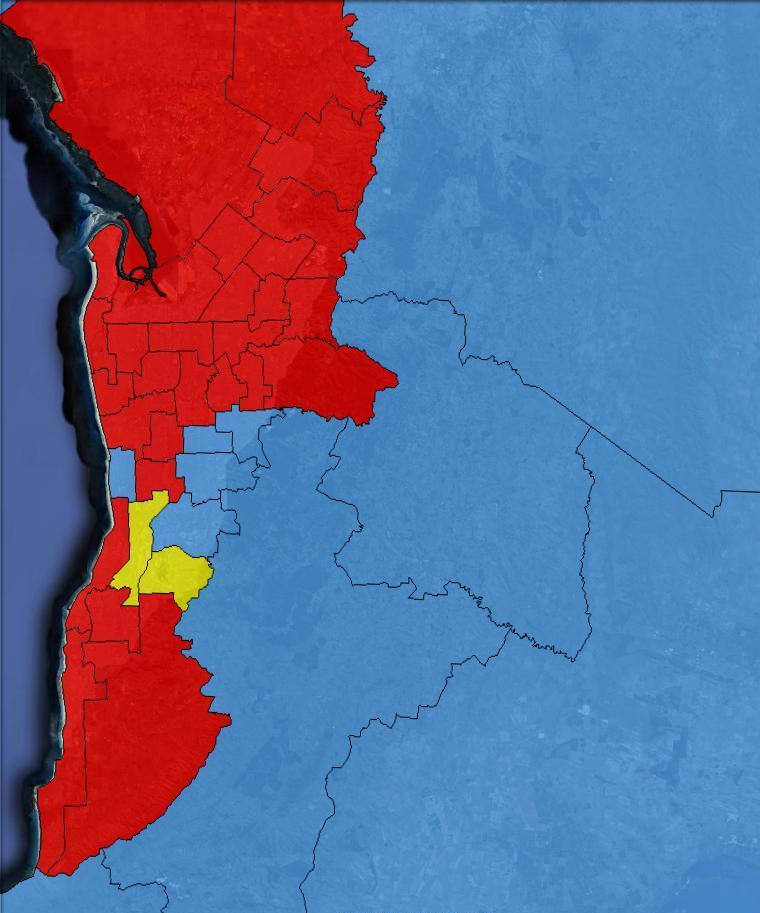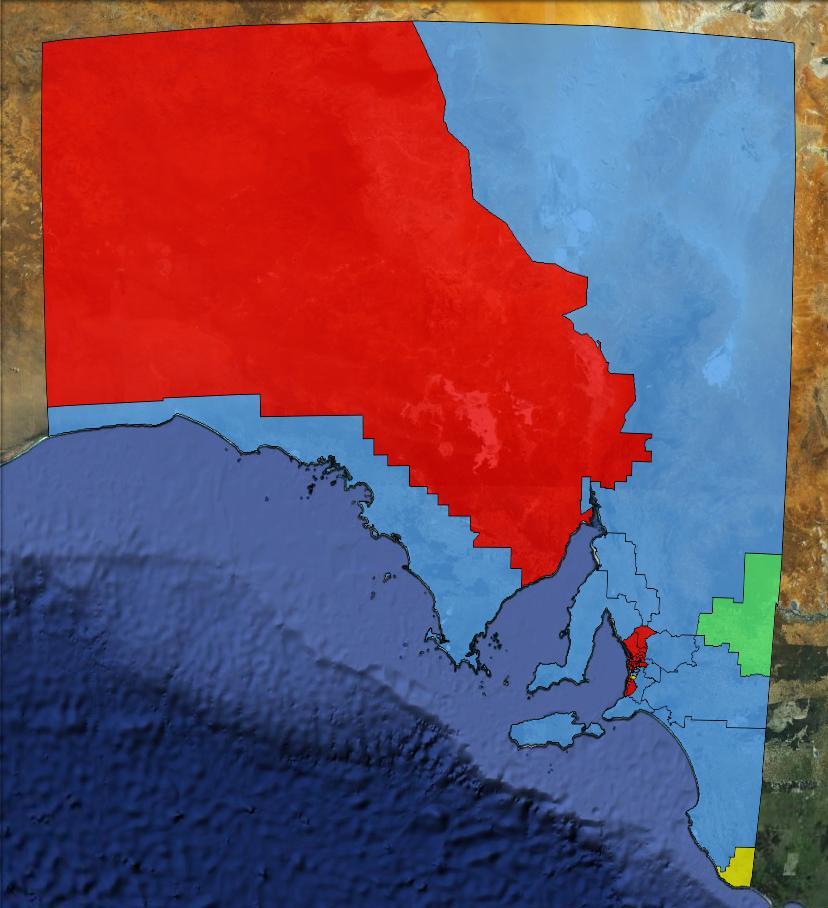 .
The ALP gained six seats off the Liberal Party, completely dominating the Adelaide area. The Liberal Party gained the seat of Hammond off independent Peter Lewis. Independent MP Kris Hanna was previously elected as a Labor MP in 2002, and was re-elected as an independent in 2006, thus counting as a Labor loss.
2006 results – Legislative Council
| | | | | | |
| --- | --- | --- | --- | --- | --- |
| Party | Votes | % | Swing | Seats won | Seats held |
| Labor | 340,632 | 36.60 | +3.70 | 4 (4.39) | 8 |
| Liberal | 241,740 | 26.00 | -14.10 | 3 (3.12) | 8 |
| No Pokies | 190,958 | 20.58 | +19.20 | 2 (2.46) | 2 |
| Family First | 46,328 | 5.00 | +1.00 | 1 (0.60) | 2 |
| Greens | 39,852 | 4.30 | +1.50 | 1 (0.51) | 1 |
| Democrats | 16,412 | 1.80 | -5.50 | 0 (0.21) | 1 |
| Others | 54,967 | 5.90 | | | 0 |
The result in the Legislative Council was one of the biggest result for minor parties and independents since the creation of the modern party system in Australia. The major parties barely managed 62% between them, while the No Pokies ticket, headed by sitting MLC Nick Xenophon, managed 20.6% of the vote statewide, sweeping in Xenophon's running mate Anne Bressington.
The Democrats vote collapsed, losing both their seats they had won in 1997 and reducing them to the single seat they won in 2002. Family First won a second seat, on top of their first seat won in 2002. The Greens also elected their first MP, Mark Parnell.
Redistribution
South Australia redraws its state electoral boundaries between every election. South Australia's electoral boundaries are redrawn to ensure 'fairness', supposedly ensuring that a party that wins a majority of the two-party-preferred vote wins a majority of seats, introduced following the 1989 result, when the ALP won despite the Liberals winning a majority of preferences. This process hasn't really been shown to work, and is largely impossible to achieve, since a single-member electorate system always can result in distortion of results, regardless of how the boundaries are drawn, and the current system simply punishes effective marginal seat MPs by redrawing boundaries to remove any swing they may have gained.
While the redistribution before the 2006 election produced dramatic changes, the most recent redistribution didn't produce dramatic changes to the boundaries.
You can download the Google Earth electoral maps from this blog for the 1997, 2002, 2006 and 2010 elections, and the 2010 electoral maps are posted below.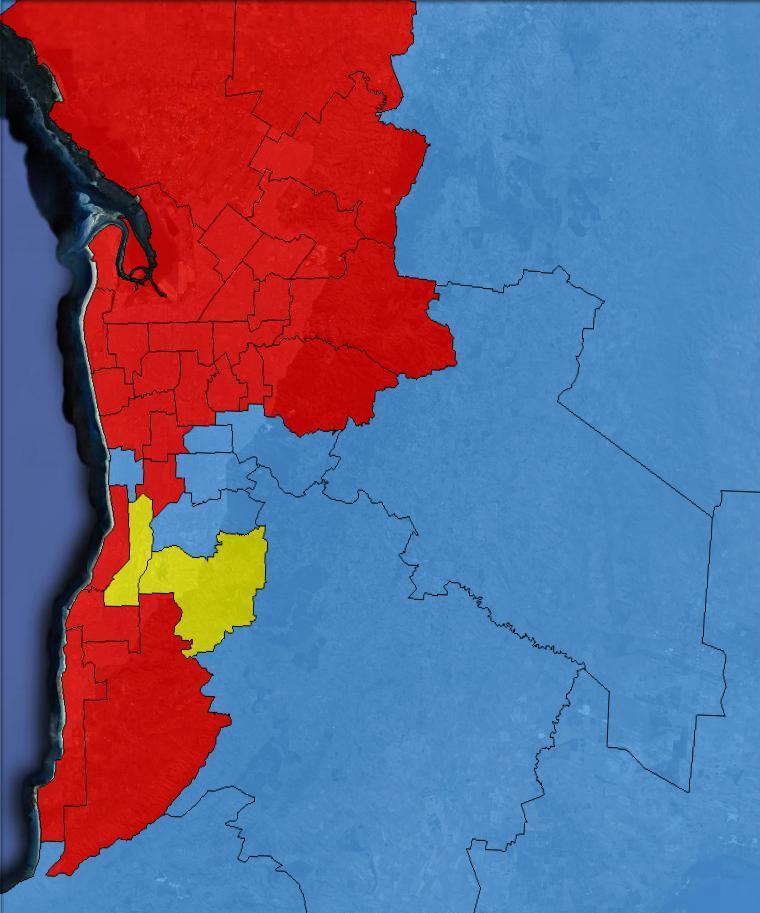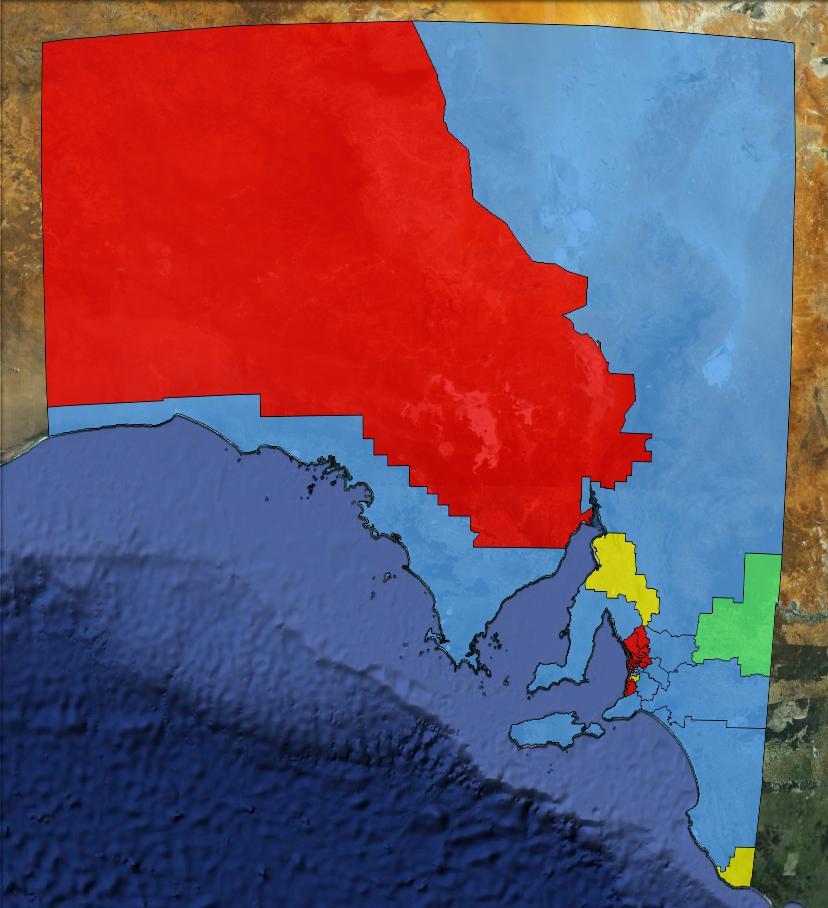 Other links