June 19, 2010
History
Penrith was created as a state electoral district for the 1973 state election as a seat covering a large area around Penrith which included rural areas that have since been developed.
The seat was first won in 1973 by Labor candidate Ron Mulock. Mulock had previously won the seat of Nepean in 1971 before the redistribution. Mulock joined the cabinet in 1976 after the election of Neville Wran's Labor government. He moved to the new seat of St Marys in 1981, and went on to serve as Deputy Premier from 1984 until his retirement at the 1988 election.
Penrith was won in 1981 by another Labor MP, Peter Anderson. Anderson had won the seat of Nepean in 1978 before its abolition in 1981. Anderson was appointed to the ministry in 1982, and served as a minister until the 1988 election, when he lost Penrith at the 1988 election to Liberal candidate Guy Matheson. Anderson returned to Parliament in a 1989 by-election for the seat of Liverpool after former minister George Paciullo failed to win election as leader of the Opposition and resigned. A bitter preselection fight for Liverpool between Mark Latham and Paul Lynch was resolved by imposing Anderson as a compromise candidate, although he was defeated for preselection by Lynch in 1995.
Matheson failed to win re-election in 1991, with Labor's candidate, Mayor of Penrith Faye Lo Po', winning the seat back. Lo Po' served as a minister in the Carr Labor government from 1995 until her retirement in 2003.
The seat was won in 2003 by Penrith councillor Karyn Paluzzano. In late 2009 she faced accusations of illegal misuse of public funds from a former staffer, and this scandal forced her to resign in May 2010.
Geography
Penrith covers the centre of the City of Penrith and parts of the lower Blue Mountains. It covers the suburbs of Kingswood, South Penrith, Jamisontown, Blaxland, Glenbrook, Emu Plains and parts of Cranebrook. The seat of Penrith covers only a small part of the City of Penrith, including the most populated areas in the centre of the City.
Political situation
The ALP holds Penrith with a 9.2% margin over the Liberal Party. While that would normally be considered a substantial margin, recent by-election history and current NSW polling suggests that it is not a stretch for the Liberals to win the seat.
Current polling has the ALP down from their 39% primary vote at the 2007 election to 31% in the latest state Newspoll, although this was preceded by two polls on 30% and one on 26%. If accurate, these polls would suggest a uniform swing of 9% is a reasonable possibility. Penrith is also an area known for large swings, and the overlapping federal electorate of Lindsay swung strongly to the Liberal Party at the 1996 election and was held by Liberal MP Jackie Kelly for the entirety of the Howard government.
The ALP has also suffered massive swings at recent state by-elections in New South Wales. A triple by-election in 2008 in the Labor seats of Ryde, Cabramatta and Lakemba saw a two-party preferred swing of over 20% in Ryde and Cabramatta and over 13% in Lakemba. These swings would easily be enough to overturn Labor's hold on Penrith, as it was in Ryde.
The ALP is clearly aware of how hard it will be to retain Penrith, and are engaging in heavy spin to lower expectations. ALP spin doctors have even suggested that they could fall into third place behind the Greens, which suggests they no longer care about saying anything that's  even remotely plausible. The ALP polled 43% more than the Greens, and the Greens generally don't perform so well in Western Sydney. The Greens vote should increase, due to the by-election context and the rising Greens vote in polls since the last election. This race still remains a race between Labor and Liberal, like previous races in Ryde, Cabramatta and Macquarie Fields.
It seems most likely that the Liberals will gain Penrith, reducing the ALP's majority to seven, down from eleven after the 2007 election.
Candidates
John Thain (Labor)

Suzie Wright (Greens)
Mick Saunders (Australia First)
Stuart Ayres (Liberal)

David Leyonhjelm (Outdoor Recreation Party)

Jose Sanz (Democrats)

Andrew Green (Christian Democratic Party)

Noel Selby (Independent)
2007 result
| | | | | |
| --- | --- | --- | --- | --- |
| Candidate | Party | Votes | % | Swing |
| Karyn Paluzzano | ALP | 19,983 | 48.66 | +2.3 |
| Tricia Hitchen | LIB | 13,368 | 32.55 | -3.0 |
| Andrew Green | CDP | 2,544 | 6.20 | +3.4 |
| Suzie Wright | GRN | 2,285 | 5.56 | -0.3 |
| Geoff Brown | IND | 1,468 | 3.57 | +3.6 |
| Andrew Mavin | AAFI | 1,052 | 2.56 | +2.6 |
| Geraldine Waters | DEM | 365 | 0.89 | – |
2007 two-candidate-preferred result
| | | | | |
| --- | --- | --- | --- | --- |
| Candidate | Party | Votes | % | Swing |
| Karyn Paluzzano | ALP | 22,020 | 59.25 | +2.6 |
| Tricia Hitchen | LIB | 15,146 | 40.75 | -2.6 |
| Exhausted | | 3,899 | 9.49 | |
Booth breakdown
The major dividing line in the seat of Penrith is the Nepean river. A majority of voters live on the eastern side of the river, while Emu Plains and the lower Mountains towns of Blaxland and Glenbrook lie on the western side of the river.
In 2007 the ALP polled much more strongly in the eastern part of the seat, polling almost 63% compared to almost 53% in the west. The Greens polled much higher in the west, although within this area the Greens polled much better in the Blue Mountains area, where they polled over 10% at every booth, while polling around 4-5% in the booths in the Emu Plains area.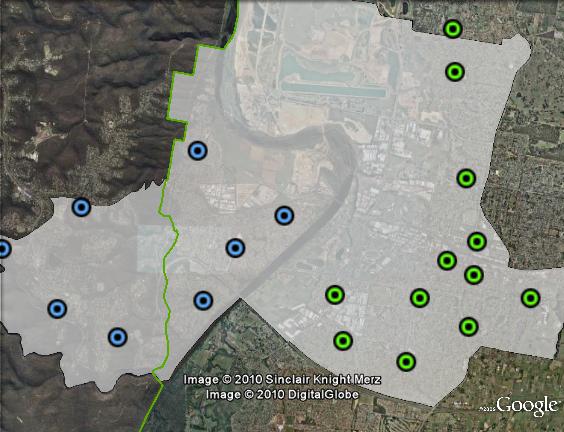 | | | | | |
| --- | --- | --- | --- | --- |
| Voter group | GRN % | ALP 2CP % | Total votes | % of votes |
| East | 4.02 | 62.77 | 21,666 | 52.81 |
| West | 7.61 | 52.87 | 12,299 | 29.98 |
| Other votes | 6.76 | 59.32 | 7,059 | 17.21 |