NAT 21.01% vs LAB
Incumbent MP
John Hayes, since 2005.
Geography
South-eastern parts of the North Island. Wairarapa covers territory on the east coast between Hawkes Bay and Wellington. Wairarapa covers all of the Carterton, Masterton, South Wairarapa and Tararua council areas, and southern parts of Central Hawke's Bay council area. The electorate's main towns are Masterton and Dannevirke.
Redistribution
No change.
History
Wairarapa has existed continuously since the 1859 election. The seat has swung back and forth between Labour and National since the 1930s.
National's Wyatt Creech won Wairarapa in 1987, after one term of Labour's Reg Boorman. The victory wasn't easy – his opponent originally won by seven votes, and after an extensive court case Creech won the seat by 34 votes in July 1988.
Creech was re-elected in 1990, 1993 and 1996. He joined the ministry after National took power in 1990. He rose to the position of deputy leader of the National Party in 1997, and Deputy Prime Minister in 1998 after the coalition with New Zealand First broke down. In 1999, Creech stepped down in Wairarapa and was re-elected on the party list. He retired in 2002.
In Wairarapa, Labour's Georgina Beyer defeated National candidate Paul Henry. Beyer was the mayor of Carterton, and became the first transsexual member of Parliament in New Zealand. Beyer was re-elected in 2002. In 2005, she did not stand in Wairarapa, but was re-elected on the Labour party list. She retired in 2007.
Wairarapa was won in 2005 by National candidate John Hayes. He won the seat with an 8.6% margin. He increased this margin to 18.6% in 2008 and 21% in 2011.
Candidates
Sitting Member for Wairarapa John Hayes is not running for re-election.
Assessment
Wairarapa is a seat that Labour only wins when they are in a very strong position, and National should hold it this year.
2011 election results
Electorate Votes
Party Votes
Candidate
Party
Votes
%
Swing
Votes
%
Swing
John Hayes

National

17,881
52.65
+1.63
18,046
51.53
+2.87
Michael Bott

Labour

10,746
31.64
-0.77
8,161
23.30
-7.93
Sea Rotmann

Green

2,856
8.41
+3.24
3,442
9.83
+4.08
Brent Reid
Conservative
1,476
4.35
+4.35
1,314
3.75
+3.75
Richard McGrath
Libertarianz
652
1.92
+0.67
94
0.27
+0.10
Shane Atkinson
ACT
352
1.04
-0.95
467
1.33
-3.19
New Zealand First
2,738
7.82
+2.26
United Future
238
0.68
0.00
Māori
218
0.62
-0.10
Legalise Cannabis
200
0.57
+0.24
Mana
75
0.21
+0.21
Alliance
14
0.04
-0.09
Democrats
14
0.04
+0.02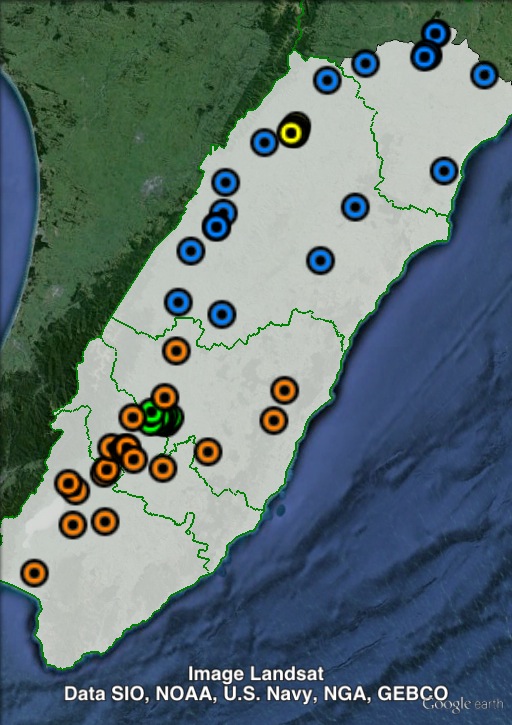 Booth breakdown
Booths in Wairarapa have been divided into four parts. The two largest towns in the electorate, Masterton and Dannevirke, have been grouped together. The remainder of booths have been split into 'north' and 'south', with polling places in Central Hawke's Bay and Tararua council areas going into north and the remaining council areas put into south.
National won a majority of the party and electorate vote in Dannevirke, North and South. In Masterton, National won a plurality, with 45% of the electorate vote and 46% of the party vote.
Labour won 26-37% of the electorate vote, and 20-28% of the party vote. The Green Party came third, with a party vote ranging from 6.5% in Dannevirke to 11.9% in the south.
Voter group
Electorate votes
Party votes
Total
% of votes
NAT
LAB
GRN
NAT
LAB
GRN
NZF
Masterton
45.06
37.05
8.55
46.30
27.90
9.91
8.69
9,188
27.05
South
52.34
31.65
9.46
52.74
21.31
11.89
7.28
9,141
26.91
North
59.58
26.44
6.76
55.44
20.31
7.26
7.95
7,535
22.19
Dannevirke
57.08
31.25
6.37
54.02
22.02
6.51
9.64
2,605
7.67
Other votes
54.26
29.91
9.65
51.69
23.63
11.32
6.27
5,494
16.18