ACT 6.68% vs NAT
Incumbent MP
John Banks, 2011-2014. Previously National Member for Whangarei 1981-1999. Banks resigned from Parliament in June 2014 after being convicted of submitting a false electoral return.
Other local MPs
Paul Goldsmith (

National

), list MP since 2011
David Parker (

Labour

), list MP since 2005, previously Member for Otago 2002-2005.
Geography
Inner south-east Auckland. Epsom covers the suburbs of Epsom, Mt Eden, Parnell and Remuera,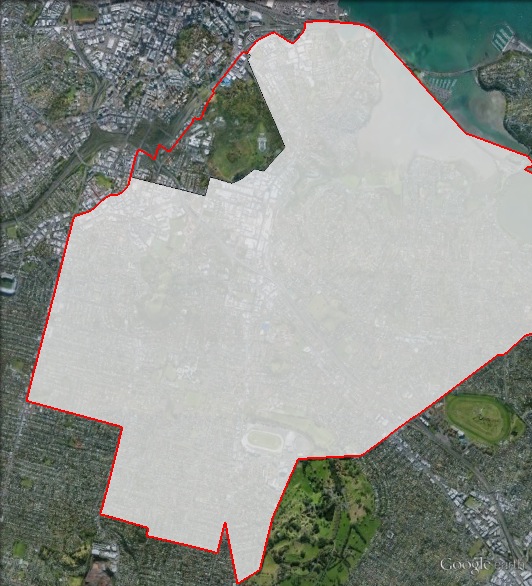 Redistribution
Epsom lost a small area including parts of Grafton and the Auckland Domain to the neighbouring seat of Auckland Central. This change had a minor impact on the 6.7% margin.
History
The electorate of Epsom has existed since the 1996 election, and in part replaced the former electorate of Eden.
Eden was an electorate that was predominantly represented by National MPs, with the occasional Labour victory from 1946 until its abolition in 1996.
From 1946 to 1996, Eden was won by Labour on three occasions when the party won government: in 1972, 1984 and 1987.
In 1990, National candidate Christine Fletcher defeated Labour MP Richard Northey. Northey returned to Parliament in 1993, winning the more Labour-friendly seat of Onehunga, before the seat was abolished in 1996. Northey ran in the new seat of Maungakiekie, but was not elected.
Fletcher was re-elected in Eden in 1993, and became the first Member for Epsom at the 1996 election. Fletcher served as a minister from 1996 to 1997. In 1998, she was elected Mayor of Auckland, and stepped down from Parliament at the 1999 election. Fletcher served as Mayor until her defeat by John Banks in 2001, and she came third behind Banks and a successful centre-left candidate in the 2004 mayoral election.
Fletcher's main rival in Epsom in 1996 was Labour candidate Helen Duncan. Duncan missed out on a list seat at the 1996 election, but filled a vacancy in Parliament in 1998. She was re-elected to two further terms as a list MP at the 1999 and 2002 elections, and at both elections she ran in the North Shore electorate.
At the 1999 election, National candidate Richard Worth won Epsom. His closest rival was ACT list MP Rodney Hide, who polled 31% of the vote, only 5.7% behind Worth. Labour's candidate came a distant third with 20%. ACT polled enough to win nine list seats without needing to win an electorate, but came close to winning two. In addition to Hide's campaign in Epsom, the party's leader, Richard Prebble, came within 4.1% of retaining his Wellington Central electorate, that he had gained in 1996.
Hide retained his list seat at the 1999 election.
In 2002, Worth retained his seat, and Hide again ran and retained his list seat. Worth increased his vote, while Hide fell into third place behind Labour, polling 22.2% compared to 25% for the Labour candidate and 42.7% for Worth. In addition, Green list MP Keith Locke, who had first been elected in 1996, ran in Epsom and won a second term on the party list.
Between the 2002 and 2005 elections, party leader Richard Prebble announced his retirement, and ACT experienced a significant drop in the polls. Hide was elected ACT leader in June 2004, and he staked his entire strategy to retain ACT representation in Parliament on winning the seat of Epsom.
ACT poured most of its energy at the 2005 election into the Epsom electorate. The ACT campaign argued that Richard Worth, owing to his high position on the National list, would still hold a seat in Parliament if he held Epsom, while ACT winning Epsom was the only way to ensure the right-wing party would stay in Parliament.
The campaign was successful, and Hide retained his seat. The ACT party vote collapsed, and the number of ACT MPs collapsed from nine to two. In Epsom, the ACT candidate vote almost doubled, and Hide won the seat with an 8.7% margin over Richard Worth. Greens MP Keith Locke, and Richard Worth, both retained their list seats.
In 2008, Hide repeated his strategy, with the tacit support of the National Party. Hide increased his margin to a huge 34.2%, and the party increased its seats from two to five. Worth and Locke retained their seats on the party list after again running in Epsom. Richard Worth took on a ministerial role in the new government, but moved to the backbench in 2009 and retired at the 2011 election. Greens list MP Keith Locke also retired in 2011.
Following the 2008 election, the ACT party formed an alliance with the new National government, along with the Māori Party and United Future's sole MP. Rodney Hide took on a number of ministerial portfolios, including Local Government.
Hide's main achievement during the 2008-2011 term was to push through significant changes to local government in the Auckland area, creating a single 'super-city' to cover the entire Auckland region, and merging the Auckland Regional Council and all six local councils into the new super city.
In April 2011, Rodney Hide was replaced as ACT party leader by Don Brash: a former leader of the National Party who led the party close to victory at the 2005 election.
Hide retired at the 2011 election, and the ACT party ran John Banks in his place as candidate for Epsom. Banks was a former National Member for Whangarei from 1981 to 1999. He was elected Mayor of Auckland in 2001, serving until 2004, and again from 2007 to 2010. He was unsuccessful in his bid for election as Mayor of the new Auckland super-city in 2010.
Banks' campaign to win Epsom again had the tacit support of the National Party, and a staged meeting between Banks and John Key in a local cafe blew up into a major scandal after a journalist recorded Banks and Key making disparaging comments about New Zealand First voters.
At the 2011 election, Banks held ACT's seat in Epsom, despite a significant swing back to National away from ACT. His margin was cut from 34.2% to 6.3%. The ACT party vote collapsed, and the party failed to qualify for any additional list seats, so Don Brash did not win a seat in Parliament, five years after he left the Parliament.
In addition to Banks, Labour list MP David Parker and National candidate Paul Goldsmith both ran in Epsom and won seats on their party's list. Parker had held a seat in Parliament since 2002, and had served in various ministerial and shadow ministerial roles. He had held the southern seat of Otago from 2002 to 2005. He lost bids for the seat of Otago in 2005, and its successor Waitaki in 2008, before moving to Auckland for the 2011 election.
Banks took over the ACT party leadership following the 2011 election, and took on a number of ministerial portfolios in the National-led government.
Banks ran into controversy when it came out that he had filed an electoral return classifying major donations by Kim Dotcom as 'anonymous'. He was committed to trial in October 2013, at which point he resigned his roles as a minister and as leader of ACT. He was found guilty of filing a false electoral return in June 2014. While Banks was not required to vacate his seat until the conclusion of his appeal, such a timeframe would have made it impossible for the Parliament to vote to cancel the by-election. Instead, Banks resigned as Member for Epsom in June 2014. A by-election will not be held before the general election in September.
Candidates
Julie Anne Genter (

Green #8

), list MP. Genter stood in Mount Roskill at the 2011 election.
Paul Goldsmith (

National #30

), list MP.
Matthew Goode (Independent)
Grace Haden (Independent)
Adam Holland (Independent)
Susanna Kruger (Independent)
Cliff Lyon (New Zealand First #30)
Pat O'Dea (Mana #13)
Christine Rankin (Conservative #2)
David Seymour (ACT)
Michael Wood (

Labour #39

)
Assessment
Epsom will be a key electorate, as it will determine whether the ACT party will retain representation in Parliament.

At the 2011 election, a majority of National voters switched to vote for ACT for the electorate vote. A majority of Green voters, and a large number of Labour voters, likewise switched to vote for the National candidate.
It is in the National Party's interest for ACT to hold on to a lifeline into Parliament, while it is in the interest of centre-left parties, and their voters, to ensure that National wins the Epsom electorate, and ACT is eliminated from Parliament.
The National Party has indicated that they will be hoping for ACT to win in Epsom again. It's not yet clear how willing National voters will be to yet again cast a vote ACT, or whether centre-left voters will prove more willing to vote tactically to knock out ACT – in 2011, more than twice as many voters cast votes for the Labour and Green candidates than the ACT-National margin.
One thing to bear in mind is that the ACT party vote has collapsed, compared to previous elections. In 2008, ACT's win in Epsom brought in another four list MPs, and there was some expectation that the same could have happened in 2011. After the party only qualified for a single seat in 2011, and considering current polls, there is a high risk that a win for ACT in Epsom could fail to bring in any more list MPs, and the National Party may consider it not worth the effort to drag in a single ACT MP.
2011 election results
Electorate Votes
Party Votes
Candidate
Party
Votes
%
Swing
Redist
Votes
%
Swing
Redist
John Banks
ACT
15,835
44.10
-11.96
44.41
939
2.55
-3.67
2.55
Paul Goldsmith

National

13,574
37.80
+15.96
37.73
23,725
64.52
+1.93
64.91
David Parker

Labour

3,751
10.45
-3.13
10.28
5,716
15.55
-4.54
15.32
David Hay

Green

2,160
6.01
-1.39
5.95
4,424
12.03
+5.1
11.88
Simon Kan
Conservative
342
0.95
+0.95
0.95
412
1.12
+1.12
1.12
Penny Bright
Independent
124
0.35
+0.35
0.33
Pat O'Dea
Mana
66
0.18
+0.18
0.19
91
0.25
+0.25
0.25
Matthew Goode
Independent
59
0.16
+0.16
0.16
New Zealand First
959
2.61
+1.16
2.61
Māori
217
0.59
+0.01
0.59
Legalise Cannabis
118
0.32
+0.14
0.31
United Future
116
0.32
-0.36
0.31
Libertarianz
31
0.08
+0.03
0.09
Alliance
12
0.03
0.00
0.03
Democrats
9
0.02
+0.01
0.02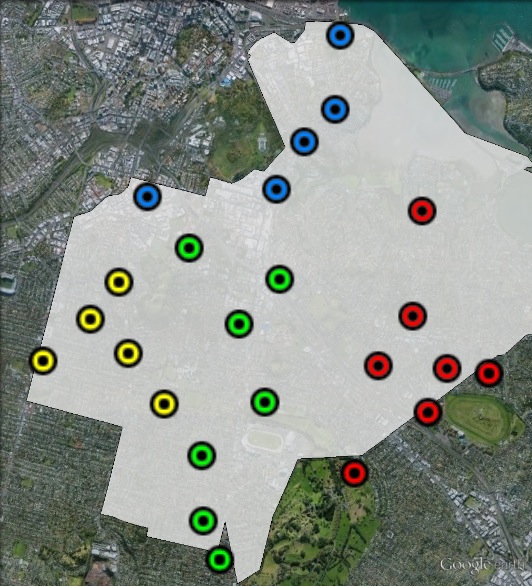 Booth breakdown
Booths in Epsom have been divided into four areas: Mt Eden in the west, Parnell in the north, Remuera in the east, and Epsom in the centre.
In the party vote, the National Party won huge majorities in three areas: Parnell, Remuera and Epsom. In Mount Eden, the National Party still topped the poll, but with only 48.6%.
The Labour party vote ranged from 9.8% in Remuera to 24% in Mt Eden. The Green party vote ranged from 6.9% in Remuera to 18.7% in Mt Eden.
Overall, Remuera is the most conservative of the four areas. Epsom and Parnell are relatively similar as strongly conservative areas. Mt Eden is also a majority-conservative area, but by a much smaller margin. This trend is seen on a map as a declining right-wing vote as you move from east to west.
While this trend holds for the party vote, the exact opposite trend can be seen in the National electorate vote. The National Party's electorate vote was much lower overall than its party vote. The National electorate vote was 4.5% lower in Mount Eden, 25.6% lower in Parnell, 31% in Epsom, and a massive 34.5% in Remuera.
The ACT electorate vote trend matches the National party vote trend, declining from east to west. These geographic trends, along with analysis of voters who cast their two votes for different parties, reflect the fact that many Labour voters, and a majority of Green voters, chose to vote for National candidate Paul Goldsmith, while a majority of National party voters chose to vote for ACT candidate John Banks. I have previously analysed these trends.
Voter group
Electorate votes
Party votes
Total
% of votes
ACT
NAT
LAB
GRN
NAT
LAB
GRN
Epsom
47.20
34.88
10.95
5.13
65.91
16.20
9.54
8,557
24.20
Remuera
55.88
33.13
6.27
3.32
75.67
9.77
6.93
6,906
19.53
Parnell
44.05
40.69
8.00
5.82
66.30
12.81
13.14
4,225
11.95
Mt Eden
30.14
43.95
15.05
8.64
48.45
23.98
18.65
4,134
11.69
Other votes
40.73
39.29
11.31
7.20
63.22
15.77
13.59
11,543
32.64