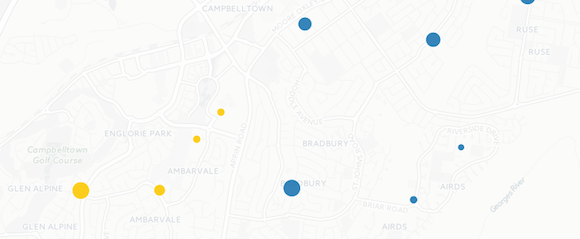 The City of Campbelltown covers suburbs in the outer south-west of Sydney, including Campbelltown, Glenfield, Macquarie Fields, Ingleburn, Minto, St Andrews, Raby, Eagle Vale, Kearns, Claymore, Woodbine, Leumeah, Glen Alpine, Bradbury, Ambarvale and Rosemeadow.
The City of Campbelltown has a population of approximately 156,000 people (as of 2014), which makes it the seventeenth most populous council in New South Wales. The City of Campbelltown is the eighth most populous NSW council to be elected in September 2016.
Wards
The City of Campbelltown has no wards.
Incumbent councillors
Fred Borg (Independent)

George Greiss (Liberal)

Alana Matheson (Liberal)

George Brticevic (Labor)

Paul Hawker (Liberal)

Clinton Mead (Liberal Democrat)

Anoulack Chanthivong (Labor)

Rudi Kolkman (Labor)

Meg Oates (Labor)

Sue Dobson (Independent)
Paul Lake (Independent)

Ted Rowell (Liberal)

Wal Glynn (Labor)

Darcy Lound (Labor)

1
Bob Thompson (Independent)
1Darcy Lound was elected on Fred Borg's Totally Locally Committed party ticket, but joined Labor in January 2016.
History
The City of Campbelltown has traditionally leaned towards Labor, but the voting system has made it impossible for Labor to win majorities in the last 25 years. A council of 15 members with no wards means that the quota is approximately 6.25%, and this has allowed a number of independents to hold seats over a long period with a low vote spread across the council area. From at least 1991 until 2012, Labor shared the mayoralty with a small group of independents.
In the 1991-1995 term, Labor's Meg Oates held the mayoralty for one term, with three other independents each having the mayoralty for a year. One of these councillors was Russell Matheson, a former local Australian rules football star who had been elected on the ticket of Jim Kremmer, an independent with a history in the Labor Party.
Oates served as mayor for two years in the 1995-1999 term, with independents Matheson and Paul Sinclair each holding the job for one year.
The 1999 election produced a result of five Labor councillors, one Liberal, one Green and one One Nation, along with seven independents. Labor's Meg Oates held the mayoralty from 1999 until 2000, followed by independent Jim Kremmer, and then Russell Matheson. Labor's Brenton Banfield became mayor in late 2002, with the election postponed until early 2004. During this term, the Greens' David Hawkins left the party, while pro-environment independent councillor Verlie Fowler joined the Greens.
At the 2004 election, Labor's position improved substantially, winning seven seats. The Liberal Party, led by Jai Rowell, won two seats. The Greens' Julie Bourke won one seat, while the other five seats were won by independents.
Jim Kremmer retired, and Russell Matheson's Community First ticket won enough votes to elect his running mate Paul Lake. The other three seats were won by independents running on their own tickets. Bob Thompson (formerly of One Nation) won a second term, while longstanding councillors Fred Borg and Sue Dobson were re-elected.
Labor's dominant position let them hold the mayoralty for all but one year in that 2004-2008 term. Banfield served until September 2005, retiring after three years (and after an aborted push to move him into the federal seat of Werriwa). Matheson held the mayoralty until 2006, when he was succeeded by Labor's Aaron Rule.
Rule held the mayoralty for two years, until the 2008 election.
Labor went backwards in 2008, losing their seventh seat. The Liberal Party won a third seat. The Greens held their one seat, and the Matheson/Lake ticket maintained their two seats, with the three other independents Borg, Dobson and Thompson all holding on. The existing alliance was maintained, with Russell Matheson serving his final term as mayor from 2008 until 2009, followed by one last term for Aaron Rule.
Matheson was preselected as the Liberal candidate for the federal seat of Macarthur in 2010, and went on to win the seat, although he continued to sit as an independent on the council. His ally Paul Lake became mayor in 2010, followed in 2011 by Anoulack Chanthivong.
The 2012 election saw a break to the long-term pattern of Labor governing in alliance with independents. Labor lost another seat, dropping to five seats, while the Liberal Party won four seats. The Greens did not stand in the election, while the Liberal Democratic Party won a seat. Fred Borg's Totally Locally Committed party won two seats, while independents Lake, Dobson and Thompson were re-elected.
The LDP's Clinton Mead, along with independents Lake, Dobson and Thompson, all sided with the Liberal Party to form a new governing alliance, while Borg and his ally Lound sided with Labor. Sue Dobson took the mayoralty in the first year, followed by Mead from 2013 until 2014. Lake was mayor from 2014 until 2015, and the Liberal Party's Paul Hawker became the first Liberal mayor of Campbelltown in recent history in 2015.
Candidate summary
There are eleven groups running for Campbelltown city council. Ten of these groups are running enough candidates to get a box above the line, along with Nea Makowski's independent group, which only includes three candidates. There is also one ungrouped independent, Piotr Kotarski. Seven of these groups include a sitting councillor. In addition, the Greens elected a councillor at three straight elections from 1999 until 2008 before not standing in 2012, and Paul Blyton is a former independent councillor.
Incumbent Liberal mayor Paul Hawker is not running for re-election. Fellow Liberal Alana Matheson (daughter of former mayor and MP Russell Matheson) is also not running. Sitting Liberal George Greiss heads up the Liberal ticket, followed by fellow councillor Ted Rowell in second place.
Three of the five Labor councillors elected in 2012 are not running again. Anoulack Chanthivong is not eligible to run after winning the seat of Macquarie Fields at the 2015 state election. Fellow councillors Rudi Kolkman and Wal Glynn are both retiring.
Labor's George Brticevic is heading up the party's ticket, followed by longstanding councillor (and mayor in the 1990s) Meg Oates. Labor councillor Darcy Lound, who joined the party in January 2016 after being elected in 2012 on Fred Borg's independent ticket, is running in third place.
Sitting independent councillors Sue Dobson, Fred Borg, Paul Lake and Bob Thompson are all running at the head of their own tickets.
Sitting councillor Clinton Mead is heading up the Liberal Democratic Party ticket. Ben Moroney is leading the Greens team, while John Ramsay is leading the Christian Democratic Party team.
The full candidate list is at the bottom of this guide.
Assessment
The Campbelltown electoral system makes it difficult for Labor to control an area which is quite favourable to them, while Labor has traditionally dominated similar councils like Blacktown. The voting system has allowed independents to survive on a low vote distributed widely across the council.
Labor currently holds six seats, with another independent sympathetic to Labor. This means that Labor would likely to be in a position to lead the council if one of the eight seats held by the Liberal-independent alliance is lost to Labor or to another pro-Labor candidate (such as the Greens candidate Ben Moroney).
It seems very likely that Borg, Lake, Thompson and Dobson will all win re-election, as they have all done for many years. While it is possible to see one of the independent tickets getting around 10% of the vote and electing their second candidate, this is unlikely.
Clinton Mead of the Liberal Democratic Party benefited from a donkey vote in 2012, being placed first on the ballot, and likely gaining votes from the Liberal Party. After four years on council it is possible he has built up some of his own vote, and he has again received a good position on the ballot, with the second spot.
The Greens have traditionally been able to easily win a single seat on the council, and it seems likely the Greens will win a seat.
If the Greens win a seat, and Labor possibly has a shot at gaining a seventh seat, those seats would most likely come at the expense of the Liberal Party, who hit a high-water-mark in 2012 in an area not normally so friendly to them.
2012 election result
| | | | | |
| --- | --- | --- | --- | --- |
| Party | Votes | % | Swing | Seats won |
| Labor | 22,820 | 30.71 | -8.0 | 5 |
| Liberal | 20,488 | 27.57 | +6.3 | 4 |
| Totally Locally Committed (Fred Borg) | 7,364 | 9.91 | +4.0 | 2 |
| Community First (Paul Lake) | 5,386 | 7.25 | -3.3 | 1 |
| Bob Thompson Independents | 4,140 | 5.57 | +1.1 | 1 |
| Community Service (Sue Dobson) | 3,977 | 5.35 | +0.5 | 1 |
| Liberal Democratic Party | 3,577 | 4.81 | +4.8 | 1 |
| Christian Democratic Party | 2,398 | 3.23 | +3.2 | 0 |
| Other independents | 4,166 | 5.61 | -0.9 | 0 |
Booth breakdown

Since there are no wards in the City of Campbelltown, I have split booths into five arbitrary divisions:
Central – Leumeah, Woodbine, Campbelltown, Ruse, Airds, Kentlyn and Bradbury
North – Macquarie Fields and Glenfield
North Central – Minto and Ingleburn
South – Rosemeadow, St Helens Park, Ambarvale and Glen Alpine
West – Raby, St Andrews, Kearns, Eagle Vale, Eschol Park and Claymore
Labor's vote ranged from 33.8% in the west and 33.4% in the north down to 29-30% in the other three areas.
The Liberal vote peaked at 31.7% in the south, and was lowest at 24.5% in the north central area. The south was the only area where the Liberal Party outpolled Labor.
Fred Borg's ticket polled 11.2% in the centre of Campbelltown, and around 9.6%-10.8% in three other areas, but was much lower at 5.5% in the north.
Paul Lake's ticket won a vote ranging from 4.6% in north central to 9.2% in the west.
Bob Thompson's vote was best in the north, polling 8.2% in the north and 9.5% in north central, compared to only 2.7% in the south.
Sue Dobson polled 6.4% in the two southernmost areas, but around 4-5% in the rest of the council.
The Liberal Democratic Party's vote was over 5% in the centre and south, and lowest in the Minto-Ingleburn area.
| | | | | | | | | |
| --- | --- | --- | --- | --- | --- | --- | --- | --- |
| Voter group | ALP % | LIB % | Borg % | Lake % | Thompson % | Dobson % | LDP % | Formal votes |
| Central | 30.0 | 26.8 | 11.2 | 7.9 | 4.0 | 6.4 | 5.2 | 17,407 |
| South | 29.6 | 31.7 | 10.8 | 6.7 | 2.7 | 6.4 | 5.2 | 13,124 |
| West | 33.8 | 27.5 | 9.6 | 9.2 | 3.8 | 4.4 | 4.7 | 12,881 |
| North Central | 29.1 | 24.5 | 10.5 | 4.6 | 9.5 | 4.1 | 4.0 | 10,410 |
| North | 33.4 | 27.4 | 5.5 | 5.4 | 8.2 | 4.8 | 4.9 | 9,200 |
| Other votes | 28.8 | 26.9 | 10.4 | 8.5 | 7.6 | 5.3 | 4.5 | 11,294 |
Election results (Labor, Liberal and Fred Borg) at the 2012 Campbelltown council election
Click on the 'visible layers' box to toggle between primary votes for the Labor, Liberal and Fred Borg's Totally Locally Committed party.

Election results (Lake, Thompson, Dobson) at the 2012 Campbelltown council election
Click on the 'visible layers' box to toggle between primary votes for the tickets headed by independent councillors Paul Lake, Bob Thompson and Sue Dobson.

Candidates
A – Paul Blyton
B – Liberal Democrats

Clinton Mead
Michel Fathallah
Andrew Hows

C – Nea Makowski
D – Greens

Ben Moroney
Tao Triebels
Victoria Waldron Hahn

E – Liberal

George Greiss
Ted Rowell
Ralph George
John Chew
Fadi Habib
Michelle Greiss
Marian George
Riley Munro
Gary Brennen
Hany Hanna

F – Community First

Paul Lake
Joshua Cotter
Anne Parnham

G – Totally Locally Committed

Fred Borg
Warren Morrison
Gary Potts

H – Labor

George Brticevic
Meg Oates
Darcy Lound
Margaret Chivers
Rey Manoto
Masood Chowdhury
Karen Hunt
Ben Gilholme
Jessica Malnersic
Greg McCauley

I – John Ramsay (Christian Democratic Party)
J – Community Service "Environment"

Sue Dobson
Wayne Smithers
Brett Rixon

K – Bob Thompson's Independent Team

Bob Thompson
Daniel Draper
Margaret Shafer

Ungrouped