Incumbent Senators
Term expires 2011

Term expires 2014

Alan Ferguson (LIB)

Cory Bernardi (LIB)


Mary Jo Fisher (LIB)

1

Simon Birmingham (LIB)




Annette Hurley (ALP)

Don Farrell (ALP)




Anne McEwen (ALP)

Sarah Hanson-Young (GRN)




Nick Minchin (LIB)



Penny Wong (ALP)


Dana Wortley (ALP)




Nick Xenophon (IND)
1Mary Jo Fisher replaced Amanda Vanstone on 5 June 2007 after Senator Vanstone's resignation.
History
South Australia was represented by five Labor senators and five Liberal senators from 1951 until the 1961 election, when the ALP managed to gain a 6-4 majority. A 5-5 balance was restored in 1967.
Former Liberal premier Steele Hall was elected in 1974 on the ticket of the Liberal Movement, taking a seat away from the Liberal Party. Hall was re-elected in 1975, while the Liberals regained their fifth seat at the expense of the ALP. Hall retired in 1977 and was replaced by Janine Haines of the Democrats. The 1977 election saw the Democrats lose the seat, with the Liberals winning six seats to the ALP's four.
Haines was returned to the Senate for the Democrats in 1980, alongside five Liberals and four ALP senators. The 1983 double dissolution saw the ALP win a fifth seat off the Liberals. In 1984, the Democrats won a second seat while each major party held five seats. This pattern continued until 1993, when the Liberals won a sixth seat off the ALP, producing a 6-4-2 pattern which was maintained until the 2004 election.
The 2004 election saw the former Democrats seat (belonging to Meg Lees) lost to the ALP, producing a 6-5-1 split. In 2007, Natasha Stott Despoja's seat was lost. The Liberal Party also lost one of their six seats. The ALP and Liberals each now hold five Senate seats, along with independent Senator Nick Xenophon and Sarah Hanson-Young of the Greens.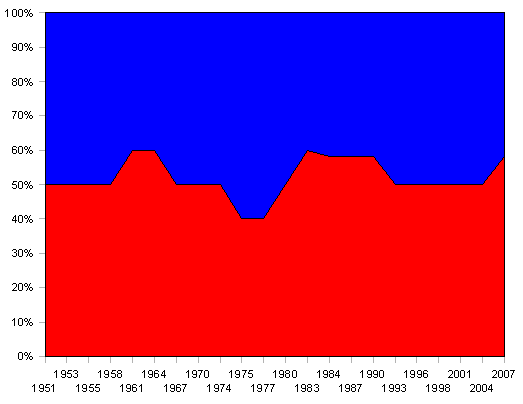 2007 result
| | | | | |
| --- | --- | --- | --- | --- |
| Group | Votes | % | Swing | Quota |
| Labor | 358,615 | 35.62 | +0.13 | 2.4933 |
| Liberal | 355,237 | 35.28 | -12.21 | 2.4698 |
| Nick Xenophon | 148,789 | 14.78 | +14.78 | 1.0345 |
| The Greens | 65,322 | 6.49 | -0.11 | 0.4542 |
| Family First | 29,114 | 2.89 | -1.09 | 0.2024 |
| Democratic Labor Party | 9,343 | 0.93 | +0.93 | 0.0650 |
| Democrats | 8,908 | 0.88 | +0.88 | 0.0619 |
| Others | 31,481 | 3.13 | | 0.2189 |
The ALP and Liberal Party each won two seats on primary votes, as did independent candidate Nick Xenophon. After minor candidates (including Nick Xenophon's running mate) were excluded, the last four candidates running for the last seat: Greens candidate Sarah Hanson-Young, Family First candidate Tony Bates, #3 Liberal candidate Grant Chapman and #3 ALP candidate Cath Perry. They had the following votes:
Hanson-Young (GRN) – 0.5916 quotas
Chapman (LIB) – 0.5478
Perry (ALP) – 0.5042
Bates (FF) – 0.3549
Bates was excluded, and the vast bulk of his preferences flowed to Chapman, with the following vote figures:
Chapman – 0.8798
Hanson-Young – 0.6089
Perry – 0.5097
At this point Perry of the ALP was excluded and her preferences elected Hanson-Young:
Hanson-Young – 1.1089
Chapman – 0.8868
Hanson-Young managed to win the seat despite gaining less primary votes than the third candidate for either the Labor or Liberal party after their first two candidates had been elected. The above chart shows that Xenophon did not have much of a surplus following his election. His surplus was not particularly influential in electing Hanson-Young. She outpolled the ALP at the critical point by 14,270 votes, and she only gained 2000 votes on the ALP from Xenophon's preferences. Half of Xenophon's preferences flowed to Family First due to a split preference ticket.
Rather, Xenophon's influence in determining the other Senate positions comes from his gaining of primary votes away from the major parties. Comparing primary votes in South Australia in the Senate and House of Representatives, the differential between Senate and House vote for the significant parties in South Australia was:
Labor – 7.56% (less in Senate than House)
Liberal – 6.48%
Greens – 0.46%
Family First – 1.16%
Adding these numbers up, it comes out as slightly more than Xenophon's Senate vote. This suggests that the vast bulk of Xenophon's vote came from the major parties in equal proportions, although it is possible he gained more votes from the ALP. If you calculate quotas based on House of Representatives results, the ALP gains three quotas, and the Liberals gain almost three quotas, thus locking out the Greens. This suggests that, by running, Xenophon gained just enough votes from both major parties to allow him to be elected and to also allow the Greens candidate to squeeze ahead of the #3 major party candidates.
Candidates
No information on major party candidates. Sitting Liberal senator Alan Ferguson is retiring, as is Liberal powerbroker Nick Minchin, and potential successors include former Member for Wakefield David Fawcett and Liberal state president Sean Edwards.
The Greens have preselected Penny Wright. Family First is running Bob Day, and the Democrats are running Jeanie Walker. Socialist Alliance is running Renfrew Clarke.
The newly-registered Climate Sceptics party is running their founder, Noel Ashby.
Political situation
In a half-Senate election, there are two different scenarios, one where there is a Xenophon ticket that achieves similar levels of support as in 2007 and one where there is no such ticket.
In the case that there is no Xenophon-endorsed candidate, it is difficult to make accurate assumptions, however I would expect that the vote levels, before factoring in any swing, would give about 42% to each major party and 7% to the Greens. In this case, a swing of about 3.75% from one major party to the other would see the Greens win a seat off the major party that suffered the negative swing. Likewise a swing from a major party to the Greens of about 3.75% would give the Greens that party's seat. Without a major swing, an election without Xenophon would likely see a similar result to that seen in NSW, Victoria and Queensland in 2007: major parties polling about 3 quotas each and locking out the Greens.
In the scenario where Xenophon endorses a candidate who achieves a similar vote, a swing of just over 0.7% from the Greens to the ALP would see the Greens miss out, with 3 ALP, 2 Liberals and 1 Xenophon elected. A swing of 1.6% from the Greens to the Liberal Party would give the Liberals a third seat to the detriment of the Greens.
In the case of a double dissolution, I have produced the following figures showing the number of quotas each party would hold at a key point. This is based on the final round of counting prior to the second Xenophon candidate (in 2007) being excluded, so it includes all minor parties who were still in the race at that point:
ALP – 4.6318
LIB – 4.5935
XEN – 1.9243
GRN – 0.9468
FF – 0.4228
DEM – 0.1252
AFL – 0.1247 (Fishing and Lifestyle)
DLP – 0.1214
ON – 0.1071
One Nation and Fishing and Lifestyle preferences flow to Family First, while the DLP preference the Liberals and the Democrats preference the Greens. Democrats preferences give the Greens a small surplus, which mostly flows to Xenophon, electing his second candidate with basically no surplus. This produces a result where the ALP is excluded, and their preferences elect Family First for a total result of 4 ALP, 4 Liberal, 2 Xenophon, 1 Green and 1 Family First. Although it's worth noting that this calculation only put Family First ahead of the ALP by a slim margin, and if this changed the ALP would've outpolled Family First, and the Liberal would have been elected on Family First preferences.