ALP 1.6%
Incumbent MP
Justine Elliot, since 2004.
Geography
Far north coast of NSW. Richmond covers Tweed Heads, Byron Bay, Ballina, Murwillumbah, Mullumbimby and surrounding areas. It covers the entirety of Tweed and Byron council areas, as well as the majority of Ballina council area.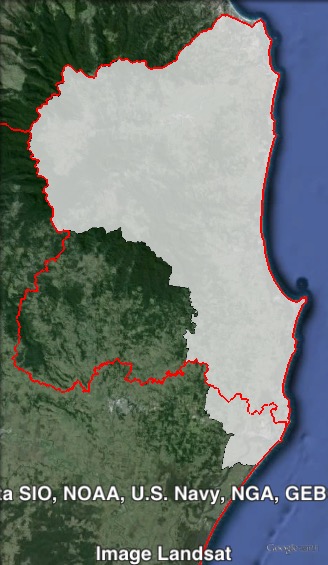 Redistribution
Richmond lost northern parts of Lismore council area, including Nimbin, to Page. Richmond then gained the town of Ballina and surrounding areas from Page. These changes cut the Labor margin from 3% to 1.6%.
History
Richmond is an original federation seat, and has always covered the northeastern corner of New South Wales, although it has contracted further into that corner over the last century as other seats have been created in northeastern NSW. The seat was consistently held by conservative parties from its creation until 1990, and was gained by the Country Party early in its existence in 1922, and they held it continously for almost seventy years.
Recently it has become a much more marginal seat, although the 2007 election result pushed the seat out of the marginal category.
The seat was first won in 1901 by Protectionist Thomas Ewing, who served as a minister in the Deakin government from 1905 to 1908 before retiring in 1910. His seat was retained by Liberal candidate Walter Massy-Greene. Massy-Greene went on to serve as a minister in Billy Hughes' Nationalist governments, but lost Richmond to Country Party candidate Roland Green in 1922. He was appointed to the Senate in 1923, and served there until his retirement in 1938. He was relegated to the backbench during the Stanley Bruce government, but returned to the ministry as part of the Lyons government in the 1930s.
Green was regularly challenged by other Country Party candidates at subsequent federal elections. While the ALP stood in Richmond in 1925, Green was reelected unopposed in 1928 and faced opposition only from another Country Party candidate in 1929. At the 1931 election Green was challenged by three other Country candidates and one independent. He was regularly challenged by Robert Gibson at every election from 1928 to 1937. Green barely held on against internal party opponents at the 1931 and 1934 elections.
In 1937, two Country Party candidates and an ALP candidate all stood against the sitting Country MP. While Green came first on primary votes, Gibson's preferences pushed Country candidate Larry Anthony ahead of the ALP candidate, and then ALP preferences gave the seat to Anthony.
Anthony served as a minister under Robert Menzies and Arthur Fadden in 1940 and 1941 and was a senior member of the Opposition during the Curtin/Chifley Labor government. In 1949 he joined Robert Menzies' cabinet, and served in it until his death in 1957.
The subsequent by-election saw four Country Party candidates stand, although one clearly stood out, with Anthony's son Doug polling 49.8% of the primary vote.
The younger Anthony joined the ministry in 1964 and was groomed to be the next leader of the Country Party, and upon Jack McEwen's retirement in 1971 he became Deputy Prime Minister. The Coalition lost power in 1972, and Anthony returned to the role of Deputy Prime Minister upon the dismissal of the Whitlam government in 1975. He served in this role throughout the Fraser government, during which time his party's name changed first to the National Country Party and then to the National Party. Following the election of the Hawke government in 1983, Anthony retired in 1984.
The seat was retained in 1984 by Nationals state director Charles Blunt, outpolling a Liberal Party challenger and overtaking the ALP on Liberal preferences, despite Blunt having no local links with the far north of NSW. Blunt immediately moved to the shadow ministry and in 1989 managed to win a leadership challenge against Ian Sinclair. His leadership saw attempts to modernise the party and bring it closer to the Liberal Party, but Blunt's leadership was cut short in 1990 when he lost Richmond to ALP candidate Neville Newell, who won a slim margin after a 7.1% swing. While the Nationals margin had fallen below 60% in the 1980s, this still saw a big jump in the ALP vote.
Newell held on in 1993 against a challenge from Nationals candidate Larry Anthony (son of Doug and grandson of Larry Sr) and a Liberal candidate. In 1996, Newell was defeated by the third-generation of the Anthony family. Newell went on to hold the state seat of Tweed from 1999 until his defeat in 2007.
Anthony was reelected in 1998 and 2001, although won by slim margins very different to the huge margins won by his father and grandfather. The 2004 election saw Anthony, then a junior minister in the Howard government, defeated by ALP candidate Justine Elliot, against a national swing to the Coalition in a backlash against Mark Latham's leadership of the ALP.
Elliot gained a 7.4% swing in 2007, increasing her margin to 8.9%, which was cut to 7% in 2010. Elliot was a minister in the first term of the Labor government and then a parliamentary secretary from 2010 to 2013, and returned to the backbench in February 2013. Elliot was re-elected in 2013 by a 3% margin.
Candidates
Assessment
Richmond is a very marginal seat, and in the case of a swing to the Coalition, the sitting MP Elliot could be in trouble, although it seems more likely that she'll be re-elected in 2016.
The Greens also have ambitions to win Richmond. While the Greens vote is very high in Byron, and is reasonably high in the Ballina area, they poor very poorly in the Tweed Heads area, which is the largest part of the seat.
2013 result
| | | | | | |
| --- | --- | --- | --- | --- | --- |
| Candidate | Party | Votes | % | Swing | Redist |
| Matthew Fraser | Nationals | 32,066 | 37.6 | +16.4 | 39.0 |
| Justine Elliot | Labor | 28,575 | 33.5 | -5.7 | 34.4 |
| Dawn Walker | Greens | 15,083 | 17.7 | +1.5 | 15.7 |
| Phil Allen | Palmer United Party | 6,359 | 7.5 | +7.5 | 7.3 |
| Kev Skinner | Independent | 1,971 | 2.3 | +2.3 | 2.1 |
| John Ordish | Christian Democratic Party | 1,224 | 1.4 | +1.4 | 1.4 |
| | Others | | | | 0.1 |
| | Informal | 4,403 | 5.2 | | |
2013 two-party-preferred result
| | | | | | |
| --- | --- | --- | --- | --- | --- |
| Candidate | Party | Votes | % | Swing | Redist |
| Justine Elliot | Labor | 45,179 | 53.0 | -4.0 | 51.6 |
| Matthew Fraser | Nationals | 40,099 | 47.0 | +4.0 | 48.4 |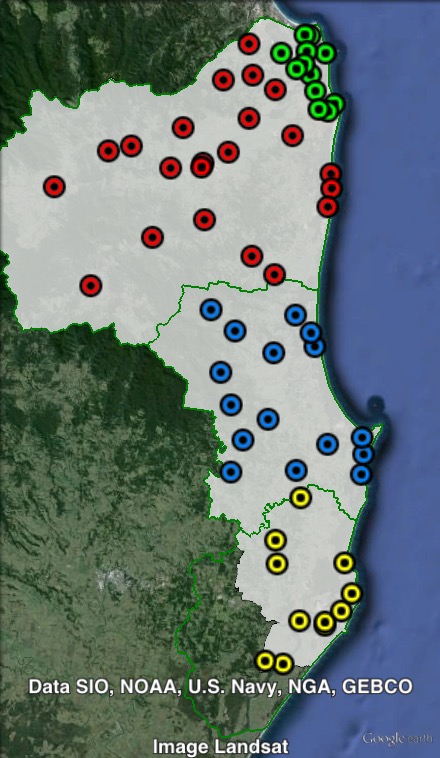 Booth breakdown
Booths have been divided into four parts. Polling places in Byron and Ballina council areas have been grouped together. Booths in Tweed, which cover a majority of the population, have been split between those in Tweed Heads and in the remainder of the council.
Labor won a small majority of the two-party-preferred vote in Tweed Shire (52.4%) and Ballina (51.2%). Labor won a much larger 68% majority in Byron, and the Nationals won 53.6% in Tweed Heads.
The Greens vote ranged from 8.4% in Tweed Heads to 36.8% in Byron.
| | | | | |
| --- | --- | --- | --- | --- |
| Voter group | GRN % | ALP 2PP % | Total votes | % of votes |
| Tweed Heads | 8.4 | 46.4 | 17,369 | 19.4 |
| Tweed Shire | 15.2 | 52.4 | 15,121 | 16.9 |
| Byron | 36.8 | 68.2 | 13,040 | 14.6 |
| Ballina | 11.4 | 51.2 | 10,050 | 11.2 |
| Other votes | 12.9 | 48.6 | 33,899 | 37.9 |