LNP 15.6%
Incumbent MP
Warren Truss, since 1990.
Geography
Wide Bay covers parts of the Queensland coast, including the towns of Noosa, Gympie and Maryborough, at the southern end of central Queensland as well as the northern end of the Sunshine Coast.
History
Wide Bay is an original federation electorate. It has been held for most of its history by the Nationals and its predecessors, although there have been two periods where it was held by the ALP for over a decade.
The seat was first won in 1901 by Gympie colonial MP Andrew Fisher, a prominent Labor member. Fisher had served as a minister in Anderson Dawson's brief government in 1899, the first socialist government in the world.
Fisher served as a minister in Chris Watson's federal Labor government in 1904, and became deputy leader of the ALP in 1905. He became the ALP's leader in 1907. In 1908, Alfred Deakin's minority government fell, and Fisher became Prime Minister at the head of a Labor minority government. This lasted until 1909, when Deakin returned to power at the head of a new unified Liberal party.
Fisher returned to office after the 1910 election, when the ALP won an unprecedented majority in the House of Representatives. This was the first time a party won a majority in a federal election. He governed until 1913, when he lost office to the Liberal Party, but he returned to power after Joseph Cook called a double dissolution in 1914. Fisher resigned from Parliament in 1915.
The ensuing Wide Bay by-election was won by Liberal candidate Edward Corser by only 86 votes. Corser was re-elected as a Nationalist in 1917, 1919, 1922 and 1925, dying in July 1928.
The 1928 Wide Bay by-election was won by Corser's son, Bernard Corser, who stood for the Country Party. He held the seat until his retirement in 1954.
The seat was won in 1954 by the Country Party's William Brand, who had previously served as a senior member of the party in the Queensland state parliament. He was re-elected in 1955 before retiring in 1958.
Wide Bay was won in 1958 by Country candidate Henry Bandidt, but lost in 1961 to the ALP's Brendan Hansen. Hansen held Wide Bay until his retirement in 1974, and was elected to the Queensland state parliament for the seat of Maryborough from 1977 until 1983.
Upon Hansen's retirement in 1974, the Country Party's Clarrie Millar won back Wide Bay, and he held it until his retirement in 1990.
Wide Bay was won in 1990 by the National Party's Warren Truss. Truss was made a junior minister in the Howard government in 1997 and joined the cabinet in 1999. He was elected Deputy Leader of the Nationals in 2005, and became Leader after the defeat of the Howard government, when previous leader Mark Vaile moved to the backbench.
Candidates
Warren Truss 

(Liberal National)

Gordon Dale (Katter's Australian Party)
Joy Ringrose

(Greens)

Stephen Alfred Anderson (Palmer United Party)
John Chapman (Family First)
Grace Dickins (Rise Up Australia)
Lucy Stanton

(Labor)
Assessment
Wide Bay is a safe LNP seat.
2010 result
| | | | | |
| --- | --- | --- | --- | --- |
| Candidate | Party | Votes | % | Swing |
| Warren Truss | LNP | 47,977 | 58.86 | +10.25 |
| Nikolee Ansell | ALP | 19,645 | 24.10 | -6.87 |
| Jim McDonald | GRN | 8,967 | 11.00 | +2.96 |
| Ken Herschell | FF | 3,049 | 3.74 | +0.29 |
| Santo Ferraro | ON | 1,875 | 2.30 | +1.09 |
2010 two-candidate-preferred result
| | | | | |
| --- | --- | --- | --- | --- |
| Candidate | Party | Votes | % | Swing |
| Warren Truss | LNP | 53,484 | 65.61 | +7.22 |
| Nikolee Ansell | ALP | 28,029 | 34.39 | -7.22 |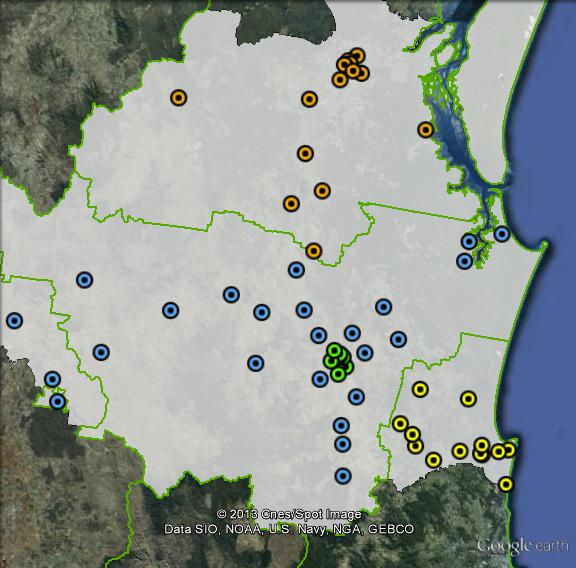 Booth breakdown
Booths have been divided into four areas. Polling places in Fraser Coast council area have been grouped as 'Maryborough' and those in the Sunshine Coast coucnil area have been grouped as 'Noosa'. Those booths in the town of Gympie have been grouped together as Gympie Urban. The remainder of the Gympie council area have been grouped together with the small number of booths in the South Burnett and Cherbourg council areas as 'Gympie Rural'.
The LNP won a majority in all four areas, ranging from 60.8% in Noosa to 70.7% in Gympie Rural. The Greens polled over 17% in Noosa, but less than 10% in the other three areas.
| | | | | |
| --- | --- | --- | --- | --- |
| Voter group | GRN % | LNP 2PP % | Total votes | % of votes |
| Noosa | 17.41 | 60.77 | 22,304 | 27.36 |
| Maryborough | 6.77 | 64.70 | 15,856 | 19.45 |
| Gympie Rural | 7.80 | 70.72 | 11,824 | 14.51 |
| Gympie Urban | 8.34 | 68.39 | 10,950 | 13.43 |
| Other votes | 10.57 | 67.16 | 20,579 | 25.25 |