ALP 10.5%
Incumbent MP
Nick Champion, since 2007.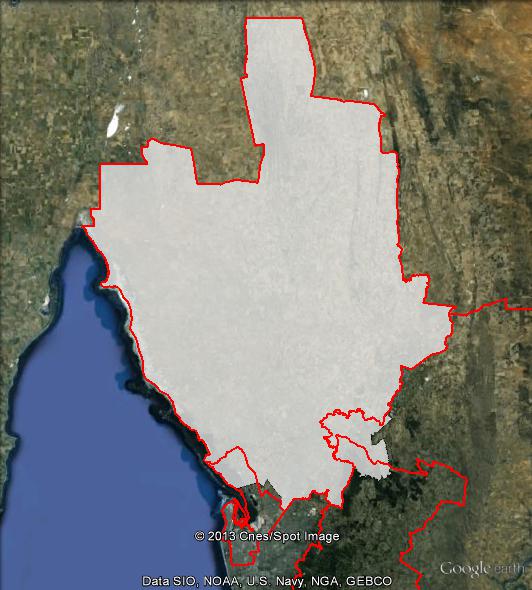 Geography
Northern fringe of Adelaide and rural areas further north. Wakefield covers the towns of Elizabeth and Gawler on the northern outskirts of Adelaide. It also covers the rural Clare and Gilbert Valleys, Light and Mallala LGAs, and half of Wakefield council area, extending as far north as the towns of Clare and Balaklava.
Redistribution
Wakefield lost Salisbury North to Port Adelaide, and in exchange gained a larger area from Barker, Mayo and Port Adelaide, all on the seat's southern boundary. This reduced the ALP's margin from 12% to 10.5%.
History
Wakefield is an original South Australian electorate, having been created in 1903 at the first election with single-member electorates in South Australia. The seat has almost always been held by conservative parties. The ALP has only won the seat three times: at a 1938 by-election, at the 1943 landslide, and at the 2007 election.
The seat was first won in 1903 by Frederick Holder. Holder had previously been Premier of South Australia and had won an at-large seat in the House of Representatives in 1901 and had been elected as the first Speaker of the House of Representatives. Holder served as an independent and as Speaker up until July 1909, when he died while presiding over a raucous session of the House of Representatives.
The ensuing by-election was won by the Commonwealth Liberal Party's Richard Foster, who had previously served as a minister in state governments before losing his seat in 1906. Foster held the seat continuously until the 1928 election, when he was defeated by Country Party candidate Maurice Collins. Collins was defeated at the 1929 election, and the party has never won Wakefield since.
The seat was won in 1929 by Nationalist Charles Hawker, who went on to serve as a minister in Joseph Lyons' first government before resigning from the ministry in protest against high ministerial salaries during the Depression. Hawker died in a plane crash in 1938.
The ALP's Sidney McHugh won the seat in the following by-election. McHugh was a former state MP, and lost the seat to UAP candidate John Duncan-Hughes in 1940 before returning to state politics. Duncan-Hughes had previously held the seat of Boothby before losing it in 1928, and then had served as a UAP Senator from 1932 to 1938.
Duncan-Hughes lost to ALP candidate Albert Smith in 1943. Smith was defeated by Philip McBride (LIB) in 1946. McBride had previously held the seat of Grey and then served in the Senate, and had served in Menzies' first ministry while in the Senate.
McBride served as a minister when the Liberal Party gained power in 1949, first as Minister for the Interior and then as Minister for Defence from 1950 until his retirement in 1958.
Bert Kelly won the seat in 1958, and was a prominent proponent of free trade at a time when it was a minority view. He served as a minister from 1967 until 1969 but his advancement was limited by his free trade advocacy.
The redistribution before the 1977 election abolished the seat of Angas and the sitting member for Angas, Geoffrey Giles, challenged Kelly for Liberal preselection and won Wakefield. Giles had held Angas since 1964, when he won a by-election triggered by the death of Alexander Downer Sr.
Giles retired in 1983, and was succeeded by Neil Andrew. Andrew had a largely undistinguished career until after the 1998 election, when he was elected Speaker of the House of Representatives.
A redistribution before the 2004 election made Wakefield a notional Labor seat, and Andrew retired. Despite the unfavourable redistribution the Liberal Party's David Fawcett retained the seat. Fawcett held the seat for one term before losing it to the ALP's Nick Champion in 2007. Champion gained the seat with a 7% swing in 2007, and gained a further 5% swing in 2010.
Candidates
Tom Zorich

 (Liberal)

Sherree Clay

(Greens)

Mark Aldridge (Independent)
Tony Musolino (Katter's Australian Party)
Dino Musolino (Palmer United Party)
Nick Champion

 (Labor)

Paul Coombe (Family First)
Assessment
Wakefield was long considered to be a safe Liberal seat, prior to a major redistribution in 2004. A cumulative swing of 12.6% to Nick Champion at two successive elections has given him a solid majority. This majority is likely to stand up against a potential Liberal swing, but the recent history of the seat as a very marginal electorate in 2004 could indicate that Champion's margin is inflated and vulnerable to a strong swing.
2010 result
| | | | | |
| --- | --- | --- | --- | --- |
| Candidate | Party | Votes | % | Swing |
| Nick Champion | ALP | 43,299 | 49.20 | +0.55 |
| David Strauss | LIB | 27,679 | 31.45 | -7.24 |
| Jane Alcorn | GRN | 9,948 | 11.30 | +7.17 |
| Paul Coombe | FF | 5,958 | 6.77 | +1.61 |
| Darren Hassan | DEM | 1,129 | 1.28 | +0.11 |
2010 two-candidate-preferred result
| | | | | |
| --- | --- | --- | --- | --- |
| Candidate | Party | Votes | % | Swing |
| Nick Champion | ALP | 54,528 | 61.95 | +5.36 |
| David Strauss | LIB | 33,485 | 38.05 | -5.36 |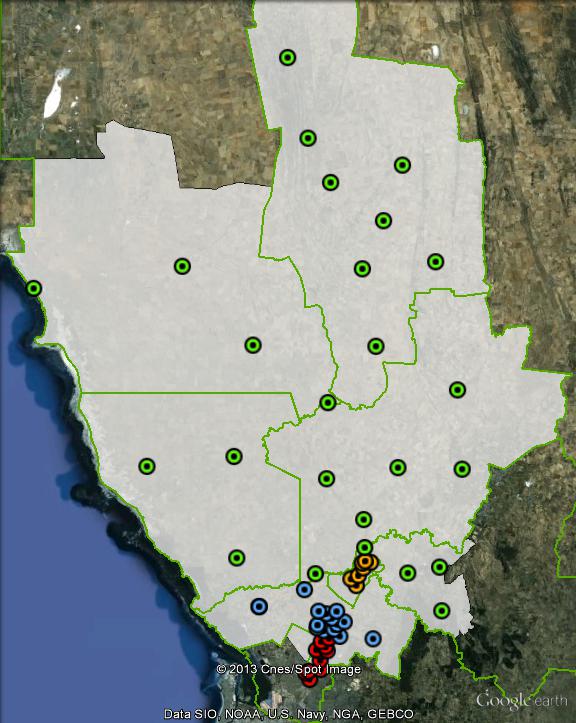 Booth breakdown
Booths have been divided into four areas. Polling places in Barossa, Clare and Gilbert Valleys, Light, Mallala and Wakefield council areas have been grouped together as 'north'.
Polling places in the Town of Gawler have been grouped together. A majority of voters live in the City of Playford, which matches with the Elizabeth area, which is the northernmost part of the Adelaide urban area. These polling places have been split into Elizabeth North and Elizabeth South.
The ALP won a majority in three areas, varying from 55.9% in Gawler to 70.9% in Elizabeth South. The Liberal Party polled 53.2% in the north.
| | | | | |
| --- | --- | --- | --- | --- |
| Voter group | GRN % | ALP 2PP % | Total votes | % of ordinary votes |
| Elizabeth North | 10.63 | 69.20 | 24,594 | 34.88 |
| North | 11.15 | 46.82 | 20,821 | 29.53 |
| Elizabeth South | 11.96 | 70.85 | 14,986 | 21.25 |
| Gawler | 11.55 | 55.91 | 10,113 | 14.34 |
| Other votes | 11.86 | 58.93 | 16,187 | |