LIB 4.2%
Incumbent MP
Russell Broadbant, since 2004. Previously Member for Corinella 1990-1993, Member for McMillan 1996-1998.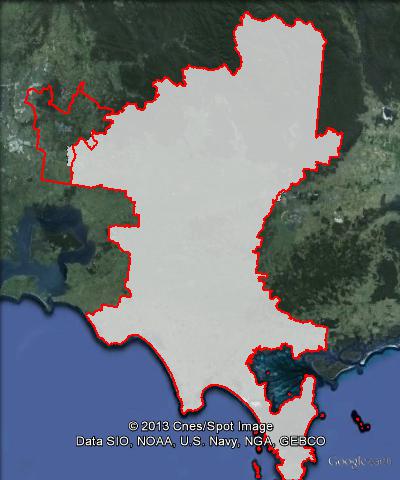 Geography
South-eastern Victoria. McMillan covers parts of Victoria stretching from the south-eastern fringe of Melbourne to the Latrobe Valley. The seat stretches from Pakenham in the west to Moe in the east, and stretches down to the coast.  McMillan covers the entirety of Baw Baw and South Gippsland council areas, as well as parts of Cardinia, Bass Coast and Latrobe LGAs. The seat covers the outer Melbourne suburb of Pakenham, and the towns of Warragul, Moe, Wonthaggi, Leongatha and Foster.
Redistribution
McMillan continues to cover all of the territory in the seat at the 2010 election, and gained some small areas near Pakenham from La Trobe. This reduced the Liberal margin from 4.4% to 4.2%.
History
McMillan was first created in 1949. The seat has mostly been held by conservative parties, although since the 1980s the ALP has won the seat on a number of occasions.
The seat was first won by Geoffrey Brown of the Liberal Party in 1949. Brown won a three-cornered contest on Country Party preferences. The Country Party occasionally would contest the seat throughout the 1950s and 1960s, but never managed to overtake the Liberal Party. Brown was reelected in 1951 and 1954 but died in 1955 before the election.
The seat was won at the 1955 election by Alexander Buchanan, also a Liberal. Buchanan held the seat for seventeen years without taking ministerial office before losing the Liberal Party's endorsement in 1972.
Buchanan stood as an independent in 1972, and preferences from the DLP and Buchanan allowed Country Party candidate Arthur Hewson to leapfrog the official Liberal candidate and defeat the ALP candidate on Liberal preferences.
Hewson was reelected in a fierce contest in 1974, when the Liberals stood Ronald Dent against him despite a coalition agreement, and Hewson narrowly defeated Dent on primary votes before overtaking the ALP on preferences.
Hewson was defeated by Liberal candidate Barry Simon in 1975, and the Nationals never came close to winning McMillan again. Simon held the seat until 1980, when the ALP's Barry Cunningham won it.
Cunningham held the seat throughout the 1980s, losing to John Riggall (LIB) in 1990. Riggall was defeated by Cunningham in 1993, and Cunningham was defeated by Russell Broadbent in 1996.
Broadbent had previously held the neighbouring seat of Corinella for one term from 1990 to 1993, and Corinella had been abolished at the 1996 election.
Broadbent was again defeated in 1998 by Christian Zahra, a 25-year-old ALP candidate. Zahra was made a shadow Parliamentary Secretary after the 2001 election, and was considered to have a promising career, before losing to Broadbent in 2004.
Broadbent managed to win re-election in 2007 after developing a reputation for rebelling against the Howard government's immigration policies, and won again in 2010.
Candidates
David Amor (Katter's Australian Party)
Gary Patton (Senator Online)
Ben Staggard (Sex Party)
Malcolm McKelvie

(Greens)

John Parker (Independent)
Andrew Kis-Rigo (Democratic Labour Party)
Matt Sherry (Palmer United Party)
Norman Baker (Rise Up Australia)
Russell Broadbent 

(Liberal)

Anthony Naus

(Labor)

Leigh Gatt (Independent)
Ross Fisher (Country Alliance)
Luke Conlon (Family First)
Assessment
McMillan is a marginal Liberal seat, but should be easily retained in current circumstances.
2010 result
| | | | | |
| --- | --- | --- | --- | --- |
| Candidate | Party | Votes | % | Swing |
| Russell Broadbent | LIB | 41,870 | 49.28 | -0.65 |
| Christine Maxfield | ALP | 30,212 | 35.56 | -2.58 |
| Malcolm McKelvie | GRN | 8,258 | 9.72 | +3.72 |
| Linden Stokes | FF | 2,776 | 3.27 | +0.33 |
| Leigh Gatt | IND | 1,844 | 2.17 | +2.17 |
2010 two-candidate-preferred result
| | | | | |
| --- | --- | --- | --- | --- |
| Candidate | Party | Votes | % | Swing |
| Russell Broadbent | LIB | 46,229 | 54.41 | -0.38 |
| Christine Maxfield | ALP | 38,731 | 45.59 | +0.38 |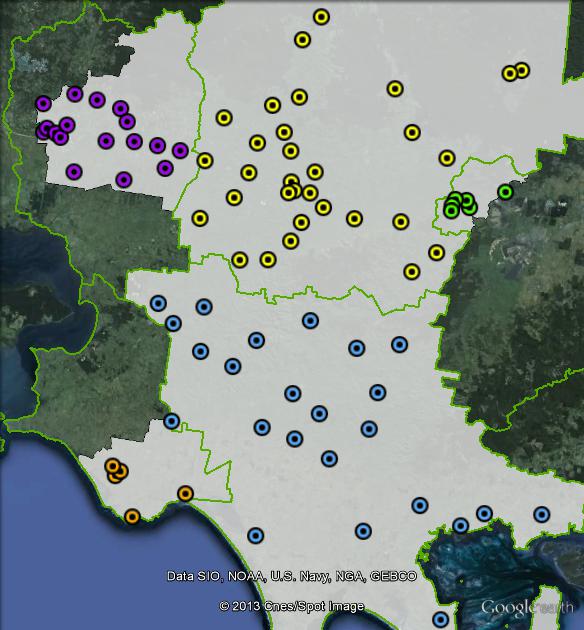 Booth breakdown
Booths have been divided into five areas, which reflect local government boundaries.
The Liberal Party won a majority in three areas, varying from 52.5% in Cardinia to 61.1% in South Gippsland. The ALP won a majority in the two smaller areas: 55.3% in Bass Coast and 67% in Latrobe, which mostly consists of booths in Moe.
| | | | | |
| --- | --- | --- | --- | --- |
| Voter group | GRN % | LIB 2PP % | Total votes | % of ordinary votes |
| Baw Baw | 10.66 | 59.99 | 18,351 | 30.98 |
| South Gippsland | 10.43 | 61.10 | 14,834 | 25.04 |
| Cardinia | 8.63 | 52.45 | 14,722 | 24.85 |
| Latrobe | 7.08 | 33.06 | 6,697 | 11.31 |
| Bass Coast | 14.11 | 44.67 | 4,634 | 7.82 |
| Other votes | 9.11 | 54.28 | 27,977 | |