IND vs NAT 12.7%
Incumbent MP
Rob Oakeshott, since 2008. Previously state Member for Port Macquarie 1996-2008.
Geography
North coast of NSW. Lyne covers the coast of New South Wales from Taree to Crescent Head. It covers all of Port Macquarie-Hastings, Greater Taree and Gloucester council areas, as well as parts of Kempsey LGA, although it does not cover the town of Kempsey itself.
History
Lyne was created as part of the expansion of the House of Representatives at the 1949 election. It was won by the Country/National Party at every election from its creation until the 2007 election, although it has since been lost to an independent at a 2008 by-election.
The seat was first won in 1949 by Country Party candidate James Eggins. Four Country candidates stood for Lyne in 1949, with Eggins polling first on primary votes, followed by the ALP candidate, and he comfortably won the seat on the preferences from his Country Party colleagues. He was re-elected in 1951, but died in 1952, triggering a by-election.
The 1952 Lyne by-election was won by the Country Party's Philip Lucock. Lucock was the second-highest polling Country Party candidate at the 1949 election. Two Country Party candidates stood in 1952, one polling 30.2% and the other 29.2%, and Lucock overtook the Labor candidate on preferences.
Lucock served as Deputy Speaker of the House of Representatives under the Menzies, Holt, Gorton, McMahon and Fraser government, but never achieved ministerial office before he retired at the 1980 election.
The seat was won in 1980 by the National Country Party's Bruce Cowan. Cowan had held the state seat of Oxley since 1965 and served as a minister in the last year of the Coalition state government from 1975 to 1976. Cowan held Lyne until 1993, and is the father-in-law of NSW Liberal leader Barry O'Farrell.
In 1993, the seat was won by Nationals candidate Mark Vaile, a Greater Taree councillor and former Deputy Mayor. Vaile joined the Howard government's ministry in 1997 as Minister for Transport, adding a role as Minister for Agriculture in 1998 and became Minister for Trade in 1999. He became Deputy Prime Minister in 2005 upon the retirement of John Anderson, and continued in the Howard government's cabinet until its defeat.
Vaile moved to the backbench upon the Howard government's defeat in 2007, before retiring from Parliament in 2008, triggering a by-election.
The by-election was won by independent candidate Rob Oakeshott with a massive majority, winning almost 74% of the two-candidate-preferred vote. Oakeshott had previously held the state seat of Port Macquarie since 1996. He had originally been elected for the National Party at a 1996 by-election and was re-elected in 1999. During his second term he became disenchanted with the Nationals and resigned from the party in 2002. He managed to win re-election to Port Macquarie as an independent at the 2003 and 2007 state elections.
Rob Oakeshott was re-elected at the 2010 federal election. Following the federal election, he decided to support the Labor minority government.
Candidates
Sitting independent MP Rob Oakeshott is not running for re-election.
John Klose (Christian Democratic Party)
Craig Huth (One Nation)
Brian Buckley Clare (Katter's Australian Party)
Peter Alley

(Labor)

Ian Oxenford

(Greens)

David Gillespie

(Nationals)

Troy Wilkie (Palmer United Party)
Michael Gough (Citizens Electoral Council)
Steve Attkins (Independent)
Assessment
With Rob Oakeshott not running, the Nationals should comfortably regain this seat.
2010 result
| | | | | |
| --- | --- | --- | --- | --- |
| Candidate | Party | Votes | % | Swing |
| Rob Oakeshott | IND | 40,061 | 47.15 | +47.15 |
| David Gillespie | NAT | 29,216 | 34.39 | -15.74 |
| Frederik Lips | ALP | 11,459 | 13.49 | -18.49 |
| Ian Oxenford | GRN | 3,645 | 4.29 | -2.75 |
| Barry Wright | IND | 586 | 0.69 | -0.50 |
2010 two-candidate-preferred result
| | | | | |
| --- | --- | --- | --- | --- |
| Candidate | Party | Votes | % | Swing |
| Rob Oakeshott | IND | 53,297 | 62.73 | |
| David Gillespie | NAT | 31,670 | 37.27 | |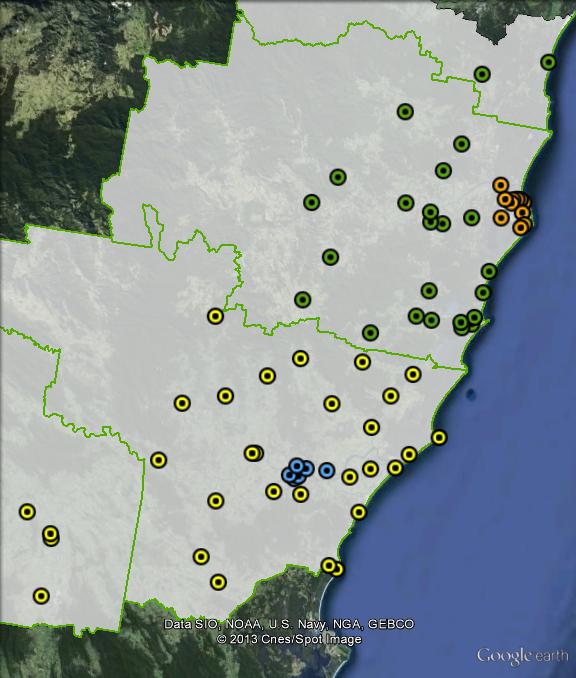 Booth breakdown
Booths have been divided into four areas. Booths in the towns of Port Macquarie and Taree have been grouped together.
The remaining booths have been split into "North" and "South", with the dividing line following the boundary between Greater Taree and Port Macquarie-Hastings council areas. Polling places in Gloucester have been grouped in south, and polling places in Kempsey have been grouped in north.
Rob Oakeshott won a similar two-candidate-preferred majority over the Nationals in each area, varying from 64.4% in Taree to 61.6% in Port Macquarie.
| | | | | |
| --- | --- | --- | --- | --- |
| Voter group | ALP % | IND 2CP % | Total votes | % of votes |
| Port Macquarie | 11.58 | 61.63 | 20,976 | 24.69 |
| North | 13.92 | 62.07 | 17,204 | 20.25 |
| South | 14.75 | 62.01 | 16,765 | 19.73 |
| Taree | 16.92 | 64.41 | 9,517 | 11.20 |
| Other votes | 12.45 | 64.20 | 20,505 | 24.13 |