ALP 1.7%
Incumbent MP
Laura Smyth, since 2010.
Geography
La Trobe covers the south eastern fringe of Melbourne and parts of the Dandenong Ranges. Major centres include Belgrave, Berwick, Narre Warren and Ferntree Gully. It covers parts of Cardinia, Casey, Knox and Yarra Ranges local government areas.
Redistribution
La Trobe lost areas around Bayswater and Boronia (in Knox local government area) to Aston. The seat also lost two pieces of territory near the towns of Pakenham and Pakenham Upper in Cardinia local government area to the seat of McMillan. La Trobe gained territory from Holt near Narre Warren South in Casey LGA. The ALP's margin in the seat was increased from 0.9% to 1.7%.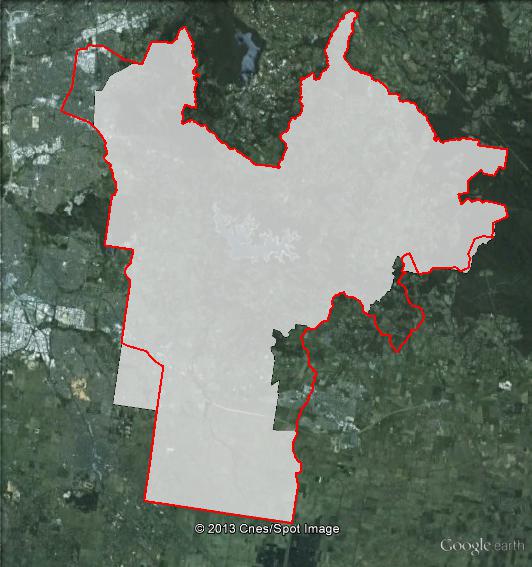 History
La Trobe was first created after the Second World War when the House of Representatives was expanded at the 1949 election. The seat was first won by Richard Casey, who had previously been an MP and minister before resigning from Parliament in 1940 to serve in a variety of diplomatic roles during the war.
Casey served as a minister for eleven years before resigning in 1960. John Jess won the seat for the Liberal Party in a by-election that year and held the seat until his defeat in 1972, when Whitlam's national victory swept Tony Lamb into La Trobe. He lost the seat in 1975 and later returned to Parliament serving in the seat of Streeton from 1984 to 1990.
Marshall Baillieu won the seat for the Liberals in 1975 and held it until 1980. That year he was defeated by Peter Milton who held it until 1990 for the ALP. Bob Charles defeated Milton in 1990 and held the seat until 2004, during which he served on the shadow ministry from 1994 to 1996.
Charles retired in 2004 and he was succeeded by Jason Wood. Wood's 5.8% margin in 2004 was cut to 0.5% in 2007, but he held on in the face of the election of the Rudd government. In 2010, Wood was defeated by Labor candidate Laura Smyth. Both major party candidates suffered negative swings, but Smyth benefited from a swing to the Greens and the Sex Party's candidacy. La Trobe was one of only two seats that the ALP gained off the Coalition in an election where Labor lost ground and lost its parliamentary majority.
Candidates
Michael Schilling

(Greens)

Jason Wood 

(Liberal)

Martin Leahy (Sex Party)
Laura Smyth 

(Labor)

Rachel Jenkins (Democratic Labour Party)
Daniel Martin (Family First)
Jason Kennedy (Palmer United Party)
Kevin Seaman (Rise Up Australia)
Assessment
La Trobe bucked the trend in 2010, and it will be a key focus of the 2013 campaign. La Trobe was Labor's third most marginal seat in the country after the last election, but is now the eighth-most marginal seat thanks to the redistribution. The ALP has generally performed better in Victoria than in other states in recent times and it is possible that this seat won't follow the national trend. Smyth should benefit from the sitting member's personal vote, but Wood will surely maintain a personal vote in the area. The redistribution will make the race more difficult for Wood in attempting to win back his old seat.
2010 result
| | | | | |
| --- | --- | --- | --- | --- |
| Candidate | Party | Votes | % | Swing |
| Jason Wood | LIB | 39,053 | 43.88 | -2.60 |
| Laura Smyth | ALP | 33,970 | 38.17 | -2.22 |
| Jim Reiher | GRN | 10,931 | 12.28 | +3.44 |
| Martin Leahy | SXP | 2,539 | 2.85 | +2.85 |
| David Barrow | FF | 1,917 | 2.15 | -0.69 |
| Shem Bennett | LDP | 587 | 0.66 | +0.56 |
2010 two-candidate-preferred result
| | | | | |
| --- | --- | --- | --- | --- |
| Candidate | Party | Votes | % | Swing |
| Laura Smyth | ALP | 45,308 | 50.91 | +1.42 |
| Jason Wood | LIB | 43,689 | 49.09 | -1.42 |
Booth breakdown
Booths have been divided into three areas. Those booths contained in Casey local government area in the south-west were grouped as 'south'. Those contained in Cardinia LGA, along with a single booth in Yarra Ranges which is separated from the remainder of the booths in that council, have been grouped as 'west'. The remaining booths in Yarra Ranges and Knox have been grouped as 'north'.
The south has the largest concentration of voters, in the area close to Narre Warren South. The ALP won a large majority in the north. The Liberal Party barely won a majority (50.03%) in the south, while they won a larger 52% majority in the west. The Greens vote varies hugely from 19% in the north to 7.6% in the south.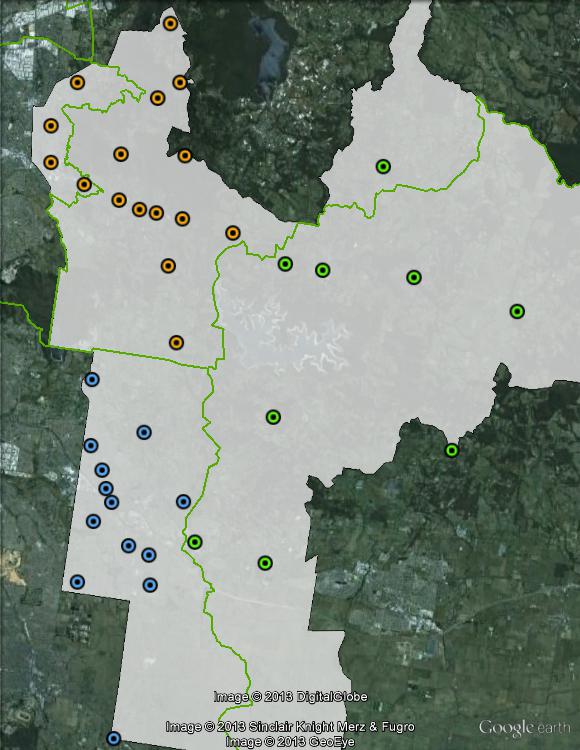 | | | | | |
| --- | --- | --- | --- | --- |
| Voter group | GRN % | ALP 2CP % | Total votes | % of ordinary votes |
| South | 7.64 | 49.97 | 29,837 | 47.49 |
| North | 19.00 | 57.57 | 20,155 | 32.08 |
| West | 12.37 | 47.99 | 12,841 | 20.44 |
| Other votes | 11.54 | 48.08 | 21,616 | |