LNP 2.2%
Incumbent MP
Ewen Jones, since 2010.
Geography
Herbert covers the vast majority of the urban area in Townsville. It also covers rural areas to the west of Townsville which are contained in Townsville LGAs.
History
Herbert is an original federation seat. The seat originally covered most of North Queensland, from Mackay to the Torres Strait, but now is almost entirely based in Townsville. The seat has long been a marginal seat, and only three former MPs have managed to retire on their own terms.
The seat was first held by Fred Bamford, who held the seat for a quarter of a century. He was first elected as a Labor member and was expelled from the ALP over conscription in 1916. He served briefly as a minister under Billy Hughes and represented the Nationalists under his retirement in 1925.
At the 1925 election, Premier of Queensland Ted Theodore resigned from office in order to run for Herbert, but was surprisingly defeated by Lewis Nott of the Nationalists, who held the seat for one term. Nott later emerged as the first member for the Australian Capital Territory as an independent from 1949 to 1951.
George Martens won the seat for the ALP in 1928 and held it until his retirement in 1946. The seat was then held by Labor's William Edmonds until 1958.
Edmonds was defeated that year by John Murray of the Liberal Party, who was defeated himself by the ALP's  Ted Harding in 1961. Harding was defeated in 1966 by Robert Bonnett. The seat was then held solidly by the Liberal Party for a long period. Bonnett retired in 1977 and Arthur Dean held on to the seat for the Liberals from 1977 to 1983.
In 1983, Dean was defeated by the ALP's Ted Lindsay, as part of Bob Hawke's election win over Malcolm Fraser. Lindsay held the seat for the entirety of the Hawke/Keating government before being defeated in 1996 by Liberal candidate Peter Lindsay (no relation). Lindsay was re-elected four times, and retired in 2010.
The Liberal National Party's Ewen Jones won the seat in 2010. The redistribution had made Herbert a very marginal notional Labor seat, but a swing of 2.2% saw Jones retain the seat for the LNP.
Candidates
Gail Hamilton

(Greens)

Steve Moir (One Nation)
Nino Marolla (Rise Up Australia)
Bronwyn Walker (Katter's Australian Party)
Ewen Jones

 (Liberal National)

Cathy O'Toole

 

(Labor)

Michael Punshon (Family First)
Costa George (Sex Party)
Margaret Bell (Australian Voice)
Martin Brewster (Palmer United Party)
Assessment
Herbert is a very marginal LNP seat, and will be a seat Labor is hoping to win if there is a swing to Labor. It seems most likely that the LNP will hold on.
2010 result
| | | | | |
| --- | --- | --- | --- | --- |
| Candidate | Party | Votes | % | Swing |
| Ewen Jones | LNP | 36,086 | 45.67 | +2.14 |
| Tony Mooney | ALP | 31,729 | 40.15 | -3.12 |
| Mike Rubenach | GRN | 6,995 | 8.85 | +3.81 |
| Michael Punshon | FF | 4,208 | 5.33 | +3.67 |
2010 two-candidate-preferred result
| | | | | |
| --- | --- | --- | --- | --- |
| Candidate | Party | Votes | % | Swing |
| Ewen Jones | LNP | 41,221 | 52.17 | +2.20 |
| Tony Mooney | ALP | 37,797 | 47.83 | -2.20 |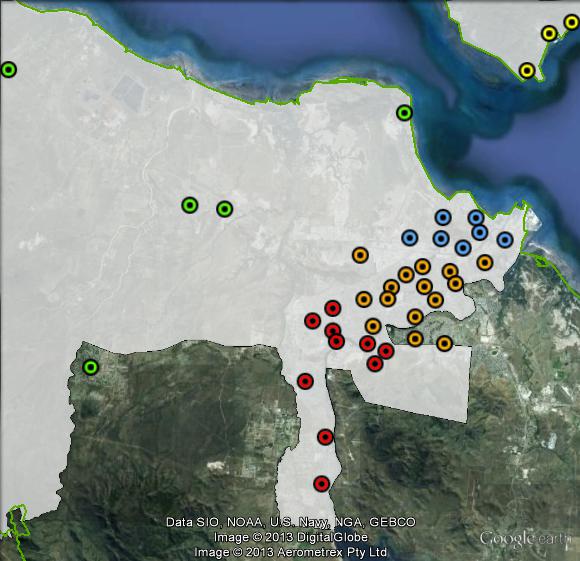 Booth breakdown
Booths have been divided into five areas. Most of the seat's population lies in the Townsville urban area, and these booths are divided into three areas: Townsville, Mundingburra and Thuringowa-Douglas. The remaining booths are divideed between those in the rural hinterland to the west of Townsville, and those on islands off the coast.
The LNP won a 55.5% majority in the rural part of the seat, and 54.4% in Thuringowa-Douglas. The ALP won a slim majority in Mundingburra and Townsville, and a larger majority on the islands.
| | | | | |
| --- | --- | --- | --- | --- |
| Voter group | GRN % | LNP 2PP % | Total votes | % of votes |
| Mundingburra | 8.98 | 49.48 | 24,501 | 31.01 |
| Thuringowa-Douglas | 7.95 | 54.41 | 21,912 | 27.73 |
| Townsville | 11.02 | 49.96 | 8,369 | 10.59 |
| Rural | 7.05 | 55.50 | 7,787 | 9.85 |
| Islands | 15.82 | 46.58 | 1,625 | 2.06 |
| Other votes | 8.94 | 53.39 | 14,824 | 18.76 |