LIB 11.2%
Incumbent MP
Rowan Ramsey, since 2007.
Geography
Grey covers the vast majority of the geographical expanse of South Australia. Grey covers South Australia's borders with Western Australia, the Northern Territory, Queensland and New South Wales. It covers most of the coast of South Australia, including everything west of the Yorke Peninsula. Main towns include Port Pirie, Port Augusta, Port Lincoln, Whyalla, Coober Pedy and Roxby Downs.
Redistribution
No change.
History
Grey is an original electorate, having been created in 1903. The seat was first won by the ALP's Alexander Poynton, who had been elected as a Free Trade MP in 1901, when South Australia elected its parliamentary delegation at large.
Poynton strongly supported conscription and followed Billy Hughes into the Nationalist Party in 1916.
Poynton was defeated by Andrew Lacey in 1922. Lacey held the seat until his defeat by Philip McBride (UAP) in 1931. Lacey went on to win a seat in the South Australian House of Assembly in 1933 and became Leader of the Opposition until 1938.
McBride held Grey for the UAP from 1931 until 1937, when he made a swap with Country Party senator Albert Badman, with Badman winning Grey and McBride taking Badman's seat in the Senate. McBride held the Senate seat until his defeat in 1943, and then served as Member for Wakefield from 1946 to 1958, serving as a minister in the Menzies government.
Badman held the seat of Grey until 1943, effectively serving as a member of the UAP for his final years after the collapse of the Country Party in South Australia.
In 1943, Badman was defeated by Edgar Russell (ALP). Russell began a 50-year period of the ALP holding Grey except for a single election, and he served as a backbencher until his death in 1963. Jack Mortimer won the seat for the ALP in 1963, but was defeated by Liberal Don Jessop in 1966. Jessop only held the seat for one term, losing to Laurie Wallis in 1969. Jessop then won a seat in the Senate in 1970 and served there until 1987.
Wallis held Grey from 1969 to 1983, when he retired. He was succeeded by Lloyd O'Neil, who held the seat for the ALP from 1983 until his retirement in 1993.
The redistribution before the 1993 had expanded Grey to include rural areas to the west of Port Pirie and Port Augusta, after the seat had been limited to the immediate coastal strip for decades. This improved the position of the Liberal Party, and Barry Wakelin won the seat off the ALP at the 1993 election.
Wakelin held the seat until 2007, when he retired and was succeeded by Rowan Ramsey. Ramsey was re-elected in 2010.
Candidates
Assessment
Grey is a safe Liberal seat.
2010 result
| | | | | |
| --- | --- | --- | --- | --- |
| Candidate | Party | Votes | % | Swing |
| Rowan Ramsey | LIB | 49,361 | 55.78 | +8.52 |
| Tauto Sansbury | ALP | 27,514 | 31.09 | -7.57 |
| Andrew Melville-Smith | GRN | 6,876 | 7.77 | +3.65 |
| Sylvia Holland | FF | 4,741 | 5.36 | +0.86 |
2010 two-candidate-preferred result
| | | | | |
| --- | --- | --- | --- | --- |
| Candidate | Party | Votes | % | Swing |
| Rowan Ramsey | LIB | 54,119 | 61.16 | +6.73 |
| Tauto Sansbury | ALP | 34,373 | 38.84 | -6.73 |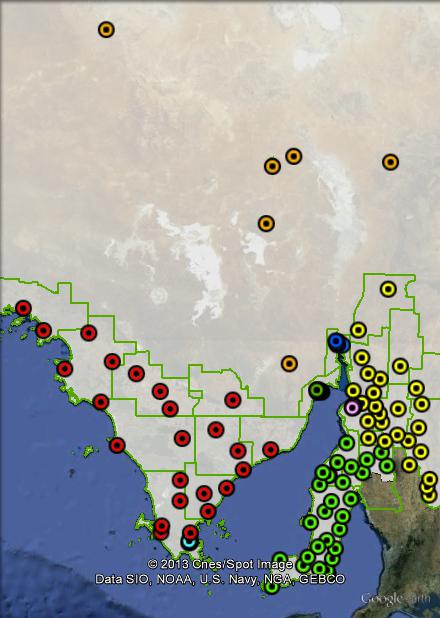 Booth breakdown
Booths have been divided into eight areas. There are four major towns in the electorate: Whyalla, Port Lincoln, Port Pirie and Port Augusta. Polling places in these towns have been grouped together.
The remainder of the electorate has been split between:
Central – Barunga West, Copper Coast, Wakefield and Yorke Peninsula council areas.
East – Flinders Ranges, Goyder, Mount Remarkable, Northern Areas, Orroroo Carrieton, Peterborough council areas, and those parts of Port Pirie council area outside of the Port Pirie urban area.
Outback – Polling places in northern parts of the seat, including Coober Pedy, Roxby Downs and Woomera.
West – Those polling places in the south of the electorate to the west of Whyalla.
The Liberal Party won in six out of eight areas, ranging from 51.8% in Port Augusta to 79.7% in the west. The ALP won a 50.5% majority in Port Pirie and a 56.7% majority in Whyalla.
| | | | | |
| --- | --- | --- | --- | --- |
| Voter group | GRN % | LIB 2PP % | Total votes | % of votes |
| Central | 7.74 | 63.15 | 15,714 | 17.76 |
| Whyalla | 10.47 | 43.29 | 10,479 | 11.84 |
| East | 6.47 | 69.26 | 9,757 | 11.03 |
| West | 5.63 | 79.71 | 9,329 | 10.54 |
| Port Lincoln | 7.68 | 65.01 | 7,004 | 7.91 |
| Port Pirie | 5.60 | 49.53 | 6,872 | 7.77 |
| Port Augusta | 7.67 | 51.79 | 5,453 | 6.16 |
| Outback | 7.54 | 59.96 | 2,560 | 2.89 |
| Other votes | 8.78 | 61.66 | 21,324 | 24.10 |