LIB 9.1%
Incumbent MP
Greg Hunt, since 2001.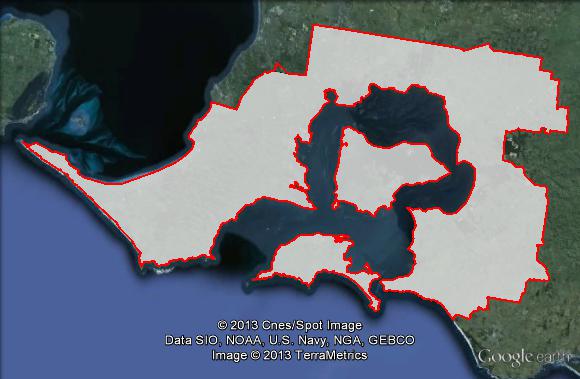 Geography
Flinders covers regional areas to the south east of Melbourne, including the Mornington Peninsula and areas around Western Port. The main population centres include Sorrento, Rosebud, Dromana, Hastings, Somerville, Cowes, San Remo and Koo Wee Rup.
Redistribution
Flinders only changed slightly, losing a small area near Baxter to Dunkley in the north-west of the electorate.
History
Flinders is an original federation electorate, and has a long history of having been held by conservative parties, with Labor only winning the seat three times, and no Labor MP managing to win re-election in Flinders.
The seat was first won in 1901 by Free Trader Arthur Groom, a former member of the Victorian colonial Parliament. Groom was not an active member of the first Parliament, and retired in 1903.
Flinders was won in 1903 by another Free Trade candidate, James Gibb, who had served in the Victorian Legislative Assembly in the 1880s. He held the seat for one term. Gibb left Flinders in 1906 in an attempt to defeat William Lyne in the NSW seat of Hume. Lyne was a former Premier of NSW and a prominent Protectionist minister, and easily saw off Gibb.
Flinders was won in 1906 by former Victorian Premier William Irvine. Irvine joined the merged Liberal Party in 1909. He served as a senior minister in Joseph Cook's government from 1913 to 1914. He left Parliament to serve as Chief Justice of the Supreme Court of Victoria in 1918.
The 1918 Flinders by-election was won by Nationalist candidate Stanley Bruce. Bruce was appointed Treasurer in 1921. After the 1922 election the Nationalists had to rely on Country Party support to remain in government, and as a price for their support the Country Party demanded the replacement of Billy Hughes as Prime Minister, which saw Bruce appointed Prime Minister.
Bruce won re-election at the 1925 and 1928 elections, but his government came undone in 1929 when Billy Hughes led a group of Nationalist rebels across the floor in opposition to industrial relations legislation, and Bruce lost his majority.
Bruce's Nationalists not only lost the federal election, but Bruce himself was defeated in Flinders by the ALP's Jack Holloway. Holloway was secretary of the Melbourne Trades Hall Council, who had stood against Bruce in protest at the government's arbitration policies.
Holloway was a leading left-winger in the Labor caucus during the Scullin government, and moved to the safer seat of Melbourne Ports in 1931. Holloway had served as an assistant minister for much of the Scullin government, and he went on to serve as a minister in the Curtin and Chifley governments, retiring in 1951.
Bruce won back Flinders in 1931 for the newly-formed United Australia Party. Bruce was appointed as a minister without portfolio in the Lyons government, and soon went to London to represent the Government. He resigned from Parliament in 1933 to serve as High Commissioner to London from the Australian government. Bruce served in the role until 1945, playing a key role in Australia's participation in the Second World War. Bruce went on to serve in the House of Lords.
The 1933 Flinders by-election was won by James Fairbairn, who had served briefly as a UAP state MP before moving to federal Parliament. Fairbairn regularly flew aircraft and was appointed as Minister for Civil Aviation in the Menzies government in 1939. He served as the first Minister for the Air, with responsibility for the Royal Australian Air Force, and served as a key minister in the war effort until his death.
Fairbairn died in a plane crash in 1940. He was flying from Melbourne to Canberra along with four crew and five other passengers, including two other ministers and the Chief of the Defence Staff, and the plane crashed on approach to the airport in Canberra.
Fairbairn died only one month before the 1940 federal election, so no by-election was held. Flinders was won at the ensuing election by Rupert Ryan of the UAP. Ryan held the seat for the UAP and the successor Liberal Party until his death in 1952.
The 1952 Flinders by-election was won in a surprise result by the ALP's Keith Ewert. He lost the seat at the 1954 federal election to Liberal candidate Robert Lindsay.
Lindsay held the seat until 1966, serving on the backbenches for twelve years.
In 1966, Flinders was won by Liberal candidate Phillip Lynch. Lynch quickly rose to ministerial rank, serving as a minister from 1968 until the defeat of the McMahon government in 1972.
Lynch became Deputy Leader of the Liberal Party under Billy Snedden after the 1972 election. He continued to serve in that role under Malcolm Fraser's leadership.
Lynch served as Treasurer from 1975 to 1977, when he was forced to resign from the ministry due to allegations of tax minimisation. He was only out of office for a month before returning to Cabinet. Lynch retired from Parliament in 1982.
The 1982 Flinders by-election was won by the Liberal Party's Peter Reith. The by-election took place in December 1982, but he never took his seat, as Fraser called a double dissolution in March 1983.
Reith had won Flinders at the 1982 by-election with a small margin, and lost the seat to the ALP's Bob Chynoweth in 1983. He won the seat back in 1984. Chynoweth moved to the new seat of Dunkley, holding it until 1990, and again from 1993 to 1996.
Reith joined the Liberal frontbench in 1987, and served as Deputy Leader and Shadow Treasurer from 1990 to 1993. He served as Minister for Workplace Relations in the Howard government from 1996 to 2000, and then as Minister for Defence from 2000 until his retirement in 2001.
Flinders was won in 2001 by Greg Hunt, a former advisor to Alexander Downer in the 1990s. Hunt was appointed as a Parliamentary Secretary in the final year of the Howard government.
Hunt has served as Shadow Minister for Climate Change and the Environment since the 2007 election.
Candidates
Sitting Liberal MP  is running for re-election. The ALP is running Joshua Sinclair. The Greens are running Martin Rush. Rise Up Australia is running Angela Dorian.
Linda Ruth Clark (Palmer United Party)
Paul Madigan (Independent)
John Zabaneh (Non-Custodial Parents Party)
Angela Dorian (Rise Up Australia)
Ashleigh Belsar (Australian Christians)
Denis Mccormack (Independent)
Joshua Sinclair

(Labor)

David Clark (Family First)
Greg Hunt 

(Liberal)

Martin Rush

(Greens)
Assessment
Flinders is a safe Liberal seat.
2010 result
| | | | | |
| --- | --- | --- | --- | --- |
| Candidate | Party | Votes | % | Swing |
| Greg Hunt | LIB | 49,156 | 54.30 | -0.17 |
| Francis Gagliano-Ventura | ALP | 28,747 | 31.76 | -2.12 |
| Robert Brown | GRN | 10,410 | 11.50 | +3.02 |
| Reade Smith | FF | 2,198 | 2.43 | +0.19 |
2010 two-candidate-preferred result
| | | | | |
| --- | --- | --- | --- | --- |
| Candidate | Party | Votes | % | Swing |
| Greg Hunt | LIB | 53,499 | 59.11 | +0.86 |
| Francis Gagliano-Ventura | ALP | 37,002 | 40.89 | -0.86 |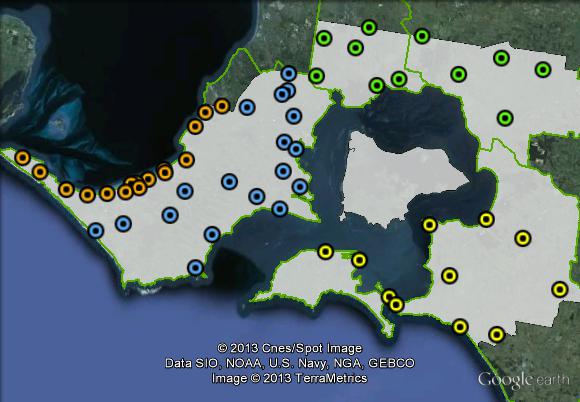 Booth breakdown
Booths have been divided into four areas. Polling places in Bass Coast Shire have been grouped together. Those in Cardinia and Casey council areas have been grouped as 'North'. Those on the Mornington Peninsula have been split between those on Port Phillip Bay, as "Peninsula West", and the remainder as "Peninsula East".
The Liberal Party won a majority in all four areas, varying from 56.9% in Bass Coast to 61.7% in the north. The Greens vote varied from 7.5% in the north to 13.8% in Bass Coast.
| | | | | |
| --- | --- | --- | --- | --- |
| Voter group | GRN % | LIB 2PP % | Total votes | % of votes |
| Peninsula West | 11.97 | 57.66 | 24,891 | 27.50 |
| Peninsula East | 13.08 | 57.34 | 19,383 | 21.42 |
| North | 7.49 | 61.67 | 8,954 | 9.89 |
| Bass Coast | 13.84 | 56.88 | 6,071 | 6.71 |
| Other votes | 10.85 | 61.08 | 31,202 | 34.48 |