LIB 1.0%
Incumbent MP
Bruce Billson, since 1996.
Geography
South-Eastern Melbourne. Dunkley covers the majority of the City of Frankston and part of the Shire of Mornington Peninsula. Main suburbs include Frankston, Mornington, Langwarrin and Seaford.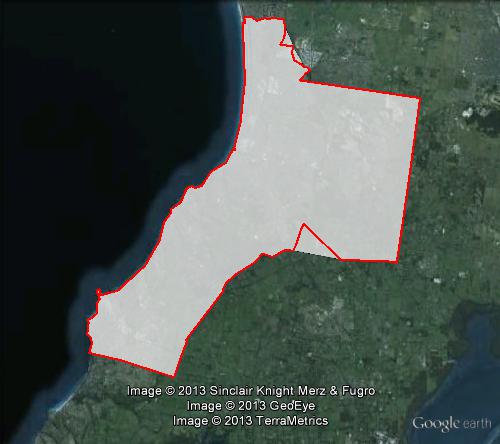 Redistribution
Dunkley was largely left unchanged in the recent redistribution. A small part of Flinders around Baxter and a small part of Isaacs were transferred. The Liberal margin was left unchanged.
History
Dunkley was created in 1984 as part of the expansion of the House of Representatives. It has almost always been a marginal electorate, and swung back and forth regularly in the 1980s, although the Liberal Party has managed to hold onto the seat since 1996, although often by slim margins. The seat's margin never passed 2% from 1984 to 1993, although from 1996 to 2007 the Liberal margin has never fallen below 2%, suggesting the seat had become safer. Only once, in 2004, did the margin increase out of the under 6% marginal range.
The seat was first won in 1984 by Bob Chynoweth (ALP). Chynoweth had won Flinders at the 1983 election, defeating new MP Peter Reith, who had won a by-election for the seat four months earlier. Chynoweth moved to Dunkley following the redistribution.
He held the seat in 1987 before losing to Frank Ford (Lib) in 1990. Chynoweth won the seat back in 1993.
A redistribution before the 1996 election saw Dunkley become a notional Liberal seat, and Chynoweth was defeated by Liberal candidate Bruce Billson. This boundary change could be partly responsible for the seat's increased safety over the next decade.
Billson has held Dunkley ever since, having come closest to losing in 1998 when his margin was cut to 2.04%. Billson served as a Parliamentary Secretary from 2004 to 2006 and served as Minister for Veterans' Affairs from 2006 until the defeat of the Howard government in 2007. Billson's margin was cut from 9.4% to 4.0% in 2007, and he has served as a member of the Opposition frontbench since the defeat of the Howard government.
In 2010, Dunkley was one of a number of marginal seats in suburban Melbourne where there were further swings against the Liberal Party, and Billson's 4% margin was reduced to 1%.
Candidates
Simon Tiller

(Greens)

Sonya Kilkenny

(Labor)

Kate Ryder (Palmer United Party)
Cameron Eastman (Family First)
Rod Burt (Independent)
Bruce Billson 

(Liberal)

Yvonne Gentle (Rise Up Australia)
Eloise Palmi (Sex Party)
Roy Broff (Independent)
Assessment
Dunkley is the fourth-most marginal Coalition seat in Australia, and will be a key target of the ALP. Victoria has been trending to Labor relative to the rest of the country, and considering recent swings against Billson, the ALP will be hoping that they can win Dunkley to help them construct a majority or offset losses in other states.
2010 result
| | | | | |
| --- | --- | --- | --- | --- |
| Candidate | Party | Votes | % | Swing |
| Bruce Billson | LIB | 40,602 | 47.32 | -2.47 |
| Helen Constas | ALP | 32,889 | 38.33 | +0.07 |
| Simon Tiller | GRN | 10,033 | 11.69 | +3.94 |
| Yasmin de Zilwa | FF | 2,276 | 2.65 | +0.06 |
2010 two-candidate-preferred result
| | | | | |
| --- | --- | --- | --- | --- |
| Candidate | Party | Votes | % | Swing |
| Bruce Billson | LIB | 43,777 | 51.02 | -3.02 |
| Helen Constas | ALP | 42,023 | 48.98 | +3.02 |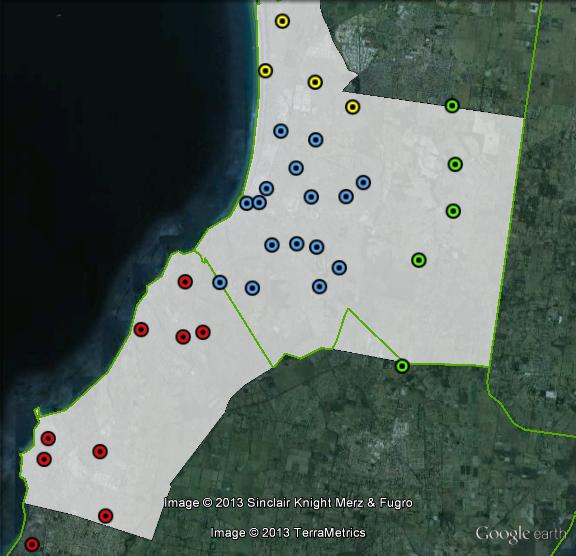 Booth breakdown
Booths have been divided into four areas: Central (including Frankston), South (including those parts in Mornington LGA), East (booths near the eastern boundary) and North (booths around Seaford).
80% of the population lives in either Central or South.
The Liberal Party won a majority only in one area, with 57.7% in the south. The ALP won a slim 50.04% majority in the east, 52.5% in the centre and 61.4% in the north.
The Liberal Party's majority amongst 'other votes' (postal, prepoll and absentee, amongst others) gave them a majority overall, despite the ALP winning a majority in ordinary votes.
| | | | | |
| --- | --- | --- | --- | --- |
| Voter group | GRN % | LIB 2PP % | Total votes | % of ordinary votes |
| Central | 12.32 | 47.46 | 26,827 | 41.47 |
| South | 11.87 | 57.69 | 18,981 | 29.34 |
| East | 9.19 | 49.96 | 11,389 | 17.61 |
| North | 13.04 | 38.59 | 7,486 | 11.57 |
| Other votes | 11.62 | 54.53 | 21,117 | |