ALP 9.4%
Incumbent MP
Steve Gibbons, since 1998.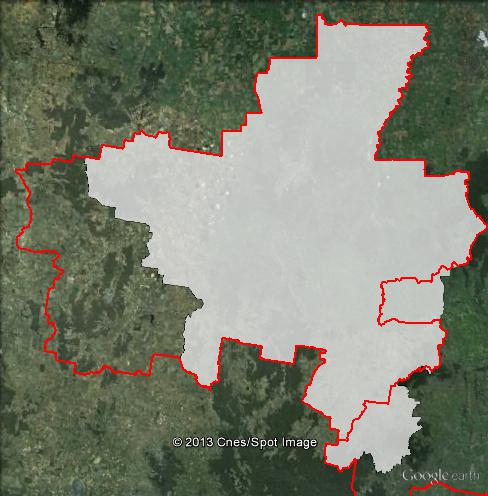 Geography
Bendigo and surrounding parts of northwestern Victoria. Bendigo covers Greater Bendigo and Mount Alexander council areas, as well as parts of Loddon, Mitchell and Macedon Ranges. A majority of the population lives in Bendigo, and the other major town is Castlemaine.
Redistribution
All of Central Goldfields Shire, including Maryborough, was transferred to Wannon. Bendigo gained a small part of Mitchell Shire and more of Macedon Ranges Shire around Woodend from McEwen. This slightly reduced the Labor margin from 9.5% to 9.4%.
History
Bendigo is an original federation electorate. In its 110-year history, the seat has switched back and forth between the major parties.
Bendigo was first won in 1901 by Protectionist candidate John Quick. Quick was a Victorian colonial MP and a delegate to the Constitutional Conventions. Quick served as a member of Alfred Deakin's third ministry in 1909, and held the seat until his defeat in 1913.
Bendigo was won in 1913 by prominent lawyer John Arthur, standing for the ALP. Arthur won re-election in 1914 and was appointed Minister for External Affairs in the third Fisher government, but quickly fell ill and died in December 1914, aged 39.
The 1915 Bendigo by-election was won by the ALP's Alfred Hampson. Hampson remained loyal to the ALP when it split over the issue of conscription in 1916, but at the 1917 election he was challenged for his seat by Prime Minister Billy Hughes, who had switched from the ALP to the new Nationalist Party.
Hughes had been a member of the House of Representatives since federation, holding the seat of West Sydney. He had served as a minister in the Labor governments of Chris Watson and Andrew Fisher, before becoming Prime Minister in 1915 upon Fisher's retirement.
Hughes held Bendigo until 1922, when he switched to the seat of North Sydney. At that election his party lost its majority, and the price of Country Party support for the Nationalist government was Hughes' replacement as Prime Minister by Stanley Bruce.
Hughes remained in Parliament for another three decades. He served on the backbench through Stanley Bruce's government, before leading a group of rebels in 1929 which saw Bruce lose his majority and then lose the following election. Hughes later served in ministerial roles and indeed as leader of the United Australia Party, and served as an MP until his death in 1952.
Bendigo was won in 1922 by Nationalist candidate Geoffrey Hurry, who defeated the Country Party's Edmund Jowett, whose seat of Grampians had been abolished in the redistribution. Hurry held the seat until the 1929 election, when he lost his seat.
Bendigo was won in 1929 by Richard Keane, who was General Secretary of the Australian Railways Union. He only held Bendigo for one term, losing in 1931, but later was elected to the Senate in 1937. He served as a minister in the wartime Labor governments, and died in 1946 while on government business in Washington DC.
Eric Harrison of the United Australia Party won Bendigo in 1931. He was re-elected in 1934, and attempted to move to the new seat of Deakin in 1937, but failed to win preselection, and retired.
In 1937, Bendigo was won by the Country Party's George Rankin. Rankin held the seat until 1949, when the redistribution changed Bendigo substantially, and he was successful in winning election to the Senate. He served in the Senate until he retired in 1955.
In 1949, the ALP's Percy Clarey won Bendigo. Clarey had been a member of the Victorian upper house and a state minister, while also serving as President of the ACTU. Clarey held the seat until his death in 1960.
The 1960 by-election was won by the ALP's Noel Beaton. He held the seat until he resigned in 1969, triggering another by-election. The second by-election was won by the ALP's David Kennedy. Kennedy lost Bendigo in 1972, against the flow of an election where Gough Whitlam won power for the ALP.
The Liberal Party's John Bourchier won Bendigo in 1972, and held it until 1983, when he lost to the ALP's John Brumby.
Brumby was re-elected in 1984 and 1987, but lost in 1990. Brumby was elected to the Victorian Legislative Council at a by-election in 1993, and only four months later was elected Leader of the Victorian ALP and won a second by-election for a Legislative Assembly seat. Brumby served as Opposition Leader until early 1999, when he stepped aside for Steve Bracks. Brumby served as a senior minister in the Bracks government from 1999 until Bracks' retirement in 2007, when Brumby was elected as Premier.
Bruce Reid won Bendigo for the Liberal Party in 1990. He held the seat until 1998, when the ALP's Steve Gibbons won the seat. Gibbons has held Bendigo ever since.
Candidates
Sitting Labor MP Steve Gibbons is not running for re-election.
Sarah Sheedy

(Nationals)

Lisa Chesters 

(Labor)

Greg Bickley 

(Liberal)

Lachlan Slade

(Greens)

Charlie Crutchfield (Sex Party)
Alan Howard (Family First)
Rod Leunig (Country Alliance)
Daniel Edward Abikhair (Independent)
Matine Rahmani (Independent)
Sandra Caddy (Rise Up Australia)
Anita Donlon (Palmer United Party)
Stephen John Stingel (Katter's Australian Party)
Ewan Mcdonald (Australian Christians)
Assessment
Bendigo has become relatively safe for the ALP over recent elections, with a cumulative swing towards Labor of 8.5% over the 2007 and 2010 elections. The retirement of the sitting member and anti-Labor sentiments will likely see that margin cut substantially, but it will probably be enough to hold on.
2010 result
| | | | | |
| --- | --- | --- | --- | --- |
| Candidate | Party | Votes | % | Swing |
| Steve Gibbons | ALP | 43,964 | 47.65 | +0.51 |
| Craig Hunter | LIB | 33,067 | 35.84 | -2.58 |
| Kymberlie Dimo | GRN | 12,440 | 11.84 | +3.16 |
| Belinda Clarkson | FF | 3,358 | 3.19 | +0.70 |
2010 two-candidate-preferred result
| | | | | |
| --- | --- | --- | --- | --- |
| Candidate | Party | Votes | % | Swing |
| Steve Gibbons | ALP | 54,928 | 59.53 | +3.40 |
| Craig Hunter | LIB | 37,337 | 40.47 | -3.40 |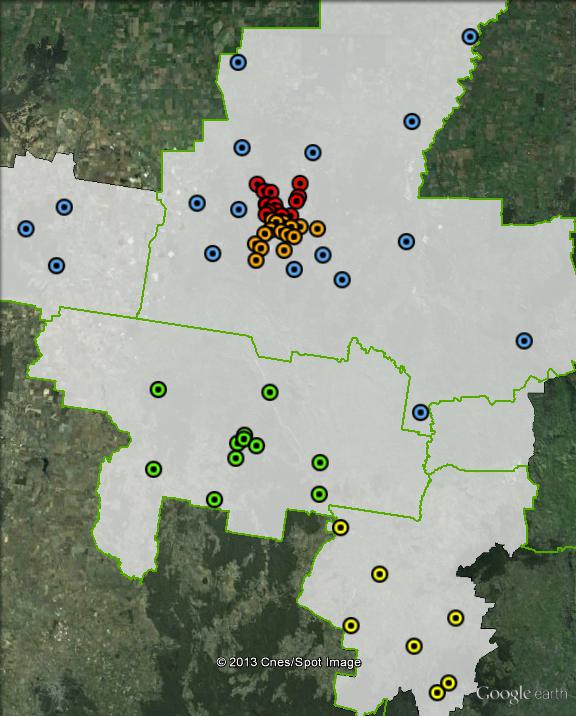 Booth breakdown
Booths have been divided into five areas. Polling places in the Mount Alexander and Macedon Ranges shires have been split up into two groups.
Polling places in the Greater Bendigo council area have been split into three groups. Those polling places in the Bendigo urban area have been split into "south" and "north", with the remainder grouped as "Bendigo Rural".
The ALP won a majority in all five areas, varying from 52.3% in Bendigo Rural to 68% in Mount Alexander.
The Greens vote varied from 9.8% in Bendigo Rural to a massive 21.5% in Mount Alexander, including a peak of 26.6% at Castlemaine North.
| | | | | |
| --- | --- | --- | --- | --- |
| Voter group | GRN % | ALP 2CP % | Total votes | % of ordinary votes |
| Bendigo South | 12.24 | 58.38 | 23,074 | 33.78 |
| Bendigo North | 10.58 | 65.35 | 14,180 | 20.76 |
| Bendigo Rural | 9.80 | 52.66 | 12,278 | 17.97 |
| Mount Alexander | 21.45 | 68.03 | 9,580 | 14.03 |
| Macedon Ranges | 15.63 | 59.34 | 9,194 | 13.46 |
| Other votes | 12.31 | 57.30 | 21,892 | |