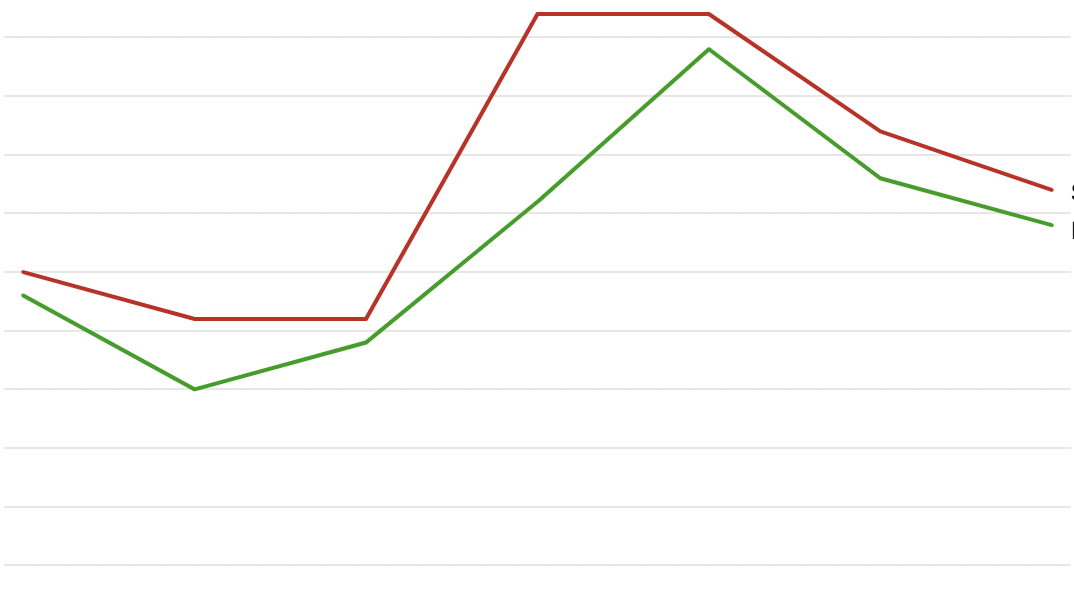 Nominations were declared for the federal election yesterday, and we now have the final official lists of candidates.
We've seen a record number of candidates running for the House of Representatives, despite the number of parties running candidates falling to the lowest level since 2010. This is partly due to One Nation and United Australia running 300 candidates between them, leading to a big surge in total numbers despite less parties running.
Meanwhile in the Senate, the number of parties has also declined, with ballot papers shrinking in most states. The ballot paper in New South Wales shrinked most dramatically, down from 36 columns in 2019 to just 24 in 2022.
In this post I'll run through a bunch of interesting statistics from this data.
My final House list, which I published ten days ago, had 883 candidates on it. I managed to match 834 candidates to the final list, which means 49 didn't make it. These missing candidates include 4 Greens, 4 Liberals or LNP and 7 United Australia, most of whom have been replaced. I wonder how many of these candidates hit last-minute section 44 eligibility hurdles. There were also nine independents who didn't make it to the ballot, 3 candidates for the Great Australian Party and 8 for TNL (formerly The New Liberals), who ended up running a lot fewer candidates than they had earlier announced.
This also means there were 369 last-minute candidates, which includes 94 One Nation candidates, 60 Federation Party candidates and 54 independents. I only had one Federation Party candidate listed on my final list, and he was incorrectly listed as an independent.
The total list of candidates is 1203, which is the highest ever. It breaks the previous record of 1188 in 2013, and is up from 1056 in 2019. The median number of candidates is 8 per seat, which was only reached once before, in 2013.
Overall, five groups are running in most or all seats.
Labor, the Greens and United Australia are running a full complement of 151 candidates, with One Nation running in 149 (skipping Kennedy and Higgins).
The four Coalition parties are running 155 candidates, with Liberals and Nationals both contesting Barker, Durack, Indi and Nicholls. Although you could probably argue that the SA and WA Nationals running in Barker and Durack are not really part of the Coalition.
It's also worth noting the Liberal Democratic Party running 100 candidates, the Federation Party running 61 and Animal Justice running 48.
There are also 98 independents contesting the election. This is just one more than the 97 who ran in 2019.
This adds up to 34 parties running, which is down from 38 in 2019 and a peak of 49 in 2016. It appears that reforms to make it harder to register parties has succeeded in reducing the number of parties, but a couple of larger minor parties running a full slate will still result in larger ballots overall.
While House ballot papers will be bigger, Senate ballot papers will be smaller. The same decline in party numbers has taken place there, but there is less scope for a small number of minor parties to increase their nominations. The number of parties running for the Senate is 37, down from 42 in 2019 and 52 in 2013 and 2016.
Back in 2007 and 2010, the number of Senate groups run by each party on average was about 5.5 - meaning most parties were running in close to all states. That figure is now just over 4. We are seeing some decline in parties trying to run a full slate.
This has also meant we are seeing smaller ballot papers in each state, but the most interesting figure is in NSW.
The ballot paper will be smaller in six jurisdictions. It has increased in the ACT and South Australia, but even there the ballots will be smaller than the huge ballots we saw in 2013 and 2016.
In New South Wales, the number of groups is just barely half of what it was in 2013. This is the smallest NSW ballot since 1998, when there were 23 columns. We've also got the smallest ballots since 2010 in Victoria, Queensland, Western Australia and Tasmania.
Finally, I've also coded the gender of every House candidate where I could. This election as produced a record number and proportion of women running in the House, although the percentage was not quite as high as earlier reports suggested.
I count 458 women running in the election, along with 739 men, 4 non-binary candidates and 2 I cannot identify. That is 38.1% women, up from 32.2% in 2019. In raw numbers, it is a lot more than the 340 who ran in 2019, while the number of men is only up slightly.
| | | | | |
| --- | --- | --- | --- | --- |
| Gender | 2013 | 2016 | 2019 | 2022 |
| Men | 860 | 678 | 712 | 739 |
| Women | 328 | 316 | 340 | 458 |
| Non-binary | 0 | 0 | 1 | 4 |
| Unknown | 0 | 0 | 3 | 2 |
Labor is running the exact same proportion of women as in 2019, with 43.7% women. The Greens are running equal numbers, with 74 women, 74 men and 3 non-binary, up from 43% women in 2019.
The Coalition has barely made any change, running 29% women, compared to 28.4% in 2019.
The United Australia Party is running a lot more women than in 2019, when they also ran a full slate. They ran 26 women in 2019 (17.2%), but this time they are running 54 women (35.8%). One Nation is running 32.9% women, just up from the 32.2% women they ran in 2019, when they ran in about two fifths of seats. The Liberal Democrats are running just 21% women.
As for independents, my early lists were dominated by men, but a lot of last-minute independents were men, so overall I've identified 44 women, 53 men and one I don't know running as independents. That's a proportion of 44.9%, up from 22.7% in 2019.
Finally, here is my full list of federal candidates, including my coding by gender. If you see a mistake, or if you can clarify any of the three unknown candidates, please let me know.
I will be updating my candidate lists on my 159 election guides, but I will take a bit more time to find as many website links for these candidates, so please be patient. If you want your candidate's link included, please comment it under the relevant seat guide. I won't be doing more updates once I've finished this big update.