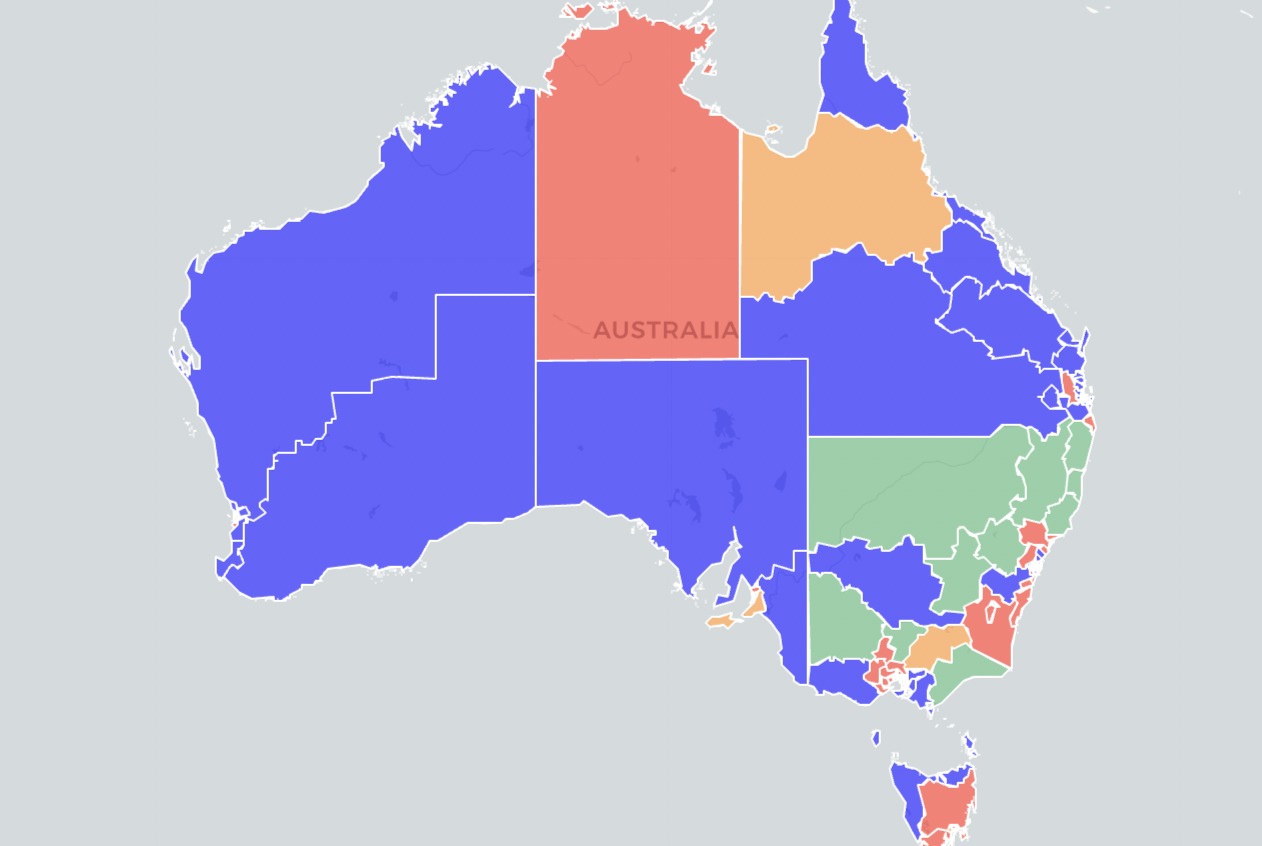 With the election campaign now underway, I've done another update of my candidate list, which I posted about in February. You can view the whole list here.
This list now includes 878 House candidates, and I will be updating the seat guides with the updated lists over the next few days. This will probably be my last update before nominations are declared on April 22. This compares to a total candidate list of 1056 in 2019, and a record list of 1188 in 2013.
At the moment there are four parties or coalitions that look set to run full tickets.
I have 150 candidates for the United Australia Party (just missing Flinders), 141 for Labor and 140 for the Greens. I have 139 Coalition candidates. There are three seats with both a Liberal and Nationals candidate: Indi and Nicholls in Victoria and Durack in Western Australia, which means there are 136 seats with a Coalition candidate so far.
Despite a few comments along the lines of "maybe Labor won't run here", I expect all of these parties will put out a full ticket.
The Liberal Democrats are running 65 House candidates, with One Nation not far behind on 57. The next biggest parties are Animal Justice on 27 and TNL (formerly The New Liberals) on 16. Overall I have candidates from 29 parties, including the four Coalition parties.
At the moment I have identified 54 independents – the most recent being Fairfield deputy mayor Dai Le in Fowler. At the moment this is still down on the 97 who ran in 2019, although my anecdotal experience is that a lot of these independents are running more serious campaigns in the past, and I suspect we'll see a surge of last-minute low-profile independents which will push the count past the previous number.
The average number of candidates is currently about 5.8, with the median at six. One seat has just 2 candidates (Blaxland in Sydney) while Robertson has eleven. 110 out of 151 seats have 5-7 candidates running.
Finally, an update on the gender balance.
At the moment I've identified 510 men, 367 women and 2 non-binary people. This is already in excess of the 340 women I identified in 2019, but with about 200 less men. As a percentage, this is still 42.1%, as it was in February.
Just over 50% of Greens candidates are women, as are 44.7% of Labor candidates. 35.3% of UAP candidates are women, and 29.5% of Coalition candidates are women. Interestingly the Liberal Party is doing much better than its fellow Coalition parties: running 35.1% women, compared to just 13.8% for the Liberal National Party and 21.4% for the Nationals.
Independent women continue to be strong, representing 64.8% of all independents running so far.
That's it for now. Give me a few days to get the new list up on each seat guide, and I'll return to this topic around Anzac Day.