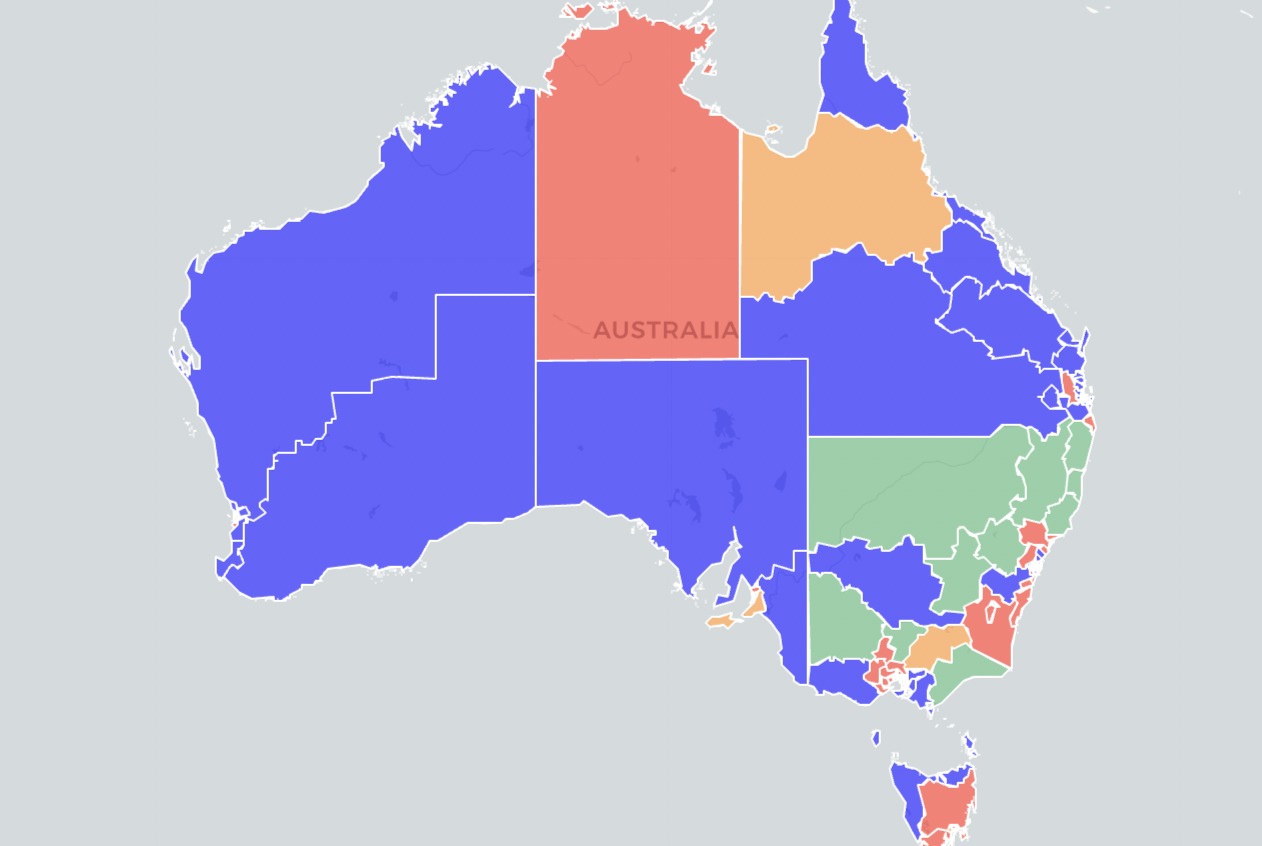 I have just finished a big update of my list of candidates running for the House of Representatives at the upcoming federal election, and I thought it was a good time to share this list.
The most interesting revelation is that the proportion of candidates who are women has shot up, from just over 32% in 2019 to 42% in 2022. This is partly powered by a radical change in the kind of person running as an independent, but is also driven by increases in the proportion of women by all the bigger parties.
My list contains 636 candidates. Thanks to everyone who has posted candidate announcements, which I've supplemented by consulting Antony Green's list and the list on Wikipedia. This compares to a final count of 1056 candidates in 2019, and 994 in 2016.
The list includes 126 Labor candidates, 94 Greens candidates and 122 Coalition candidates. The Coalition so far has two candidates announced in two seats: Indi and Nicholls both in northern Victoria. This leaves 25 seats without Labor candidates, 31 without a Coalition candidate, and 57 without a Greens candidate.
The United Australia Party has announced candidates in 150 electorates, mostly in one big press release. The only seat missing a candidate is Hindmarsh in South Australia. Most of the UAP candidates are complete unknowns online. I had very little luck tracking down web addresses or email addresses, let alone biographies, of these candidates. The UAP's deep pockets will make it easier for them to run candidates even in seats where they have no local presence, and this is all the more evidence that we need to shift away from managing the size of ballot papers by increasing nomination fees, and instead try reimposing local nominator requirements on political parties.
Another 17 parties have also announced candidates. Four of them have only announced one candidate. The Liberal Democrats have announced 29 candidates, with the New Liberals running 14, and the Victorian Socialists running eleven, along with three Socialist Alliance candidates. There is actually two socialist parties running in Wills in inner Melbourne.
The other parties are Animal Justice, Informed Medical Opinions, Indigenous-Australia, Australian Christians, Socialist Alliance, Katter's Australian Party, Democratic Alliance, Jacqui Lambie Network, Great Australian Party, Reason, Progressives, Centre Alliance and the Local Party.
As usual I have coded the gender of candidates announced so far, and I've noticed a major increase in the numbers of women running so far.
267 out of 636 candidates, or 42.0%, are women. This compares to about 32% in 2016 and 2019, and under 28% in 2013.
There have been increases for all of the big parties. The Coalition parties are up slightly from 28.4% to 29.5%. Labor is up from 43.7% to 47.6%, and the Greens are up from 43.1% to 52.1%. Even the UAP is up from 17.2% to 34.7%.
The most interesting shift is amongst the independents. In 2019, there were 97 independent candidates. So far in 2022 I've identified 46 independents - so roughly half the number. Of those independents in 2019, just 22.7% were women. In 2022, 65.2% are women. In raw numbers, there were 22 female independents in 2019, and there have already been 30 announcements amongst female independents in 2022. So in raw numbers there are already a lot more women running as independents.
I've noticed this anecdotally as I've been visiting candidate websites. There's a lot of candidates with a similar style who are obviously following the 'Voices' template. Their websites look similar, almost all of them are women, almost all are white. They cover the expected high-education inner city Liberal seats, but they are also in seats like Cowper, Calare and Groom.
Of course, these numbers are not complete. It's possible that any or all of these parties will run more men in the seats yet to be announced, but it's hard to see this trend reversing sufficiently to not see a big increase in the proportion of women running.
Finally, I've looked at the number of candidates per seat. I now have at least one candidate announced per electorate, although I am including a handful of sitting MPs who plan to run but have not been officially preselected (such as Trent Zimmerman and Alex Hawke). On average there are 4.2 candidate per seat.
There are 19 seats with only two candidates running. This includes my seat of Parramatta, a marginal Labor seat where the only announced candidates are an independent and a UAP candidate, neither of whom have any information online.
There are three seats with seven candidates (Corangamite, Flinders and Ryan) and one other with eight candidates (Robertson).
If you'd like to view the list, you can view it here. I have now updated all of the candidate lists on each seat guide. I probably won't do so again until after the South Australian state election.