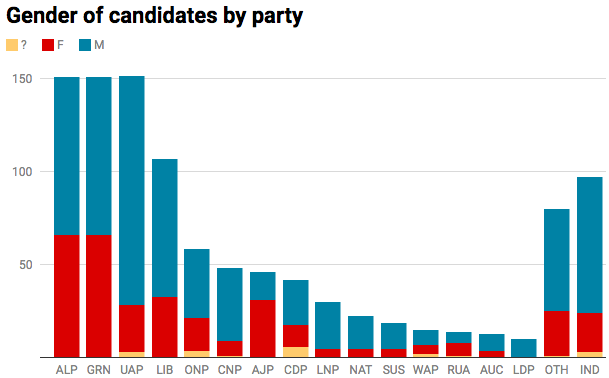 Nominations were announced yesterday, with a small increase in lower house candidates but a substantial shrinking of the size of Senate ballot papers.
1056 candidates have nominated for the House of Representatives, a slight increase from the 994 who nominated in 2016, but still less than the 1188 who ran in 2013.
There has definitely been a decline in the size of the Senate ballot papers in each state.
We are seeing the effects of the first half-Senate election under the current voting system, with all state ballots substantially smaller than they have been at the last two elections.
There are only 17 columns on the South Australian ballot, which compares to 34 columns in 2013. South Australia hasn't had such a small ballot since 2004. Apart from the Northern Territory, where the ballot is one column wider, every other state and territory has less columns than at either the 2013 or 2016 election.
The Senate ballots haven't shrunk because of a major decline in the number of parties running. There are 47 registered parties which are running candidates. But many of these parties are only running in a handful of states.
Apart from the major parties, only Clive Palmer's United Australia Party and Fraser Anning's Conservative National Party are running everywhere. Another 8 parties are running in every state, but not in both territories: Citizens Electoral Council, Help End Marijuana Prohibition, Sustainable Australia, Animal Justice, Conservatives, Liberal Democrats, One Nation and the Shooters, Fishers and Farmers. 16 parties are running in only one state.
As for the House of Representatives, there are 6.99 candidates per seat, with a median of seven per seat.
There are 13 candidates running for the open Nationals seat of Mallee. No other seat has more than ten. There are only four in Corio, Gellibrand, Holt, Maribyrnong and Riverina.
For what it's worth, when I got around to merging my list with the AEC's list, there were 37 candidates who I couldn't find on the official nominations list (I admit a handful may have had a different name), many of them from the People's Party, while there were 225 candidates who hadn't yet emerged on my list.
There are 40 parties who are running candidates for the House of Representatives.
Labor, the Greens and United Australia Party are all running a full complement of 151. The Coalition are running 162 candidates, which means there are 11 seats where Liberals and Nationals are running against each other.
Other parties running a sizeable number of candidates are:
One Nation – 59
Conservative National – 48
Animal Justice – 46
Christian Democratic Party – 42
Sustainable Australia – 19
Western Australia Party – 15
Rise Up Australia – 14
Australian Christians – 13
Liberal Democrats – 10
Finally, as usual I have broken down the candidates by gender. There are 701 men running, 334 women, 20 people who I could not identify (if you know, please let me know) and one person who identifies as non-binary.
That adds up to between 31.6% and 33.5% of candidates being women (depending on the 20 I couldn't define), which compares to 31.8% in 2016 and 27.6% in 2013.
Labor are running 43.7% women while the Greens are running 43% women. 16.6% of United Australia candidates are women (with 3 unknown). 28% of Coalition candidates are women. The only party running a sizeable number of candidates who are majority women is the Animal Justice Party, who are running 31 women and 15 men (or 67.4%).
This chart shows the gender breakdown for the parties with the most candidates:
Finally, I have published the full list of candidates for the House, as well as lead candidates for the Senate along with all potentially winnable or incumbent major party Senate candidates, here.
If you're interested, here are the similar blog posts I wrote in 2013 and 2016.