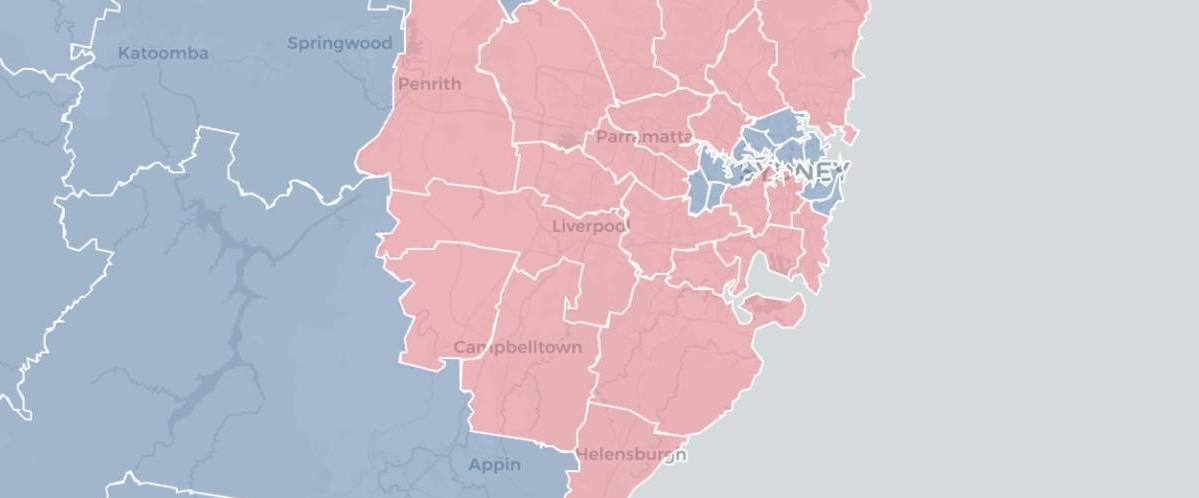 After some spotty live results earlier in the night, I turned last night's liveblog into a run through of the end-of-night results in some of the biggest councils, covering Bayside to Lake Macquarie alphabetically before collapsing to bed at 1am. Here I go continuing the story.
Liverpool
The Liverpool mayoral race has seen a rebuilding of the Liberal primary vote with the return of former mayor Ned Mannoun, who leads on 42.2% of the primary vote, up 9.6% on 2016. But Labor is also up slightly on 38.6%. Three independents polled 25% between them in 2016, but two of them didn't run in 2021, and the third suffered a 3% swing, while another independent polled 8.2%, and the Greens polled about 4% which should mostly help Labor on preferences. So while the Liberals have consolidated, I'm not sure Labor is out of the race. It will probably depend on how preferences from the two independent candidates flow. Unfortunately we don't get two-candidate-preferred counts for council elections.
The Liberal Party is in with a shot of gaining another seat on the council as well. The North ward looks set to re-elect the status quo of two from each major party and one from the Liverpool Community Independents Team, but in the South ward, the LCIT councillor is in a close race with the third Liberal candidate. The Liberal Party and LCIT typically have a working majority on Liverpool council, but if the Libs gain both the extra seat in the South ward and the mayoralty that will give them a majority on the council.
Newcastle
Labor mayor Nuatali Nelmes should be comfortably re-elected despite a small swing against her, which is smaller than the swing to the third-placed Greens candidate.
Labor has retained their council majority, while the Liberal Party and the Greens have taken three seats off the Newcastle Independents. The NI held four seats on the last council, although their sitting Ward 4 councillor Allan Robinson ran as an ungrouped candidate outside of the faction, while Ward 2 councillor Kath Elliott switched to Ward 4, with Ward 3 councillor Andrea Rufo.
In Ward 2, there is a close race for the last two seats between the Liberal Party, the Greens and the Newcastle Independents, with NI currently falling behind. Both Wards 3 and 4 look to have elected two Labor and one Liberal, with the Liberal taking a Newcastle Independents seat.
Northern Beaches
The Northern Beaches result looks very similar to 2017, with only one seat changing hands on my current estimates.
Your Northern Beaches have retained their six, including their second in Frenchs Forest, and aren't particularly competitive for any others. The Liberals have retained their five. Candy Bingham has been re-elected in Manly and Vincent De Luca seems likely to be re-elected in Narrabeen.
The Greens have likely retained their Curl Curl seat, although Labor is not entirely out of the race, and are currently leading for a seat in Pittwater ward, with sitting independent Alex McTaggart much further behind.
On these numbers, Your Northern Beaches would continue in government and would have nine out of fifteen votes based on pre-election voting blocs.
Parramatta
Labor has benefited from the absence of the Liberal Party and have a chance of winning a majority on the council, while Our Local Community looks set to become the main right-wing party replacing the Liberals. At the most seven sitting councillors have been re-elected, and it could be as low as five.
Labor has retained their five seats, as has OLC leader Michelle Garrard in Dundas ward and independent Lorraine Wearne in Epping.
There were previously six Liberal seats which have all been vacated. Independent Kellie Darley has won the third seat in Dundas, while Labor has won a second seat in Epping ward. The two Liberals in North Rocks have been replaced by Our Local Community and independent Liberal Georgina Valjak. Our Local Community has also replaced the Liberal in Parramatta ward, but Rosehill is less clear.
There remain three seats that are outstanding.
In Parramatta ward, Greens councillor Phil Bradley is leading, but could be overtaken by the second Labor candidate James Shaw.
In Rosehill ward, the last two seats are still in play, with Our Local Community leading on 0.82 quotas, followed by Labor #2 Paul Noack on 0.76, the Greens Franceska Strano on 0.67 and sitting conservative independent Andrew Wilson on 0.59. It seems unlikely Wilson will get up, so probably one seat will go to OLC and the other is a race between Labor and the Greens.
So summing up, Labor has won six seats, OLC has won four, three other independents have won (two conservative, one progressive, with one conservative being an independent Liberal) and the last two seats are races between Labor and the Greens. If Labor wins both those races they will hold a majority on the council.
Penrith
The Liberal Party has gained a sixth seat in the North ward, while Labor dropped from seven to six, losing their third seat in the East ward.
New independent Marlene Shipley has gained a seat in the East, while independent Marcus Cornish has lost his seat in the North ward to the second Liberal. There has been no change in the South ward.
The Liberal Party gained swings in the North and South while both major parties dropped in the East where independents did not stand in 2016.
Randwick
There's been a swing to Labor and Greens in Randwick, with independents losing ground.
The Greens appear to have gained a fourth seat off conservative independent Anthony Andrews in Central ward, while the Liberal Party has won a seat off independent Carlos Da Rocha in South ward, although that result isn't totally locked in.
The West ward is also interesting as the four groups are practically tied. Labor is on 1.1 quotas, while Liberal and Greens are just below a quota, with Our Local Community (running a councillor elected in 2017 as a Liberal) falling short on 0.9 quotas.
Ryde
Both major parties have gained ground in Ryde, but it looks like the result may be deadlocked.
Labor has gained a fifth seat off the Greens in Central ward, and also regained the seat lost to a defection last year in the West ward. The Greens retained their seat in the East, giving the left six seats, but they may not make it to seven. The Liberal Party have retained their four seats.
The last seat in the West ward is close between the second Liberal, independent Peter Kim (who was an ALP member until he was elected deputy mayor with Liberal support in 2020) and independent Simon Zhou who has generally worked with Labor since 2016.
If Zhou wins, Labor's working majority will be preserved. If the Liberal wins, we'll likely have a tied council decided by the mayoralty being drawn out of a hat. If Kim wins, I don't know what will happen.
Shoalhaven
The Shoalhaven mayoralty is hard to call. Incumbent Greens mayor Amanda Findley has gained a small swing but is only on 34.3%. In second place is former mayor and former Christian Democrat MLC Paul Green on 27.2%. There are also three Shoalhaven Independent Group candidates collectively polling 31.5% between them, with former mayor Greg Watson the leading SIG candidate on 14.4%. There's also 7% for ex-Greens anti-vaxxer councillor Nina Digiglio.
So that is a majority for right-wing candidates, but that was also the case in 2016. If votes exhaust between the four right-wing candidates and Digiglio's preferences favour Findley, she could win.
For council, the 4-member wards have led to a deadlock. The Shoalhaven Independents Group will win two seats in each ward, with Labor and the Greens on track to win 3 seats each.
So if Findley wins the mayoralty, she'll have a progressive majority.
Sutherland
The Liberal Party has gained a majority in Sutherland despite a swing away from both major parties towards independents.
The Liberal Party gained a second seat in B ward, where Labor (led by former state MP Barry Collier) won two in 2016. It also looks like independent Leanne Farmer will take the only Labor seat in A ward, reducing Labor to five seats.
In E ward, where sole independent Steve Simpson has retired, new independent Laura Cowell has won a seat.
Sydney
There has been a big swing against Clover Moore but she is still easily re-elected for lord mayor with 43.6% of the primary vote. No-one else has polled more than 16.1%.
The Clover Moore Team will elect four councillors out of nine (down one from 2016, and the same as 2004 and 2012). The Liberal Party has lost one of their two seats, while Yvonne Weldon and the Greens' Sylvie Ellsmore have each gained seats. Labor's Linda Scott has also been re-elected.
It looks likely that second Labor candidate Damien Minton will win the final seat, but Angela Vithoulkas is not out of the race.
The Hills
New Liberal mayoral candidate Peter Gangemi has been elected despite an 8.2% swing.
The Liberal Party has won two out of three seats in each of the four wards. Labor won the other seat in three wards, while the Greens have won their first ever seat in the Hills in the North ward. That's one less Liberal than at the 2017 election.
Wollongong
The Wollongong mayoral election is still up in the air. The two leading candidates, incumbent independent lord mayor Gordon Bradbery and Labor candidate Tania Brown, have both polled just under 30%. Liberal candidate John Dorahy is just under 20% while the Greens' Mithra Cox is on 12.7%.
That's a swing of 5.7% away from Bradbery and 2.3% to Labor. Bradbery won the final count in 2017 by a 4.2% margin, so it seems like the final count could be quite close.
The council result looks like a status quo result despite a big swing to the Greens. Labor has won two seats in each ward along with one Liberal. The Greens have won a seat in Wards 1 and 2. In Ward 3, the other seat will go to Gordon Bradbery's ticket. If Bradbery is elected mayor, that seat will stay with incumbent councillor Dom Figliomeni.
So with a status quo council, a Labor mayoral win will give Labor a majority.