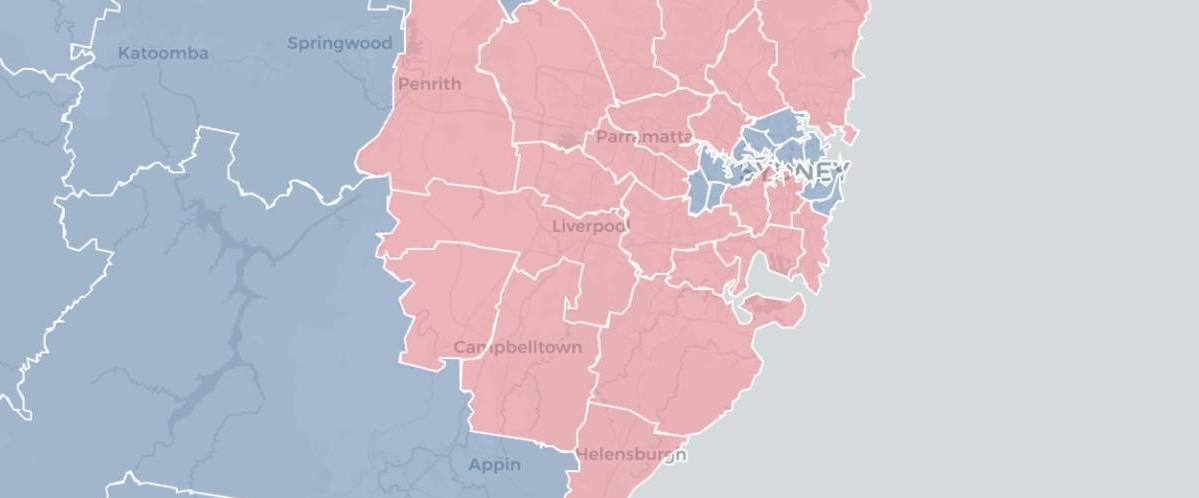 The proportional voting system used for New South Wales councils doesn't tend to produce huge one-party majorities in most areas. It often results in no party having control, and when they do have a majority it is usually a slim one.
This means that there are numerous councils where the flipping of one seat would change the current majority on the council and could dramatically change its direction. In this post I'm going to run thirteen examples amongst the 24 councils I've been focusing on in this election.
First up, there are four councils where Labor is just one vote short of a majority.
In Wollongong and Fairfield, Labor won half of the council seats at the last election, but lost the mayoralty. A Labor mayor, with no change to the remaining seats, would see Labor gain a majority in their own right.
Wollongong's council consists of three wards electing four councillors each. Labor won two seats in each ward, but the mayoralty was won by independent councillor Gordon Bradbery.
Fairfield used the same voting system in 2016, but has now changed to two wards of six councillors each. It will be harder for Labor to win three seats in each ward than it was to win two in each of the old wards. The Fairfield mayoralty is held by Frank Carbone, a Labor-turned-independent who is allied with Dai Le and two other councillors.
Lake Macquarie uses the exact same voting system as Wollongong, but has a Labor mayor. Labor won two seats in two wards, and just one seat in another ward. Labor was weakest in the West ward, where a seat was won in 2016 by Wendy Harrison, a member of the Independent Lake Alliance, a group that once ran the council. The ILA is not running in 2021, so Labor may be able to pick up her seat, and with it a majority. The Greens could make this harder, as they are running in 2021 after sitting out the 2016 election.
Labor and Liberal have worked together to run Penrith council, but Labor is only one seat short of a majority. They hold two out of five seats in two wards, and three out of five in the East ward. It seems unlikely, but a third Labor councillor in either of the other wards would give them a one-party majority.
In Liverpool, Labor holds four out of ten council seats (two each on the two wards), along with four Liberals and a team of two independents. But they also hold the mayoralty. A third Labor councillor in either ward, along with retaining the mayoralty, would give Labor a majority.
There are a number of councils where there are two clear "sides" with one side holding a one-seat majority. These sides are not a single party, but the voting is polarised enough to group the councillors.
In the Inner West, the five Greens councillors generally ally with two independents, while the five Labor councillors had allied with two Liberals and one independent (at least until the most recent mayoral election, when Labor's former allies abandoned them). If the Greens-and-friends team were to gain a seat it wouldn't be viable for the other team to hold their majority, even if Labor were to patch up relations with whatever replaces the Liberal Party on the council. In 2017, a progressive independent came very close to defeating conservative independent Vic Macri in Marrickville ward, but I can't see that seat flipping this time in the absence of a strong independent.
In the Northern Beaches, the Your Northern Beaches party holds six seats, and has one independent and one Greens ally. The Liberal Party holds five seats along with two independent allies. A Liberal gain at the expense of YNB or their allies would flip the council.
In Camden, the Liberal Party holds four seats, with Labor on four and two independents. One of those independents, Robert Mills, has generally sided with the Liberal Party, giving them a majority most of the time. He is retiring this time. If Labor or another independent were to gain his seat, or defeat the second Liberal in the North ward, it could see a Labor-led working majority take the council.
Labor also controls a number of councils by just one seat.
It seems almost certain that Labor will lose control of Campbelltown. This council has no wards and Labor won seven seats (out of 15) in 2016, their equal-best result in recent decades. They then gained an eighth seat, and a majority, at a by-election in 2017 after an independent ally died. It seems likely Labor will still hold a working majority, but things will probably work quite differently without a majority.
Labor holds a one-seat majority in Newcastle. They hold six out of twelve council seats, along with the mayoralty. They currently hold two out of three seats in two of the wards. If they lost a seat in either ward, that would deprive them of a majority, although they would likely be able to govern with the Greens.
The Liberal Party is one seat short of a majority in Hornsby, where they hold four out of nine council seats, plus the mayor. A second seat in a second ward would give them total control.
The City of Sydney is in a similar position. Clover Moore's party holds four out of nine council seats, plus her mayoralty. Moore did hold an absolute majority after the 2016 election, but lost it when Kerryn Phelps left the party in 2017. She also won an absolute majority in 2008, but only won five out of ten (including her own seat) in 2004 and 2012.
Randwick is currently run by Labor and the Greens, who hold eight seats between them. They have held eight seats between them for the last three elections. A swing to the right could see them lose a seat and make this alliance unfeasible.
Finally in Sutherland, both major parties hold seven seats with one independent holding the remaining seat. That independent, who has sided with both major parties at different times, is retiring in 2021. This opens up the possibility of either major party winning a majority, or other c