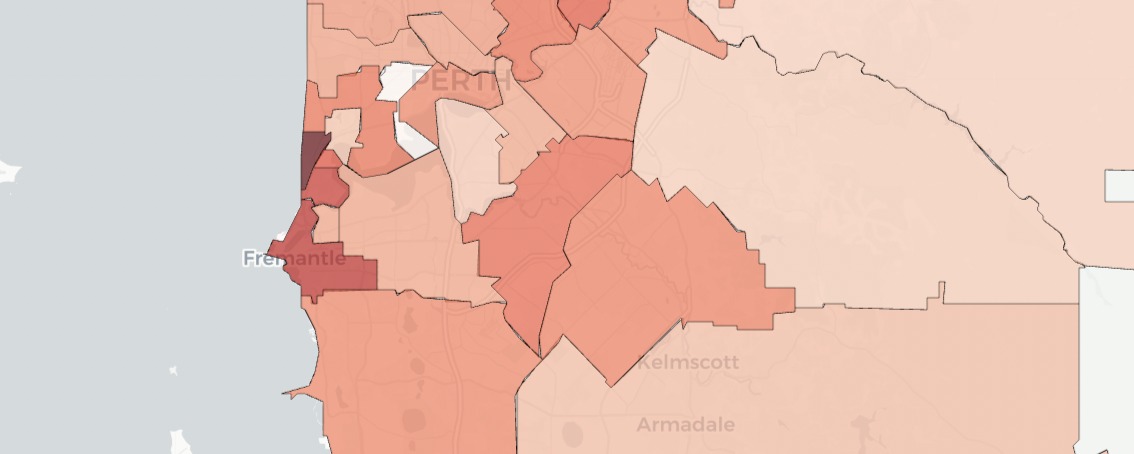 Western Australia's local councils are elected using the most backwards and least fair voting system in all of Australia, and the WA state government is now proposing some changes that will make it a bit better.
The Western Australian state government is proposing a range of reforms to the system of local government but I'm going to focus exclusively on things that change how the council is elected: the electoral system, how the mayor is elected, the term of office, the number of wards, and the number of councillors elected for each ward.
The government is proposing that "small" councils abolish their wards, while "large" councils will switch to direct election of the mayor (something which some councils already do). They are also proposing some more consistency about how many councillors are elected to lead each council, with council numbers set according to a sliding scale based on the council's population. Most importantly, though, they are proposing replacing the current first-past-the-post voting system with preferential voting.
For this blog post I have compiled a dataset of results of the 2021 WA council elections for the 29 councils in Greater Perth. Sorry, it was too much to compile results for the entire state, as they weren't available in an easy-to-access format.
Western Australian councillors are currently elected by first-past-the-post.
When there is only one seat up for election, this means each voter gets a single vote, and the candidate with the most votes win. No preferences, no pretence to a broader representation. This often means that the winning candidate polls a relatively low percentage. In 2021, there were 66 single-member wards that held a contested election in Greater Perth. In five of them, the winning candidate polled under 30%. In the Nicholson ward of Canning, the winner polled just 22.4% of the formal vote.
When more than one councillor is elected (magnitude > 1), first-past-the-post becomes the block vote. Voters get to cast as many votes as there are seats. The candidates with the most votes win.
While an increase in magnitude under the single transferable vote increases proportionality, the opposite is true under the block vote. The block vote was used to elect the Senate for the first two decades of Federation, and in that time tended to produce lopsided results for one political party. This quickly occurs whenever there is any party or factional voting under the block vote. I don't have the data to know how much this happens in WA councils, but I suspect it happens a lot, with the same block of voters deciding most seats in a ward while others elect none of their choices.
You don't get many elections for local councils in Perth featuring a higher district magnitude. Only eight out of 103 wards have a magnitude of more than two. That includes the six unwarded councils, along with the Rockingham/Safety Bay ward of Rockingham council and the North ward of Vincent council. Both of these wards were electing one extra member due to a casual vacancy, increasing the number of seats to four and three respectively.
This map shows the average magnitude for each council across Perth:

WA councils also face election of half the council every two years, for four year terms. This used to be a common way to run elections in Australia but appears to have been wiped out everywhere except WA. Overlapping terms allow you to have a lower district magnitude without making the wards too small. There are places in WA where the wards are already ridiculously small, so it wouldn't be possible to split them in half.
So from looking at the 2021 election data I learnt a few things.
Firstly, turnout is very poor! WA local government elections are not compulsory, and most councils (including all the urban councils) are conducted using postal voting. Just 29.1% of electors participated in the 2019 council elections. Of the 29 councils in Greater Perth, only eight had a turnout over 30%, with the highest being 45.7% in Cottesloe.
This map shows the turnout by council across Perth:
The combination of low turnout and first past the post means candidates are often elected with a small proportion of their electorate's support.
In the Central-West ward of Wanneroo council, a ward electing just one councillor, the winning candidate Helen Berry polled 1001 votes, 24.2% of the formal vote. Yet with a turnout of just 22.7%, Berry only received the support of 5.5%.
At the other end of the spectrum, Helen Sadler polled 71.97% of the vote in a two-horse race in the North ward of Cottesloe council. Sounds impressive, but that was just 511 votes out of an enrolment of 1570, or 32.5%. That is the highest level of support for any candidate in all of Greater Perth.
Last week I commented on how a reduced district magnitude has severely reduced the range of options for voters in Shellharbour, which shifted from a single ward of seven councillors to four wards of two councillors each.
The same effect can be seen in Greater Perth. The average single-member ward has just three candidates. The average candidates per ward increases as the magnitude increases.
The low numbers of candidates mean that uncontested elections are far more common in Perth and elsewhere in Western Australia than in more robust council electoral systems. In 2021, nine wards were uncontested in Greater Perth, with eleven councillors elected without opposition. These wards covered 4.5% of voters in the region. There were also three mayoral elections left uncontested, which probably reflects the tiny size of some of these councils rather than anything about the electoral system. Those three councils with uncontested mayoral elections contain less than 20,000 voters between them.
If the WA state government seriously wants to make local council elections fairer and more competitive, they should probably go a bit further than they are planned. Abolishing wards in small councils is a good start, but even where wards exist they should have magnitudes of at least three or more, and they should be consistent across a council. It will be much easier to have higher and more consistent magnitudes if they end the two-year cycles and move to four-year terms with all councillors elected at the same time. The two-year overlap just isn't necessary with a better electoral system.
I'd also like to suggest that Western Australia consider a feature of the Victorian system: the representation review. The Victorian Electoral Commission regularly reviews each council's structure: the number of councillors and the number and magnitude of wards, with a transparent public process featuring opportunities for submissions from interested parties. That process was curtailed when former state minister Adem Somyurek's legislation mandating single-member wards for most urban councils passed early last year, but it's still a good practice.
Update: Ryan in the comments has queried my turnout calculations. I've included enrolments for the entire area, including uncontested wards, when calculating turnout. If you exclude these uncontested elections, the turnout in the remainder of Greater Perth climbs from 27% to 28.3%. There are nine councils where there was an uncontested ward and they all have higher turnout if you don't include that area in calculations.