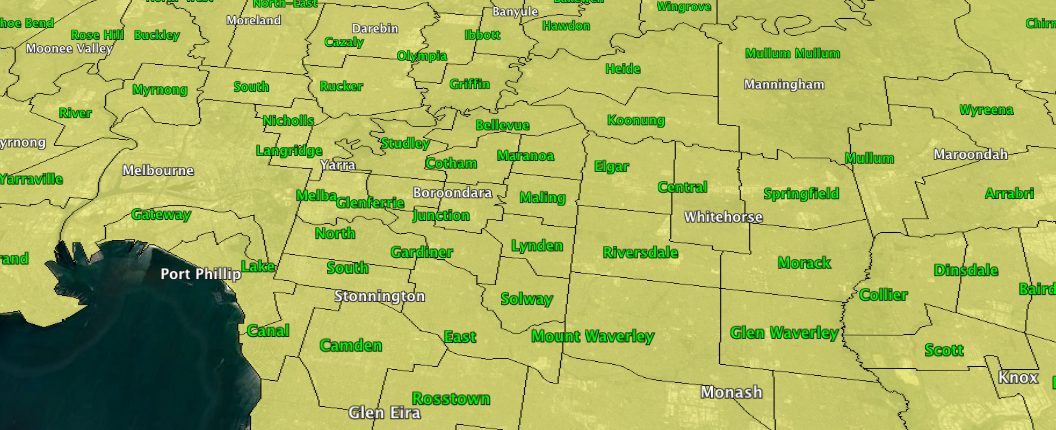 One of the truly sad things about the new local government legislation passed on Thursday night by the Victorian upper house is how it will send a wrecking ball through the independent and transparent system Victoria has used to not just determine ward boundaries, but more broadly determine the electoral structure for each council – ie. how many members each ward will elect.
The existing system sees each council subject to a "representation review" at least once every twelve years, where the structure is considered. Single-member wards can be drawn, but multi-member wards are also possible, and a mix of wards of different numbers of councillors can be used. Each review considers the local demographics and the communities covered by the council, and also receives submissions from members of the local community. A number of boundary options are drawn up, and a final decision is taken.
Such a process echoes the processes we use all over Australia to draw state and federal electoral boundaries, which are out of the hands of politicians and are made after a transparent and consultative process of drawing draft maps. But it goes further by also considering what district magnitude (the number of members elected in each ward) is best for each community. Federal redistributions cannot consider drawing multi-member districts: these powers are tightly controlled by the politicians.
Of course politicians, be they local councillors or state MPs, have vested interests in how the electoral map is drawn. We can only avoid partisan gerrymandering by taking this power out of the hands of politicians.
Compare the Victorian ward redistribution system to those used in New South Wales and Queensland. The power to draw ward maps in New South Wales are strictly within the hands of politicians. There is no independent process, beyond some basic rules and population quotas, although like with most council decisions there are requirements for draft plans to be publicly displayed.
Queensland like Victoria has an independent process coordinated by the electoral commission, but the big urban councils are all locked into single-member electoral divisions.
Proportional representation was first made possible in Victoria in the early 2000s by the Bracks government, but the decision to move councils to PR wasn't a top-down decision. Each council has shifted over through an independent process, to the point where only a small number of councils are elected entirely through single-member wards as of the 2016 election. Those panels have found that multi-member districts have been better suited to those councils, and it's been rare for councils to revert so single-member wards in later reviews. I'm currently compiling the data on what decisions each of these reviews has taken for a future post.
I understand that the new legislation will set single-member wards as the default when councils undergo representation reviews, but the minister can decree that a particular council may have multi-member wards. It's expected that all metro councils outside of the City of Melbourne will be shifted over to single-member wards over the next review cycle. I believe that the new system will not allow councils to have a mixture of single-member and multi-member wards.
In the short term, a lot of work has been lost in determining council boundaries for the 2020 council elections. I expect that Bayside, Cardinia, Darebin, Greater Dandenong, Kingston, Manningham, Maroondah, Whitehorse and Whittlesea councils will revert to single-member wards in 2020, despite all nine of these councils just undergoing reviews which confirmed existing systems of multi-member wards (mostly three-member wards, but with some four-member and two-member wards).
None of the recommendations for these councils have been accepted by the minister, and I don't expect them to ever be accepted.
I also expect that Boroondara will stay with single-member wards. A recent review, concluded in June 2019, recommended a switch from ten single-member wards to an eleven-member council elected across four wards.
In all of these councils, people worked to consider the options and make submissions to express their views, including this Boroondara resident who was proud of helping switch his council away from single-member wards with his submissions:
This makes me so mad, I spent so long on my submissions and had to muster the fortitude to be interrogated by the electoral commissioner. I just hope it can go back soon

— Harry (@quacklesduck) March 5, 2020
The state government did not consult a single one of these councils before passing legislation which will forcibly change their electoral structure.
And how will these new boundaries be drawn? I expect that the Victorian Electoral Commission draw boundaries, but it doesn't look like there is time to conduct a full independent review of these draft boundaries in time for the elections in October. How can we trust that these ward boundaries are fair?
This change shifts the electoral system in Victoria towards one controlled by politicians and away from independent and transparent boundary-setting.
The Labor and Liberal parties have put a thumb on the scale of these independent reviews, which will see a turning of the tide away from more democratic and proportional councils in favour of single-member wards which will reduce diversity and political choice and produce weaker councils. It's really quite sad.