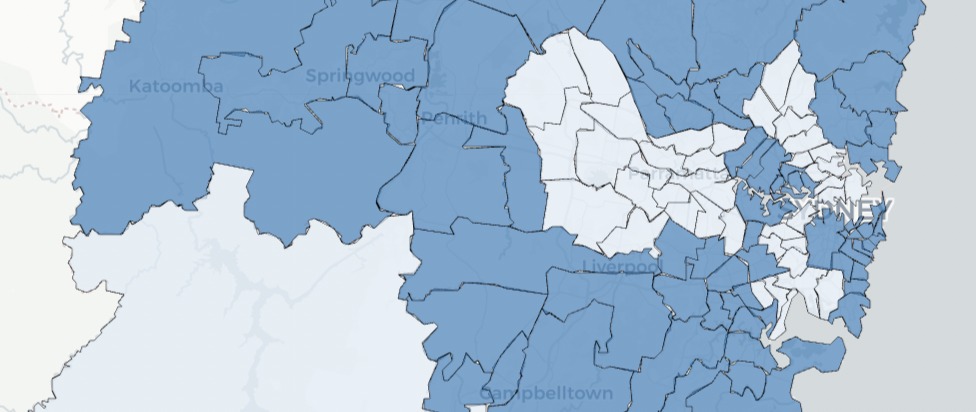 Nominations for the NSW local government elections closed on Wednesday, with the ballot draw held yesterday.
The Liberal Party, who had been steadily increasing their presence in local government for the last few decades, has withdrawn from seven councils, while Labor and the Greens have also declined in their presence.
It hasn't necessarily been a boom-time for other parties and independents. It appears that ballot papers are smaller in many places, with fewer candidates running, but I will confirm that once I finish compiling my candidate list.
I've updated the dataset I used for this blog post about the spread of party politics in Greater Sydney councils since 2004.
In this post I'm not looking at the share of the vote received by each party (we don't know that yet) but just at the share of voters in Greater Sydney who will be able to vote for each party.
Labor, Liberal and the Greens have all declined in their presence since 2016-17, which was a peak for the three parties. This chart shows the share of Greater Sydney's wards contested by each party (as a share of the formal vote for 2004-2017, and a share of enrolment for 2021).
The main cause of this decline was the decision by the Liberal Party to withdraw from six councils which they contested in 2016-17, and have generally contested for decades: Bayside, Blacktown, Cumberland, Fairfield, Inner West, Parramatta and Strathfield. The Liberal Party did not contest the old Botany Bay council (the smaller part of the new Bayside council) prior to its amalgamation, had only started contesting Holroyd (one of the largest parts of the new Cumberland council) in 2008, and made a similar decision to skip Fairfield in 2012, but otherwise have contested all of these areas since at least 2004.
The Liberal Party made a similar decision to withdraw from Fairfield and Penrith in 2012, and "independent Liberal" tickets contested both councils at that election. If you check out my guides to these two councils you can see these groups marked in a different shade of blue on the charts of historical seat results. This decision covers a much larger area. Over 890,000 voters are enrolled to vote in these seven councils, over 28% of the total enrolment in Greater Sydney.
Incumbent Liberal councillors have decided to contest at least some wards in most of these councils. I count eleven incumbent Liberal councillors running in the six bigger councils, but there are none running in Strathfield. The Liberal Party appears to have applied a specific rule to Parramatta, where only one Liberal councillor is running in second on an independent ticket. I was aware that the sitting Liberal councillor for my ward was running an independent ticket, but he didn't end up on the ballot. I find it particularly strange in Parramatta where the Liberal Party has effectively been in power alongside conservative independents. This council has quite a big say in the state government's efforts at shaping Sydney's second CBD, but won't have any official Liberal representation after December.
The NewsLocal papers in the area are reporting the Liberal Party denied requests to run as independents to candidates in the area, which makes sense in the Hills (where the sitting councillors have been replaced by new Liberal candidates) but less so in Parramatta, where there are no official Liberal candidates.
The Liberal Party is also sitting out the elections for Ku-ring-gai, Willoughby, Mosman, North Sydney and Wollondilly, which they have not contested in recent elections.
The ALP has withdrawn from contests in the strongest Liberal areas where wards only elect three councillors. They are not contesting the North ward of the Hills, which elected three Liberals in 2017, and also the C Ward of Hornsby. They pulled out of the Paddington ward of Woollahra, which was the only ward of that council contested by Labor at the last three elections. Labor contested every ward of Northern Beaches in 2017, but are only running in three wards in 2021.
The Greens have pulled back from a number of councils outside their inner city heartland, not running in Penrith, Fairfield, Georges River or Willoughby. The Greens are also running in fewer wards in Blacktown, Sutherland, Woollahra and the Blue Mountains.
My last post on this topic also looked at how Labor and Liberal tend to run full tickets in councils, while the Greens run in a handful of wards. That trend has continued in 2021, particularly for the Liberal Party, who are running in every ward in the councils they are contesting, whereas the Greens often run partial tickets in certain wards. This means that the Greens are running in a lot less wards than the Liberals, but overall are contesting more councils. This chart shows the proportion of the city's councils contested by each party.
Unfortunately the NSWEC has not published the candidates in a convenient spreadsheet so I have more work to compile a proper candidate list, which for now I'm going to limit to the 24 biggest councils. Once that's done I'll update all of the guides and will be doing some more blog posts looking at the implications for those councils. I suspect that there is an across-the-board reduction in nominations, but I'll need to collect some more data before I can assess.
Finally, these maps show the wards contested by the three big parties over the last five election cycles: