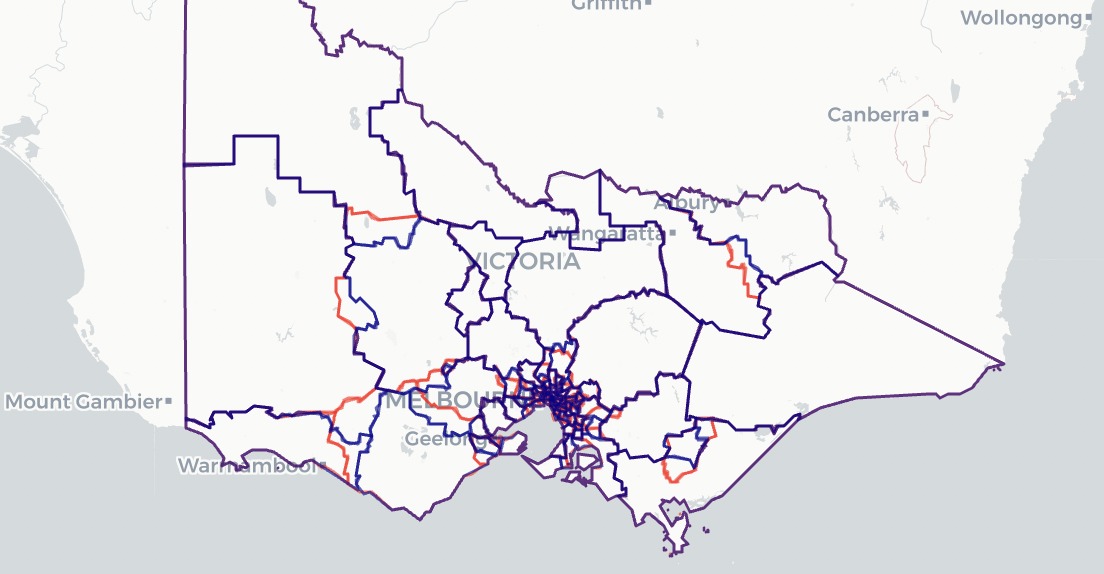 The final boundaries for the Victorian state redistribution were released last Thursday. It's taken me a few days but I've now finished making my new map and updating my redistribution estimates.
I won't do much to analyse the changes in this post. You can see my summary analysis of the draft boundaries and my estimates of margins for the draft boundaries. I will update my estimates of the two-candidate-preferred margins, primary votes for the main parties and upper house votes for the main parties in this post, along with a map showing the 2018 and 2022 boundaries.
There have been a few changes worth noting. I reckon about half of the seats have had some change since the draft boundaries, although I haven't done a proper count. The proportion of electors who have moved seats has dropped from 17.4% to 16.8%.
The Commission reversed the renaming of Mill Park to Morang (so it remains Mill Park). They also changed the names for the Ballarat area. No longer will Wendouree be renamed Eureka. It will keep the name Wendouree, but it's neighbour Buninyong is now named Eureka.
I'd also like to note Prahran and Albert Park. The Commission had recommended quite a substantial change to these seats, rotating them to swap quite a lot of territory. Instead the final boundaries make only minimal changes. This is good news for the Greens, since Labor had been substantially strengthened in Prahran on the draft boundaries. The Greens are still in third, as they were in 2018, but Labor has not shot out into the primary vote lead.
This parallels the federal process, where substantial rearranging of the Higgins/Macnamara boundary was reversed in the final decision.
Finally here is the map. New boundaries are in blue, old are in red. You can toggle on and off each set of boundaries and the seat names separately. I've posted the margin estimates after the fold.
Correction: I updated the two-candidate-preferred margins table at 1pm on Tuesday. The other tables are fine, but it appears that a bunch of seats were displaying the draft margin, not the final margin. Thanks to Antony for noticing.
Two-candidate-preferred margins
| | | |
| --- | --- | --- |
| Seat | Old margin | New margin |
| Albert Park | ALP 13.1% | ALP 12.9% |
| Ashwood (Burwood) | ALP 3.3% | ALP 2.3% |
| Bass | ALP 2.4% | LIB 0.7% |
| Bayswater | ALP 0.4% | LIB 0.7% |
| Bellarine | ALP 11.5% | ALP 11.4% |
| Benambra | LIB 2.4% | LIB 9.4% |
| Bendigo East | ALP 12.1% | ALP 12.1% |
| Bendigo West | ALP 18.6% | ALP 18.6% |
| Bentleigh | ALP 11.9% | ALP 11.3% |
| Berwick (Gembrook) | LIB 0.8% | LIB 2.1% |
| Box Hill | ALP 2.1% | ALP 2.8% |
| Brighton | LIB 1.1% | LIB 0.5% |
| Broadmeadows | ALP 30.3% | ALP 24.3% |
| Brunswick | GRN vs ALP 0.6% | GRN vs ALP 2% |
| Bulleen | LIB 5.8% | LIB 5.7% |
| Bundoora | ALP 17.4% | ALP 16% |
| Carrum | ALP 11.9% | ALP 12.2% |
| Caulfield | LIB 0.3% | LIB 0.1% |
| Clarinda | ALP 17.4% | ALP 14.9% |
| Cranbourne | ALP 11% | ALP 9.1% |
| Croydon | LIB 2.1% | LIB 0.9% |
| Dandenong | ALP 23.9% | ALP 23.5% |
| Eildon | LIB 2.4% | LIB 1% |
| Eltham | ALP 9.1% | ALP 8.8% |
| Essendon | ALP 15.9% | ALP 15.8% |
| Eureka (Buninyong) | ALP 12.2% | ALP 9.7% |
| Euroa | NAT 15.4% | NAT 16% |
| Evelyn | LIB 2.6% | LIB 1.6% |
| Ferntree Gully | LIB 1.6% | Abolished seat |
| Footscray | ALP 28.1% | ALP 29.1% |
| Frankston | ALP 9.7% | ALP 10.1% |
| Geelong | ALP vs IND 6.2% | ALP vs IND 6.1% |
| Gippsland East | NAT 17.6% | NAT 17.6% |
| Gippsland South | NAT 15.3% | NAT 13.7% |
| Glen Waverley (Forest Hill) | LIB 1.2% | LIB 1.5% |
| Greenvale | New seat | ALP 22.7% |
| Hastings | LIB 1.1% | ALP 0.4% |
| Hawthorn | ALP 0.4% | ALP 0.5% |
| Ivanhoe | ALP 12.4% | ALP 12.7% |
| Kalkallo (Yuroke) | ALP 20.3% | ALP 20.1% |
| Kew | LIB 4.8% | LIB 4.8% |
| Keysborough | ALP 14.9% | Abolished seat |
| Kororoit | ALP 25.6% | ALP 25.3% |
| Lara | ALP 19.1% | ALP 19.1% |
| Laverton | New seat | ALP 23.4% |
| Lowan | NAT 23.5% | NAT 20.9% |
| Macedon | ALP 13.2% | ALP 13.4% |
| Malvern | LIB 6.1% | LIB 6.6% |
| Melbourne | GRN vs ALP 1.3% | GRN vs ALP 1.7% |
| Melton | ALP 4.3% | ALP 5.4% |
| Mildura | IND vs NAT 0.3% | IND vs NAT 0.3% |
| Mill Park | ALP 24.9% | ALP 24.9% |
| Monbulk | ALP 8.6% | ALP 9% |
| Mordialloc | ALP 12.9% | ALP 13.5% |
| Mornington | LIB 5% | LIB 5% |
| Morwell | IND vs ALP 1.8% | ALP vs IND 1.1% |
| Mount Waverley | ALP 1.8% | Abolished seat |
| Mulgrave | ALP 12.7% | ALP 16.2% |
| Murray Plains | NAT 23.9% | NAT 24% |
| Narracan | LIB 7.3% | LIB 11% |
| Narre Warren North | ALP 9.8% | ALP 10.2% |
| Narre Warren South | ALP 6.9% | ALP 10.7% |
| Nepean | ALP 0.9% | ALP 0.6% |
| Niddrie | ALP 12.6% | ALP 12.7% |
| Northcote | ALP vs GRN 1.7% | ALP vs GRN 1.7% |
| Oakleigh | ALP 15.8% | ALP 16.1% |
| Ovens Valley | NAT 12.6% | NAT 12% |
| Pakenham | New seat | ALP 2% |
| Pascoe Vale | ALP vs IND 8.3% | ALP vs IND 9.1% |
| Point Cook (Altona) | ALP 14.6% | ALP 12.3% |
| Polwarth | LIB 5.4% | LIB 2.5% |
| Prahran | GRN vs LIB 7.5% | GRN 9.4% |
| Preston | ALP vs GRN 20.7% | ALP vs GRN 21.2% |
| Richmond | ALP vs GRN 5.5% | ALP vs GRN 5.8% |
| Ringwood | ALP 2.8% | ALP 3.7% |
| Ripon | LIB 0% | ALP 2.8% |
| Rowville | LIB 5.7% | LIB 5.3% |
| Sandringham | LIB 0.6% | LIB 0.4% |
| Shepparton | IND vs LIB 5.3% | IND vs LIB 5.3% |
| South Barwon | ALP 4.6% | ALP 3.7% |
| South-West Coast | LIB 2.3% | LIB 3.3% |
| St Albans | ALP 21.5% | ALP 21.9% |
| Sunbury | ALP 14.3% | ALP 14.6% |
| Sydenham | ALP 17.9% | ALP 17.9% |
| Tarneit | ALP 18% | ALP 17.9% |
| Thomastown | ALP 27.2% | ALP 27.3% |
| Warrandyte | LIB 3.9% | LIB 3.9% |
| Wendouree | ALP 10.3% | ALP 11% |
| Werribee | ALP 12.6% | ALP 13.6% |
| Williamstown | ALP 22.1% | ALP 18.7% |
| Yan Yean | ALP 17% | ALP 16.9% |
Primary votes for main parties
| | | | | |
| --- | --- | --- | --- | --- |
| Seat | ALP prim | LIB prim | NAT prim | GRN prim |
| Albert Park | 43.4 | 31.6 | | 16.3 |
| Ashwood (Burwood) | 40.8 | 44.3 | | 11.7 |
| Bass | 36.7 | 43.5 | | 6.1 |
| Bayswater | 40.7 | 47.6 | | 8.9 |
| Bellarine | 49.7 | 35.6 | | 9.1 |
| Benambra | 17.7 | 40.1 | | 3.5 |
| Bendigo East | 50.3 | 20.9 | 15.9 | 8.0 |
| Bendigo West | 53.5 | 27.1 | | 13.1 |
| Bentleigh | 49.4 | 33.6 | | 8.2 |
| Berwick (Gembrook) | 41.2 | 48.5 | | 7.1 |
| Box Hill | 40.4 | 44.3 | | 13.6 |
| Brighton | 32.4 | 44.8 | | 14.9 |
| Broadmeadows | 56.4 | 15.1 | | 7.9 |
| Brunswick | 38.6 | 7.8 | | 42.7 |
| Bulleen | 36.4 | 52.0 | | 11.1 |
| Bundoora | 55.3 | 29.9 | | 8.0 |
| Carrum | 53.0 | 32.5 | | 5.5 |
| Caulfield | 34.0 | 46.1 | | 14.8 |
| Clarinda | 54.8 | 27.5 | | 7.1 |
| Cranbourne | 48.7 | 34.3 | | 4.0 |
| Croydon | 39.4 | 46.6 | | 8.9 |
| Dandenong | 64.5 | 22.5 | | 7.0 |
| Eildon | 36.6 | 46.9 | | 10.9 |
| Eltham | 49.8 | 37.0 | | 10.5 |
| Essendon | 46.2 | 27.5 | | 16.8 |
| Eureka (Buninyong) | 45.0 | 31.3 | | 9.3 |
| Euroa | 28.0 | | 59.5 | 5.2 |
| Evelyn | 40.7 | 48.1 | | 10.0 |
| Footscray | 54.4 | 17.3 | | 20.1 |
| Frankston | 46.3 | 32.6 | | 7.6 |
| Geelong | 41.8 | 21.9 | | 9.0 |
| Gippsland East | 21.7 | | 56.7 | 6.2 |
| Gippsland South | 28.1 | 1.0 | 57.9 | 9.3 |
| Glen Waverley (Forest Hill) | 41.5 | 48.8 | | 8.4 |
| Greenvale | 60.0 | 24.2 | | 7.0 |
| Hastings | 38.5 | 44.8 | | 10.3 |
| Hawthorn | 32.9 | 43.9 | | 17.7 |
| Ivanhoe | 46.5 | 32.0 | | 15.0 |
| Kalkallo (Yuroke) | 59.4 | 25.3 | | 5.9 |
| Kew | 31.4 | 49.4 | | 15.2 |
| Kororoit | 63.5 | 20.8 | | 8.2 |
| Lara | 57.9 | 24.1 | | 7.5 |
| Laverton | 57.5 | 20.8 | | 12.1 |
| Lowan | 21.9 | 6.0 | 57.9 | 5.3 |
| Macedon | 48.1 | 31.8 | | 9.9 |
| Malvern | 29.4 | 51.6 | | 12.9 |
| Melbourne | 35.2 | 17.4 | | 38.8 |
| Melton | 34.7 | 16.8 | | 4.6 |
| Mildura | 17.4 | 2.9 | 37.5 | 3.8 |
| Mill Park | 62.8 | 21.3 | | 5.3 |
| Monbulk | 42.3 | 36.9 | | 16.6 |
| Mordialloc | 50.9 | 31.0 | | 7.5 |
| Mornington | 34.3 | 50.6 | | 9.8 |
| Morwell | 38.5 | 14.1 | 9.0 | 3.7 |
| Mulgrave | 59.2 | 28.4 | | 6.5 |
| Murray Plains | 19.4 | | 60.3 | 4.2 |
| Narracan | 31.9 | 55.6 | | 6.0 |
| Narre Warren North | 50.9 | 35.7 | | 6.2 |
| Narre Warren South | 52.1 | 33.2 | | 5.8 |
| Nepean | 37.9 | 44.2 | | 11.0 |
| Niddrie | 55.1 | 34.0 | | 6.9 |
| Northcote | 41.7 | 10.7 | | 39.5 |
| Oakleigh | 53.3 | 29.7 | | 11.3 |
| Ovens Valley | 20.8 | 1.9 | 42.1 | 4.8 |
| Pakenham | 44.1 | 43.5 | | 7.9 |
| Pascoe Vale | 38.2 | 11.5 | | 20.7 |
| Point Cook (Altona) | 49.7 | 24.2 | | 7.9 |
| Polwarth | 31.4 | 46.2 | | 10.4 |
| Prahran | 30.7 | 32.5 | | 28.3 |
| Preston | 52.4 | 16.6 | | 14.6 |
| Richmond | 44.2 | | | 33.6 |
| Ringwood | 42.5 | 43.6 | | 13.4 |
| Ripon | 41.2 | 36.6 | | 4.6 |
| Rowville | 35.8 | 50.9 | | 9.4 |
| Sandringham | 33.3 | 42.5 | | 8.1 |
| Shepparton | 11.6 | 26.6 | 13.0 | 2.4 |
| South Barwon | 38.9 | 38.6 | | 8.4 |
| South-West Coast | 24.5 | 34.4 | | 6.2 |
| St Albans | 60.7 | 24.0 | | 11.2 |
| Sunbury | 58.6 | 33.6 | | 7.7 |
| Sydenham | 61.0 | 28.5 | | 6.4 |
| Tarneit | 56.7 | 25.9 | | 7.7 |
| Thomastown | 61.8 | 15.2 | | 4.1 |
| Warrandyte | 35.8 | 50.0 | | 10.5 |
| Wendouree | 50.4 | 34.0 | | 9.0 |
| Werribee | 45.9 | 16.7 | | 6.5 |
| Williamstown | 50.1 | 20.3 | | 13.2 |
| Yan Yean | 55.8 | 26.2 | 1.3 | 5.5 |
Legislative Council vote by region
ALP
LNP
GRN
Others
Region
Old
New
Old
New
Old
New
Old
New
Eastern Victoria
33.6
33.5
34.1
33.9
6.7
6.9
25.6
25.7
North-Eastern Metropolitan
37.0
38.7
36.1
33.6
9.0
8.5
17.9
19.2
Northern Metropolitan
42.6
41.6
16.5
16.4
16.7
18.3
24.2
23.7
Northern Victoria
31.8
31.3
31.2
31.6
6.6
6.6
30.4
30.5
South-Eastern Metropolitan
49.9
49.0
29.0
29.6
5.6
5.5
15.5
15.9
Southern Metropolitan
34.6
35.1
38.3
38.0
13.5
13.1
13.6
13.8
Western Metropolitan
46.2
46.8
21.3
20.8
8.7
8.1
23.8
24.3
Western Victoria
38.2
38.3
29.9
29.8
7.5
7.5
24.4
24.4