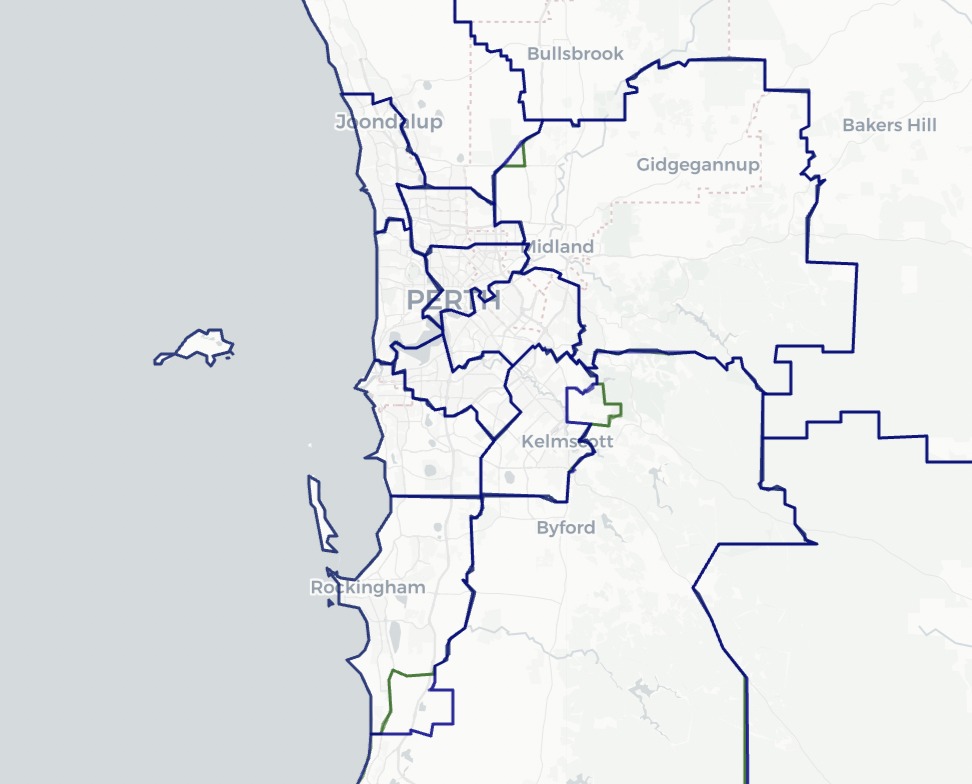 The Australian Electoral Commission has announced the final boundaries for Western Australia for the next federal election.
While they have announced what changes have been made to the draft boundaries, they have only provided this information through the use of words describing the changes. No maps, no data.
I've done my best to follow the AEC descriptions and attempted to make the changes to my map (downloadable from the maps page), and I've created a map (below) comparing the final boundaries as best I can determine to the draft boundaries and the 2019 boundaries.
Fourteen separate changes have been made to the draft boundaries. No changes were made to Fremantle and Perth. Changes to seven other seats involved no movements of electors, while the remaining six seats did have changes to their elector numbers.
Two of these changes involved the movement of whole LGAs. Easy enough to change, and does involve identifiable numbers of voters moving (even if Wiluna Shire contains less than 1000 people).
Eight other changes are described as "minor" and involving no elector movement. In one case I couldn't work out which area was moving, and in a number of other cases I think I've got it right but I'm not sure. In some cases the change was to align the federal boundaries with the local government boundaries, but I can't find any divergence between them, so they must be very minor indeed.
Then there are four others where the change has happened at the suburb level, either splitting a suburb along a major road (easy enough to map but sometimes not possible to split the population at the SA1 level) or merging a suburb (which did involve some SA1s that straddle the new boundary). In one case the description is consistent with moving the Brand-Canning border back to the 2019 boundary and thus leaving Brand unchanged from 2019, but I cannot be sure.
Bearing all this in mind, my margin estimates remain interim until the maps and data are released, which is scheduled for early August.
To give you an insight into my process, I'm currently starting to write my guides to the federal election, after finishing the maps and tables I'm planning to use for the guide. At the moment I am focusing on the four states and two territories not affected by redistributions, and I'll come back to WA and Victorian seats later in the process. My new and improved systems mean I can recalculate all of my tables and charts quite easily once I have the new maps and new estimates of voter numbers in each seat.
I am partly holding back because I think there will be minor boundary differences I have missed, but I think any changes in voter numbers (which dictates my redistribution calculations) will be so small as to be unlikely to be detected at the level of 0.1%.
But finally, here are my estimates of the margin in each electorate, before and after the redstribution. I should note that some minor tweaking of my data means that the draft margin for Cowan and Hasluck has changed by 0.1% since my original margins were posted. These seats were not changed by the final announcement so there are no further changes.
| | | | |
| --- | --- | --- | --- |
| Seat | 2019 margin | Draft margin | Final margin |
| Brand | ALP 6.7% | ALP 6.7% | ALP 6.7% |
| Burt | ALP 5.0% | ALP 5.4% | ALP 5.5% |
| Canning | LIB 11.6% | LIB 11.3% | LIB 11.5% |
| Cowan | ALP 0.8% | ALP 0.8% | ALP 0.8% |
| Curtin | LIB 14.3% | LIB 13.9% | LIB 13.9% |
| Durack | LIB 14.8% | LIB 13.5% | LIB 13.5% |
| Forrest | LIB 14.6% | LIB 14.6% | LIB 14.6% |
| Fremantle | ALP 6.9% | ALP 6.9% | ALP 6.9% |
| Hasluck | LIB 5.4% | LIB 5.8% | LIB 5.8% |
| Moore | LIB 11.7% | LIB 11.6% | LIB 11.6% |
| O'Connor | LIB 14.5% | LIB 15.4% | LIB 15.4% |
| Pearce | LIB 7.5% | LIB 5.2% | LIB 5.2% |
| Perth | ALP 4.9% | ALP 3.2% | ALP 3.2% |
| Swan | LIB 2.7% | LIB 3.2% | LIB 3.2% |
| Tangney | LIB 11.5% | LIB 9.5% | LIB 9.5% |
| Stirling | LIB 5.6% | Abolished | Abolished |