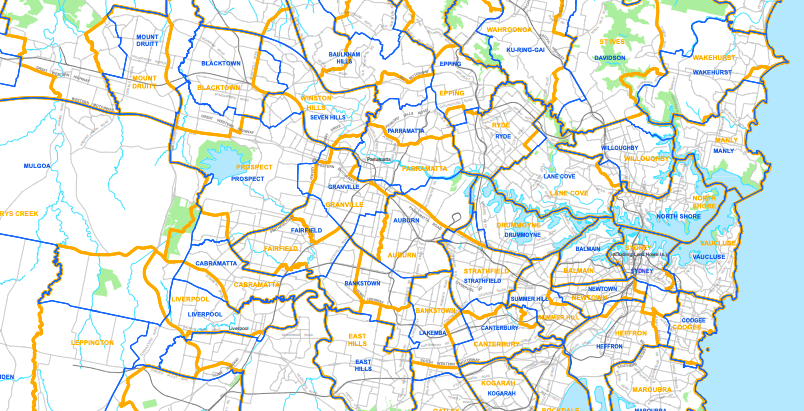 The New South Wales state redistribution took another step forward today, when the draft boundaries were released. The maps and report can be found here.
It will be some time before I finish my own boundaries file, which I will then use to calculate my own margins. I also haven't seen any other estimates, so for now I will keep this post broad, and readers can discuss what you find in the maps in the comments.
I will return with margin estimates and an interactive map once they are ready.
The biggest news is the abolition of the seat of Lakemba and the creation of a new seat of Leppington in the fast-growing south-western corner of Sydney.
While the name "Lakemba" has been abolished, it looks to me that the seat of Bankstown has actually been divided up between its neighbours, with Lakemba being renamed as Bankstown while maintaining a majority of its existing population.
Seats in central Sydney and northern Sydney have shifted towards the west, until Bankstown is eventually abolished, and the seats of Davidson and Ku-ring-gai were renamed as St Ives and Wahroonga respectively.
The southern corridor of seats continues to shift, with seats like Fairfield, Granville and Auburn changing significantly. Eventually Leppington is created out of parts of Camden, Macquarie Fields, Liverpool and Mulgoa, with Mulgoa taking in rural parts of Camden, and being renamed as Badgerys Creek.
In the north-west, the two seats in the Hills area are redrawn as north-south seats, with Baulkham Hills renamed as Kellyville and Seven Hills renamed as Winston Hills.
The Illawarra electorates Heathcote, Keira and Wollongong all moved south, with Shellharbour losing its northern end to bring those seats up to quota.
Western and southern NSW is mostly left intact with minor changes. It's interesting to see that no changes have been made to the vast seat of Barwon, which is already 5.4% under quota and is projected to be 7.5% under quota by 2023, seemingly to avoid having to make major changes to surrounding seats.
Major changes were made to Upper Hunter, losing its most rural parts to Dubbo, Bathurst and Tamworth, and gaining parts of the Singleton and Cessnock council areas from the seat of Cessnock.
Changes up the coast were relatively minor.
Fast population growth in Sydney have necessitated a number of seats to be drawn right at the bottom of the permissible range. Heffron, Leppington, Londonderry, Riverstone and Parramatta were drawn at least 8% under quota, with Kellyville not far behind. Most of these seats are projected to still be slightly under quota by 2023, hopefully ensuring they remain close to the average by the 2027 election, but Leppington, Riverstone and Parramatta are all growing so fast that they will already be above average by 2023.
That's about it for now. What parts of the map have grabbed your attention?
UPDATE: Antony Green and William Bowe have both published their estimates of margins. They agree that Leppington is marginal for Labor (1.5% on Antony's list, 2.6% on William's) and they also agree has flipped from a 5% Liberal margin to 1.7-1.8% for Labor. So Labor has swapped one super-safe seat for two marginal seats (ignoring other changes).