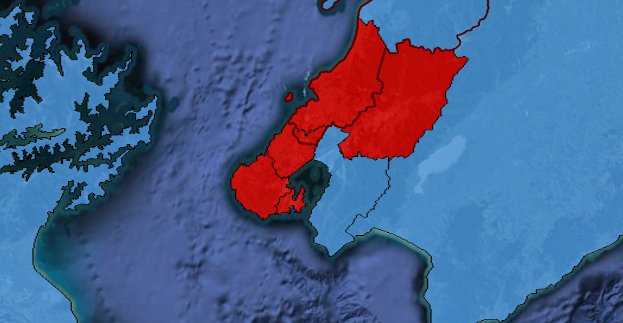 Labour has been doing very well in the polls in New Zealand, if a bit less well than they were earlier this year. It seems very likely that Labour will stay in government. But there are some scenarios where a majority of the country could vote for the current government parties, but the operation of the threshold under New Zealand's mixed member proportional (MMP) voting system could see the right-wing opposition parties win a majority in parliament.
To qualify for seats, you need to win one electorate seat, or poll 5% of the vote.
The 5% threshold seems simple enough, but it can create dilemmas for voters if their party is close to the threshold. If a party polls 4.9% and doesn't otherwise qualify for list seats, all of that party's votes are effectively discarded. If they poll 5.1%, they win seats (they'd probably win 5-7 seats off bare 5%, depending on how many votes qualified for list seats).
If a lot of votes are cast for parties that miss out on seats, it can significantly distort the seat count relative to the vote count.
For an example, let's look at the 2013 German federal election. Germany uses a very similar system to New Zealand, although parties need to win three electorate seats to circumvent the 5% threshold.
Seven parties polled over 5% of the national party vote: the governing right-wing Christian Democratic Union and their Bavarian allies the Christian Social Union, and the left-wing Social Democrats, Greens and Die Linke.
The CDU/CSU polled 41.5% of the national party vote, while the three left or centre-left parties polled 42.7%. This translated into the CDU/CSU winning 311 seats to 320 seats for parties of the left, which was a very proportional translation of the seat count for just those five parties.
But there were two other parties, both of which could be broadly defined as sitting on the right wing of politics, which narrowly failed to reach the threshold: the Free Democrats and Alternative for Germany. These two parties between them polled 9.5% but neither won any seats.
While it is a simplification of the German party system to group these parties into "left" and "right", it's interesting to note that the right collectively won over 50% of the national vote, but won less seats than the left, thanks to narrowly missing out on thresholds.
There are some scenarios where such a result could happen in New Zealand in 2020.
There are five parties in parliament. Labour and the Greens are on the left, National and ACT are on the right, and New Zealand First defies definition. NZF could be described as a right-wing party, but they are currently in government with Labour and the Greens.
Labour has been doing very well in the polls, consistently polling over 50% in nine consecutive polls from April to July, although their support has now dropped into the high 40s.
The opposition National Party has usually been polling in the high 20s, although they have sometimes reached into the 30s. This compares to 44% at the 2017 election.
New Zealand First's vote has crashed, not polling above 3% in any poll since the beginning of the pandemic. They are generally expected to miss out on seats in parliament.
ACT, who have polled very poorly at recent elections, have surged on the back of National weakness, polling 6% or more in the last five polls. ACT have survived in parliament since 2005 on the back of holding the seat of Epsom.
ACT have not crossed the 5% threshold since 2005, and since 2011 they have only polled enough party votes to win a single seat in parliament, so their electorate MP has not been able to bring in any colleagues on the list. Epsom is traditionally a safe National seat, but National has encouraged their supporters to vote ACT for their candidate vote to ensure that centre-right votes for ACT on the list don't go to waste. While they may not need Epsom to win seats in 2020, it seems likely that this arrangement will continue, if only to ensure that the shift in centre-right votes still translates into list seats.
The Greens have been in the danger zone, their vote dropping to as low as 5% in a poll in late July. Unlike ACT, the Greens do not hold any electorate seats.
The absence of New Zealand First will likely create a very polarised parliament – the most polarised since the introduction of proportional representation paved the way for numerous minor parties to win seats. The Greens and ACT are closely aligned to Labour and National respectively, and it's hard to see either minor party switching sides.
This means it's possible that if Labour falls short of a majority, and a lot of votes are locked up with unsuccessful New Zealand First and Green lists, the current governing parties could win a majority of the vote but the right-wing opposition could win a majority of the seats.
Let's take the most recent poll, a 1 News-Colmar Brunton poll conducted in the final week of September. Labour polled 47%, National 33%, ACT 8% and Green 7%. This translates into 59 Labour, 42 National, 10 ACT, and 9 Green. That is enough for a stable Labour/Green coalition.
But a swing of just 2% would see the Greens drop out of parliament entirely. If we take 2.1% away from the Green Party and take 2.5% away from Labour, you end up with a result of 44.5-37.5-8-4.9.
Those voting figures translate to a seat count of 59 Labour, 50 National and 11 ACT. The right-wing opposition parties have polled slightly more than Labour on their own, but since no Green votes will count, Labour is left standing alone, and unable to form a stable progressive government.
If we look back at that original poll, Labour was on 47% while National and ACT were collectively polling 41%. That means you only need a 3.5% swing from Labour to National to create a scenario where the right-wing opposition would win a majority in the absence of the Greens and NZF.
So this creates a dilemma if you are a Green voter, or particularly if you are a Labour-Green swing voter. A vote for the Greens could turn out to be wasted if they fall below the threshold. On the other hand, getting the Greens over the threshold could be crucial to a centre-left majority. Which way do you cast your tactical vote? A lot will depend on how each voter assesses the polls and other information. If you think the Greens are set to get over the threshold you might vote for them. But if you think other swing voters will choose to vote for the popular Ardern, it makes sense to do the same.
The only way out of this dilemma is if the Greens can nab an electorate seat. If the Greens look set to win such a seat, there is no need for Labour-Green swing voters to cast a tactical vote. They can vote for either party, and their seat count will reflect their respective vote totals. A lower Green vote will give them a smaller role in government relative to Labour (or maybe no role if Labour gets to a majority without them) but it won't knock them out of parliament.
The best prospect for this to happen is in Auckland Central. This seat has been held by retiring National MP Nikki Kaye since 2008. Kaye barely held on in 2011 before winning more comfortably in 2014 and 2017, but the seat has always been marginal. Kaye defeated future prime minister Jacinda Ardern in 2011 and 2014, before Ardern found an electorate at the February 2017 by-election in neighbouring Mount Albert.
Labour is running Helen White, who ran here in 2017. She was also #40 on the Labour list in 2017, and was the highest-ranked candidate to not win a seat (numerous Labour electorate MPs were ranked above her, but did not need a list seat so were skipped over). She is ranked 48th this year, but it's hard to say how winnable that seat is without knowing which electorates Labour will win.
The Greens are running Chlöe Swarbrick, a 26-year-old Green MP who first won a seat on the list in 2017. Swarbrick is third on the Green Party list, so is guaranteed a list seat, as long as the Greens crack 5%.
Labour would typically be expected to win the seat off the National Party in their current strong position, but Swarbrick is significantly outpolling the Green party vote. Two polls have been published in the seat. The first poll had White leading with 42%, followed by the National candidate Mellow on 26% and Swarbrick on 24%. The second poll showed a tighter race, with White on 35%, Mellow on 30% and Swarbrick on 25%.
Labour prime minister Jacinda Ardern has not sent the kind of signals that past National leaders have, giving their voters a nudge to switch to a minor party ally to improve their position in parliament. But she chose not to echo her local candidate's call for Swarbrick to withdraw.
The polls suggest that Labour is currently the favourite to win this seat, but it would only take a small proportion of the Labour vote to switch to Swarbrick to flip the seat. On the other hand, National voters could choose to switch to White to ensure a Labour win. The National Party won't gain any extra seats by winning Auckland Central – a win here would simply reduce their list seat count by one. But knocking the Green Party out of parliament would increase the list seat count for both the National Party and ACT, and give them a better chance of government.