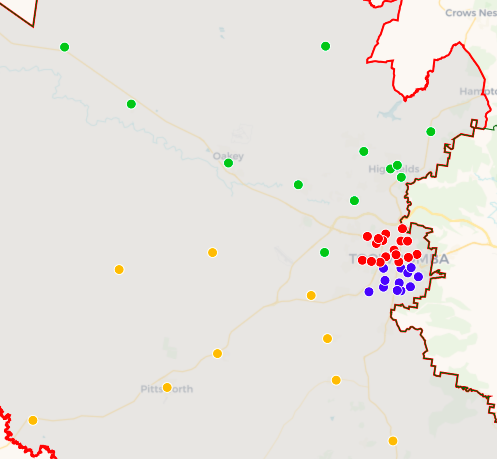 Federal MP John McVeigh announced his retirement two weeks ago, triggering a by-election for his seat of Groom.
The electorate of Groom covers the city of Toowoomba in southern Queensland, as well as nearby rural areas to the west of the city.
I've just finished my guide to Groom, which you can read here.
The electorate is very safe for the LNP – McVeigh polled over 70% of the two-party-preferred vote in 2019. Labor outpolled One Nation on the primary vote, but not by that much – 18.7% to 13.1%.
We don't have any confirmation about who will run, but it appears that there may be some complexity around whether a future Liberal National MP would sit with the Liberals or Nationals.
Groom was first held in the 1980s by Tom McVeigh, father of the recently retired MP. The elder McVeigh was a National, but the seat was won by the Liberal Party at the 1988 by-election.
The younger McVeigh was first elected to state parliament to represent Toowoomba South in 2012 before moving to federal politics in 2016. McVeigh has a history as a Young National in the 1980s, but sits in federal parliament as a Liberal.
The previous MP, Ian Macfarlane, had been elected four times as a Liberal prior to the LNP merger, but in 2015 he announced plans to switch to sit as a National. This plan was supported by local party members but was blocked by the state executive.
If Groom was to switch from a Liberal seat to a National seat it would change the balance between the two parties in federal parliament – ultimately a change in the proportion of seats within the Coalition could change the numbers of ministers each party holds – but it wouldn't mean much for voters on the ground, who would be voting for the Liberal National Party. Having said this, the prospect of the seat switching to the Nationals seems to have ended with Matt Canavan withdrawing from the race.
It seems unlikely that Labor will run. It seems possible that One Nation could come in the top two, but they won't be best placed to pick up Labor voters, so I wouldn't be surprised if an independent does better. Either way I'd be surprised if this race was at all close.