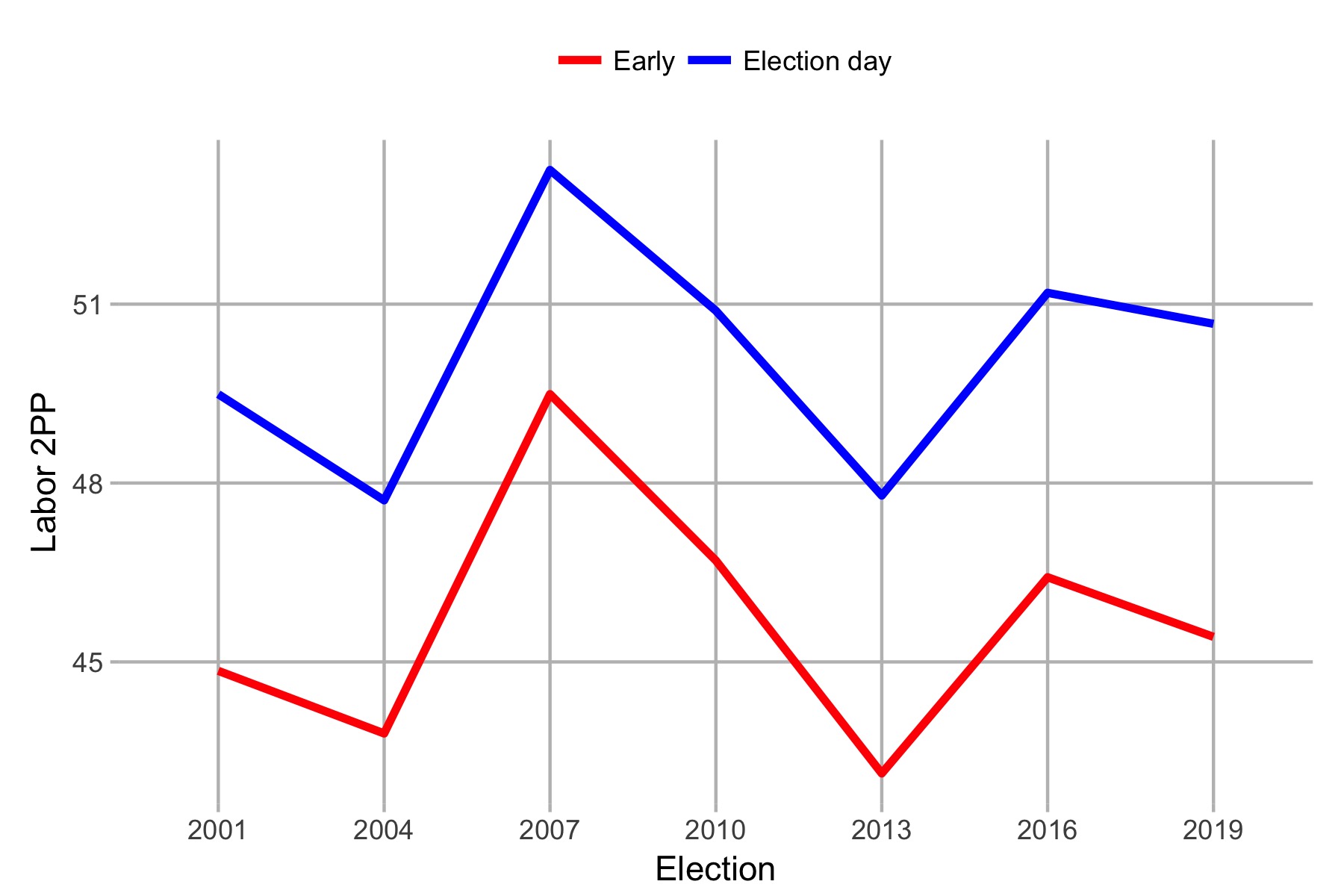 This post draws on analysis in my chapter in Morrison's Miracle, a forthcoming book from ANU Press and Academy of the Social Sciences in Australia about the 2019 federal election.
One of the most significant ways in which our voting system is changing over time is the rise in voting early.
This is happening in all sorts of elections: federal, state and local. The trend is stronger in some jurisdictions than others, but no-one can hold back the tide.
Almost 33% of votes were cast as early pre-poll votes in 2019. This figure rises to about 41% once you include postal votes, which must have been cast before election day.
This growing trend means that the early vote is more important than ever, and is absolutely critical to the election result.
I don't think enough attention was paid to the gap between the two-party-preferred vote on election day as opposed to the early vote.
Labor has always done relatively better on election day compared to the early vote, but the gap was bigger than it has been at any election since 2001, when over 90% of votes were cast on the day. That gap was 5.3% in 2019.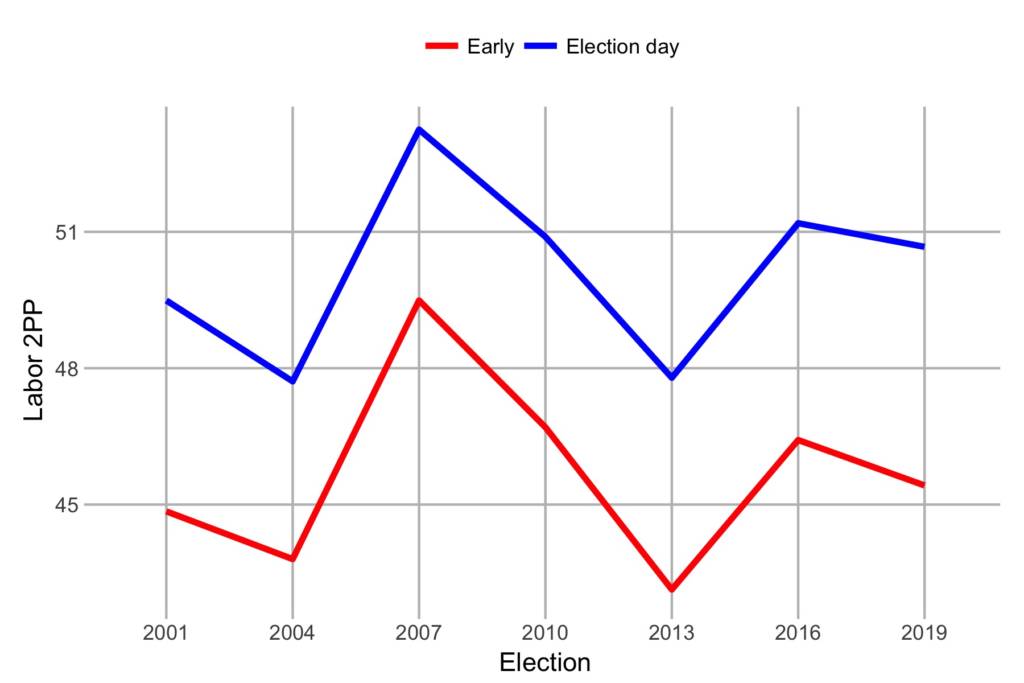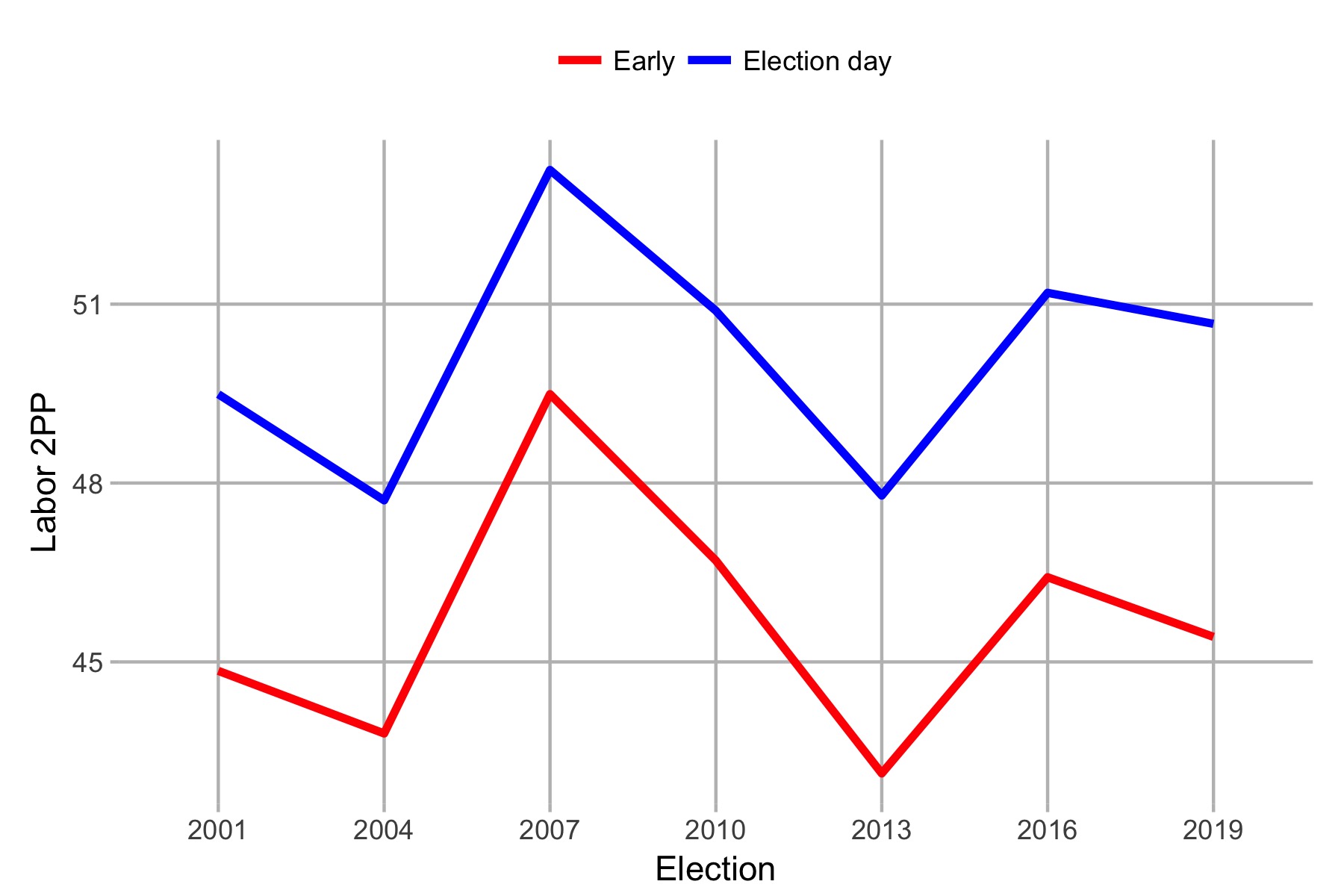 No party had ever won the election day vote and failed to win the election prior to the 2016 election, and now it has happened twice. Labor won 51.2% of the election-day two-party-preferred vote in 2016 and 50.7% in 2019. Yet solid majorities in the early vote pushed the Coalition over the line at both elections.
This trend isn't likely to go away and has implications for future elections. I don't think we can assume that those early voters are more conservative because they vote early – it seems more likely that conservative voters are more likely to choose to vote early and have thus allowed Labor to win the (smaller and less important) election day vote.
It also has implications for us analysts: we had a number of elections in late 2018 where very strong swings away from the Liberal Party on election night were significantly dampened when the early vote reported late that night.
As long as the gap between election day and the early vote remains consistent we should be able to factor these votes in, but a growing gap would create more unpredictability.
Finally, here's a table showing the Labor two-party-preferred vote in the election-day and early vote, and what proportion of the total vote was cast on election day, in each federal election over the last two decades.
| | | | | |
| --- | --- | --- | --- | --- |
| Election | ALP 2PP election day | ALP 2PP early vote | Difference | Election day proportion |
| 2001 | 49.5 | 44.8 | 4.6 | 90.4 |
| 2004 | 47.7 | 43.8 | 3.9 | 88.3 |
| 2007 | 53.2 | 49.5 | 3.8 | 85.5 |
| 2010 | 50.9 | 46.7 | 4.2 | 81.6 |
| 2013 | 47.8 | 43.1 | 4.7 | 72.4 |
| 2016 | 51.2 | 46.4 | 4.8 | 67.6 |
| 2019 | 50.7 | 45.4 | 5.3 | 58.0 |