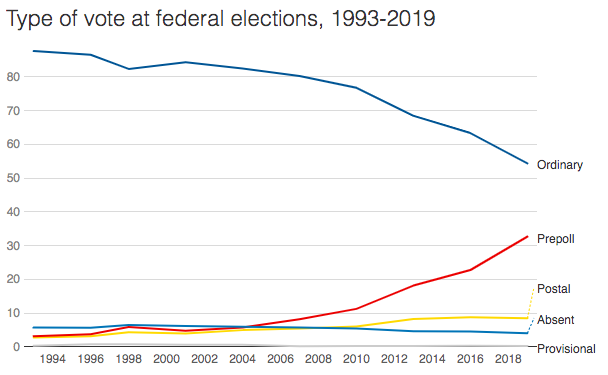 A parliamentary inquiry into the 2019 federal election has recently finished receiving submissions, and amongst other issues a number of commentators have bemoaned the growing numbers of voters casting their votes early.
Federal minister Paul Fletcher is worrying about how the volume of pre-poll voting may "erode the integrity" of our electoral system, while law professor George Williams worries about a "distorted election process".
But I don't see why it's a problem if some voters decide to vote up to three weeks early, particularly considering that most of those voters cast their ballot in the final week.
Firstly, it's worth clarifying the facts. Yes, pre-poll is open for about three weeks in federal elections. But most of the votes are cast much closer to election day.
Pre-poll voting has been increasing gradually since at least 2007, and is the primary cause of a big decline in the proportion cast as ordinary election-day votes (down to 54.4% of formal votes in 2019).
4.8 million votes were cast via pre-poll in 2019. Of these, about 2.6 million (54%) were cast in the final week, with less than 14% cast in the first week of voting. While there are more and more people voting early, most votes are still cast very close to election day.
When you factor in the different vote types and when pre-poll votes were cast, about 70-80% of votes were cast on the Wednesday before election day or later, with 75-85% cast in the final week, and 86-96% cast in the final two weeks.
This trend has largely been driven by the convenience of being able to vote on a wider range of days. It has likely contributed to a higher number of voters casting a ballot as a proportion of the eligible population, and it's definitely popular with voters. I start from the position that this is likely a good thing, absent evidence that it's a problem. So is there any evidence?
Williams explicitly refers to the "distortion" caused by voters casting their votes before key election moments:
The result is a distorted election process in which many people elect their representatives based on incomplete information. Much of the electorate cast their ballot before Labor released its election costings and Prime Minister Scott Morrison launched his campaign. The lack of information can prove decisive, especially in close contests where votes may have shifted if people were exposed to the full suite of policies and campaign gaffes, or where candidates were disendorsed.
Yet evidence suggests that large parts of the Australian population make up their mind well in advance.
The Australian Election Study has asked voters when they made up their mind since at least 1987, and at least 35% of respondents have said that they made up their mind before the start of the election campaign, and that rate was as high as 55% in 2007.
Numerous other polls have asked this question with different time frames, but it's clear that it's only a small minority of people wait until election day to make up their minds.
I don't see why we can't leave the decisions to voters as to when they vote. If they've long since made up their mind and know nothing will change their mind, why not let them vote early, even if it is simply for convenience?
Of course there is a risk that something may come to light after someone has voted, but that risk applies to all of us following election day. If an election-altering moment is postponed until the Monday after the election, none of us will be able to use it to influence our voting decision.
Fletcher bizarrely argues that pre-poll voting threatens the "integrity" of the system without explaining how. I would argue pre-poll voting does not pose any threat to integrity (unlike forms of voting used away from the polling booth, which may be necessary but are not ideal), but it does pose a threat to the integrity of the political parties' media plans.
If there's a problem with voters casting their ballot before parties release their costings, or hold their campaign launches, then parties should adjust to this new reality and move these events forward. It's always been silly that campaign launches happen so late, and it's always been a mark of disrespect for voters that parties hold back on major policy announcements for maximum impact. Parties have had years to adapt to this change. It hasn't happened overnight.
(EDIT: A number of people have pointed out on Twitter that it also makes it harder for parties to staff pre-poll booths. A majority of volunteers are busy at work on weekdays so it can be harder to find people to cover multiple booths over multiple weeks. Still I don't think that's a good reason. Most voters still vote towards the end, so parties can cover most voters, if not all.)
There is no inherent good reason why voters should all have to vote together on election day. In our modern society there is tremendous information out there about the political parties and candidates. Campaigns don't really start on the day the election is called, and even then there is plenty of time to educate voters before voting starts to ramp up. "Tradition" is not a good reason.
Fletcher and Williams do make one technically correct point. It is true that the parliament has the power to make the decision about how much we encourage or discourage pre-poll voting. We could decide to make it harder to access pre-poll by more strictly enforcing the requirements or limiting the availability. But the parliament should consider the evidence we have from this evolving experiment: we've now been changing the way we vote for over a decade and things are working pretty well.
Pre-poll is working pretty well right now, and unless there are better arguments I don't see why the federal parliament should act to make it harder for people to vote in a way that is convenient for them.