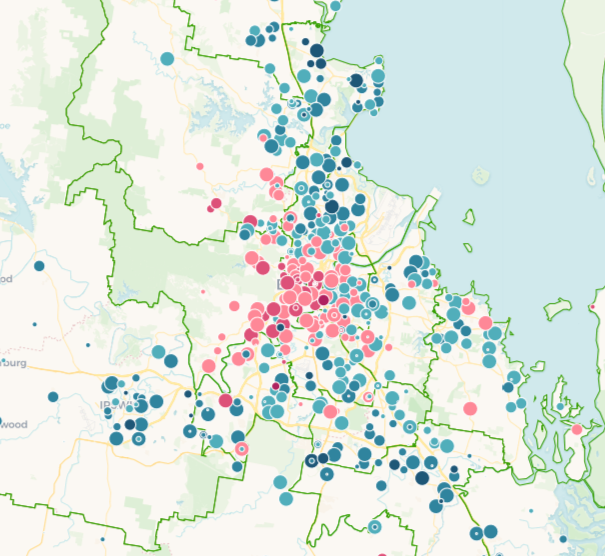 For today's post I've put together a detailed map showing the two-candidate-preferred (2CP) vote in every booth across the country.
The map can be toggled between the swings and the total vote in each booth. Most booths are based on a Labor vs Coalition 2CP (red and blue respectively) but in some places the 2CP includes the Greens (in green) or others (Centre Alliance, Katter's Australian Party, One Nation and independents, in orange).
This was something I'd been planning but I admit to being reminded of it by this map produced by Nathan Ruser.
In my map you can zoom in and scroll around, and click on each booth to see the 2CP vote and the swing for each booth.
For the image at the top of the post I have shown the swing across south-east Queensland. It shows a similar picture to what we see in every major city across Australia: swings towards Labor in more established suburbs and swings to the Coalition in outer suburban areas.
Let me know which areas you find the most interesting? If there is time I may do specific analyses focusing on interesting electorates down the track, or produce maps showing the primary vote for the larger minor parties.