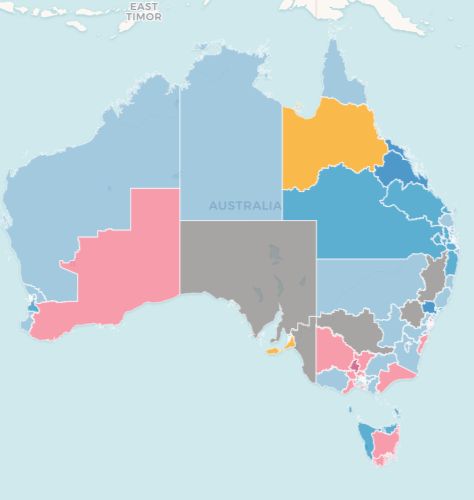 As my first post today I thought I would summarise the state of play in the House of Representatives.
As of last night I had called 141 seats as part of my analysis at the Guardian. This includes 72 Coalition seats and 63 Labor seats, as well as six crossbench seats – the five won at the 2016 election plus Warringah.
I have three other seats which I was close to calling but hesitated because there is a lot of pre-poll votes yet to report: Eden-Monaro, Hunter and Swan. Examining these seats this morning it looks likely Hunter will go to Labor while the other two are close (one going each way at the moment). If you assume these three go to the party in the lead that's a total of 73 Coalition and 65 Labor, leaving you with seven seats in play:
Bass – LIB by 321
Boothby – LIB by 1311
Chisholm – ALP by 325
Cowan – ALP by 1575
Lilley – ALP by 1323
Macquarie – ALP by 620
Wentworth – LIB by 801
If these seats all break to the party currently in the lead this will give the Morrison government 76 seats – the slimmest of majorities. They would need to rely on the casting vote of the speaker unless they made other arrangements with the crossbench.
Best case scenario for Labor would see the Coalition reduced to 73, with Labor on 71, and with a seventh crossbencher with Kerryn Phelps winning Wentworth.
Best case scenario for the Coalition would see them win 80 seats, which would be a comfortable majority.
The middle scenario would be almost exactly the same as in 2016. Labor and the Coalition would win the same number of seats, with one more crossbencher. Which is remarkable considering the last three years.
I'm sure I will touch on this in more detail later, but it's worth noting that there has been another slight increase in the vote for minor parties and independents. These candidates polled 23.47% of the primary vote in the lower house in 2016, the highest ever figure for candidates outside the major parties. On current figures minor parties and independents are polling 24.73%. Despite almost one quarter of the electorate voting outside the major parties, they will collectively hold over 95% of seats in the lower house.
In addition to the seats listed above, I count eight seats that have changed hands. This includes Corangamite and Dunkley which were redrawn as notional Labor seats and have been won by Labor. Apart from these two redistribution gains, the only Labor gain so far is Gilmore. The Coalition has gained Braddon, Lindsay, Longman and Herbert, while independent Zali Steggall has gained Warringah.
I've produced the following map which shows the swing on two-candidate-preferred vote (except for the eight seats where we don't have such a figure). You can toggle to see the 2CP vote for the winning candidate, except for the five seats where we have no 2CP count at the moment. I have grouped together independents, Greens, One Nation, Katter and Centre Alliance as 'others' – only in Kooyong was there both a strong independent and Greens candidate, in that seat the 'other' refers to the Greens.
While the Coalition did generally gain swings, there was lots of places where the reverse happened. Of the 133 seats where we have a Labor vs Coalition two-candidate-preferred count, the Coalition gained a swing in 85 seats, and Labor gained a swing in 47 (there is currently no swing in Tangney).
There is a clear difference between the trends in each state. Almost every seat in South Australia and Queensland swung to the Coalition (barring 3 Queensland seats and one SA seat). About two-thirds of seats in NSW swung to the Coalition while two-thirds of seats in Victoria swung to Labor.
| | | | |
| --- | --- | --- | --- |
| State | Swing to ALP | Swing to LNP | Unknown |
| NSW | 13 | 27 | 7 |
| VIC | 21 | 12 | 5 |
| QLD | 3 | 25 | 2 |
| WA | 6 | 9 | 1 |
| SA | 1 | 6 | 3 |
| TAS | 2 | 2 | 1 |
| ACT | 1 | 2 | – |
| NT | 0 | 2 | – |
On a final note, I should touch on the polls.
I don't spend a great deal of time analysing polls, but I think it would be a mistake to treat this as a complete shock from a polling perspective.
If you look at the Bludgertrack polling average there had been a clear trend of polls drifting back towards 50-50 since the collapse in support for the government last year.
The final polling results were about 2% off the final outcome, which is within the range of the margin of error. We don't have anyone who does the kind of probability-based modelling that we see from outfits like FiveThirtyEight, but a sensible model would have given the government a sizeable chance of winning, if not a majority. In that way the result reminds me of the Trump victory in 2016 – the polls were not significantly off, but expectations were such that the result was a shock.
One question I'll be interested in answering is how well the seat polls performed. I haven't looked at them in aggregate, but I definitely noticed a trend of seat poll results which seemed incompatible with the national polls. I think most of us assumed it must have been the seat polls that were wrong, but now I am wondering. Still, that's a topic for another day and for others who have more expertise in polls.
That's about it for now. I'll have more analysis to come on the close races in the Senate and the House, as well as a podcast, over today and tomorrow.