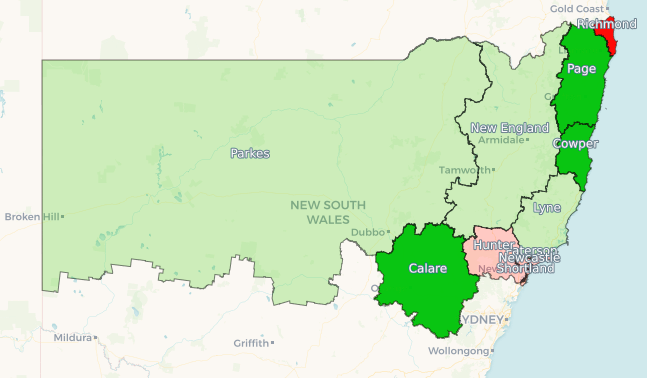 For this post I'm focusing on those parts of New South Wales to the north of Sydney, including the Hunter region. There are five Labor seats and six National seats in this region.
I've identified four seats worth discussing, below the fold.
Firstly there is the Nationals seat of Page, held by Kevin Hogan by a 2.3% margin. This seat covers parts of the far north coast, from Lismore and Kyogle down to Woolgoolga, stopping just north of Coffs Harbour. This seat would be a key target for Labor. It was Labor-held from 2007 to 2013, but after a big loss in 2013 the party only gained a small swing in 2016.
Immediately to the south we have Cowper, which is held by the Nationals' retiring MP Luke Hartsuyker. The electorate covers both Coffs Harbour and Port Macquarie, as well as areas in between.
The redistribution prior to the 2016 election shifted the north coast seats further south, pulling in Port Macquarie, which had previously been contained in Lyne. Former independent MP Rob Oakeshott, who had represented Lyne from 2008 until his retirement in 2013, made a last-minute comeback against Hartsuyker in 2016, reducing his margin to 4.6%. With Hartsuyker retiring and Oakeshott running a more organised campaign in 2019, this seat could very well be in play.
I have half an eye on the western NSW seat of Calare, which covers Bathurst, Lithgow, Orange and other surrounding towns. The Nationals' Andrew Gee holds the seat by an 11.8% margin, and will likely hold on comfortably. This seat is worth watching because it is the one seat chosen by the Shooters, Fishers and Farmers after their remarkable success at winning three seats in western NSW at the state election in March. One of these seats, Orange, overlaps with Calare. The Shooters have generally focused on state politics but it will be interesting to see how well they perform in a federal contest, particularly when they have decided to focus on just one seat in NSW.
Finally a brief mention for the Labor seat of Richmond which covers the north-eastern corner of New South Wales, including Tweed, Byron Bay and Ballina. Justine Elliot holds this seat by just 4%, but has managed to hold the seat continuously since she first won in 2004. She will probably be fine, but this is the most marginal Labor seat in this region.